Things we learnt from BBL Fantasy – Round 2
We have just finished the second round of the Big Bash League, and what a round it was! It's a quick turn around with Round 3 starting tonight. Renegades have two games this week while the 6ers have none.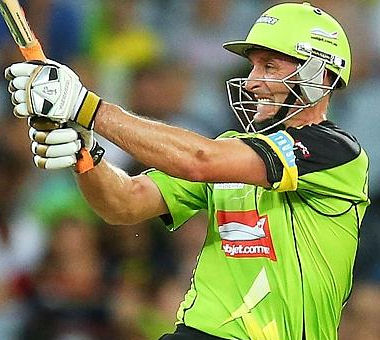 We have just finished the second round of the Big Bash League, and what a round it was! Three high quality matches were on display, starting with Perth's defence of 117. It was the lowest ever total successfully defended in BBL history. I was at the game, and it was simply incredible. Arafat (if he can keep it up) could be one of the most brilliant signings in the BBL.
The next cracker was the Sydney vs. Strikers match. The Strikers scored a slightly below-par score of 151. The Thunder were in trouble when they lost three early wickets, but a 100+ run fourth wicket partnership between Morgan and Hussey brought life to the game. Just when the Thunder looked like running away with a sensational victory, Adelaide snatched a win from the jaws of defeat on the back of some brilliant death bowling.
The third fantastic match was when the Hurricanes took on Brisbane. After Christian's swashbuckling 70 off 40 balls, Brisbane could be forgiven for thinking they had it in the bag. However, Ben Dunk had other ideas, coming out and smashing the fastest BBL half century. The lower order all contributed to what was a thrilling chase, capped off by Hilfenhaus's humongous last over six.
Anyway, real cricket aside, let's move on to fantasy, in particular…
Things We've Learnt
1. There is a dearth of cheap, playing bowlers.
I thought there would be quite a few cheap bowlers playing, but I was wrong. I started with Herrick, Rose and Oakley, but going into round three, I can't see any of those playing except possibly Oakley. There's no Holland, Copeland, Doran, Herrick and Rose. Turner and Floros are playing, but I don't know how secure their spots are. The only cheap bowler that seems to have a (relatively) secure position is Carl Sandri, and consequently, I will be jumping on him this week to increase my squad depth.
Therefore, I recommend going with mid-priced bowlers, who are actually doing really well. Those along the lines of McKay, Rimmington and Bird have been in great form and look set to continue. Rimmington especially could be a nice pick with the double GW coming up, as long as you have the squad depth to cope with his bye next round.
2. Allrounders are pivotal point-scoring positions.
'Yeah, that's obvious!', you're saying. No, but seriously, I really mean it. In the last two rounds, your choice in that category could have been the difference between a 500 and a 700. I had Christian and Wright both rounds, and I'm pretty happy. If you had Maxwell, you'd be really happy, but I'm not sure that he'll be scoring 150 every week. The Stars won't collapse that easily many times, and often he won't get a bat until very late. To succeed in this game, you need really quality allrounders. If that means you have to go cheaper in other categories, then so be it.
3. Don't second guess yourself.
I did it a lot in the first round, and ended up with a sub-par score. Trading out Ravi Bopara when I'd picked him for a reason and switching captaincy choices was not going to win me anything. In the second round I fiddled very little and was much better off for it.
Don't listen to gut feelings, as they are just that – feelings. You've picked a player for a reason, so don't trade him at the last minute on a whim. The only exception is obviously if he is injured or gets dropped. I guarantee you you'll feel a lot better afterwards as well, knowing you've stuck to your guns.
4. Don't trade based on one performance.
This is a huge one. All I've seen all week is people trading in huge point scorers from round one like Lynn. I've said multiple times that he won't get much of a bat at five, and he didn't. It's like Ty Vickery from the first round of AFL Fantasy last season. You've got to use common sense.
It also works the other way round. A lot of people traded out Mike Hussey after he scored two points in the first round. I kept the faith and he scored 85 beautiful runs. Remember the old adage: 'Form is temporary, class is permanent'? That applies even more to T20. Just because one player underperforms one week, don't throw in the towel! He'll score you a century or bag five wickets in the next!
*I may be slightly biased towards Mike Hussey. Think Roy and Rocky.
5. Cheap wicketkeepers are the way to go.
It has officially been proven. You do not need to spend any more than 64k on wicketkeepers. Kieswetter is a boss, will play every single game and is a proven T20 player. What more could you ask for? Set and forget.
6. The captain's loophole is extremely important.
You can't ignore it. It's basically a double chance to get your captain right. The last two rounds all you had to do is put the VC on a player, and if you liked their score, sub a non-playing player onto your field (a lot of people had Lawford) and make them captain. If not, pick another player in a later round to be captain.
However, with the coming of the DGW's, it will be slightly less relevant. Anyone with half a brain will chuck the C on a Renegades player. The only way you could benefit is if you put the VC on say, Finch, and he gets a duck in one match. Maybe then you could switch it to an allrounder.
7. Age is no barrier.
Don't be afraid to trade someone in because they're old. Half the time they're better than the younger bunch because they have a huge amount of experience. Brad Hogg, Muttiah Muralidaran and Mike Hussey are really turning it on. They've been everywhere and seen everything, so nothing fazes them. They know what shots to play and where to play them. They know which areas to bowl in and where they're going to get smashed. So, consider an oldie for your team, I promise that you won't regret it!
8. The Stars have way too much bowling depth.
It's actually ridiculous. Malinga, McKay, Bird, Hastings, Faulkner, Maxwell, Hussey, Wright, White. All of them can bowl, and all of them will bowl at varying stages during the tournament.
'Why are you bringing this to light', you might ask. I'm pointing this out to show you that although they have an impressive bowling attack, I'd think very carefully about bringing someone in on the basis of them bowling four overs every week. Last week Wright bowled. This week he didn't. McKay only got two overs, and he's class! The only ones that will probably be guaranteed four overs everyweek are Malinga, Faulkner and maybe Bird. The others will most likely be rotated through depending on conditions.
DTTALK Writers League Update
I don't know if you guys know, but Warnie put together a 'Writers League' for all of us to compete against each other. In each week, Feathertop and I will analyse how everyone is going each week, as well as showing you the results of the juicy match-ups.
The first picture below shows the head to head matches played this round. 'Marsh Magicians' is @MattCraigDT, 'Gothimyesgone' is @FeathertopDT, 'Wrath of McRath' is @McRathDT and 'LeftyBBL' is @Lefty113.
As you can see, Matt annihilated Warnie, fellow cricket writer Nic took out Calvin (my match-up this week is Calvin), I gunned down Roy and McRath smashed Lefty.
The head to head table is shown below. Currently Matt is leading the way after his bang-up job on Warnie, with McRath, Nic and I rounding out the top four. We are ranked 109, which is a little embarrasing, but I'm sure we can improve on that.
Conclusion
When trading this week, make sure you keep in mind that Renegades HAVE TWO GAMES. But also remember that they have A BYE THE WEEK AFTER. So, if you bring someone in or already have a Renegades player for the DGW, make sure you also have a plan to get them out again. The same applies for the rest of the byes. Those who fail to prepare, prepare to fail.
I ended up with 554 this week, which should be an above par score based on what I've seen in leagues. Anything over 500 and you should be breathing easy for this week, but with the coming of the double round, you should be aiming for 750+!
Over on Fantasy Cricket Galore, we'll have a trade talk, POD Watch and of course, Captains coming out at various stages throughout the day, so please feel free to jump over and have a read.
Cheers guys,
Zeus