Sam Mitchell – Deck of Dream Team 2014
With the annual changes in position Sam Mitchell gains DEF eligibility. Does this make him a Lock for you this year? Let's have a look at him and see!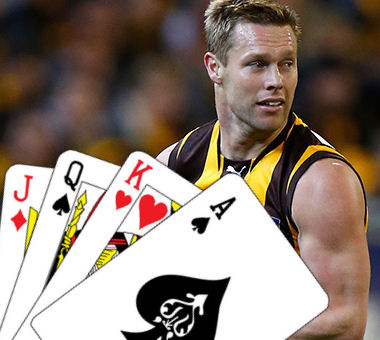 Name: Sam Mitchell
Club: Hawthorn
Position: Midfield/Defender
AFL Fantasy: $517,700
AFL Dream Team: $521,800
Bye Round: 9
2013 Average: 96
2013 Games Played: 21
Predicted Average: 96
Why should I pick him?
In the past we have had guys like Brendon Goddard and Dyson Heppell.  Guys that are predominantly midfielders who get a stack of it but they are able to be selected in the backline.  So this year we have Sam Mitchell the former Hawk skipper in that category.  So the initial thought for Sam is that he is my…..
Let's look at it on the numbers.  Last season he averaged 96 which amongst last year's defenders was only beaten by Goddard and was one in front of Heppell.  Given that Goddard and Heppell have now lost their defender status this will put Mitchell as the highest averaging defender from last year's averages.  He was averaging 15.5 kicks and 12.6 handballs a game along with 3.6 tackles.  Overall he was 9th in disposals per game in the league last year.  He is the engine room of the Hawks team and you often find him picking up those link up kicks across half back which are very handy +6's.
Over the past 6 years his average disposals read 28, 30, 27, 31, 27, 28.  So as you can see he is super consistent!  The fact that he has aged doesn't seem to affect him as he averaged 30 in the year he turned 30!
10 scores over 100 and a further 4 in the 90's tell me that if you can stash this guy down in the backlines then he is going to outscore anyone else you can put there!  This is despite me not seeing his average rise from the current 96.
Why Shouldn't I Pick Him?
My biggest concern with him is the tag.  If he does spend more time down back he will be likely to get the tag that may have previously gone to someone like Birchall or Suckling.  There were three games where Sam scored particularly low last year and they were 66 v Melbourne (Either Nathan Jones Tag or I would suggest he had a rest that day), 68 v West Coast (Scooter tag) and 56 v Port Adelaide (Kornes Tag).  It is this risk of him getting a hard tag that he can't break that would be my only concern.  However, the fact that there were only really 3 bad games for him last year would still not put me off picking him.
The addition of Suckling back into the Hawks backline is another thing to consider, but really given that Mitchell spends most of his time in the middle and only really went down back to cover for Suckling and the poor performing Birchall he should be back in the guts where we want him.
My only other concern is that he is getting on a bit.  Now if you ask me turning 32 next year is not old, but then my perspective may be a bit out!  But in DT Terms it is getting a bit long in the tooth.  So for those that have a "No Over 30's" rule then you would have already struck him off. But since he turned the big 30 he has had averages of 100 and 96 so for mine there are no issues at all there!
Deck of DT Rating
Ace –  I can't see how anyone will be heading into season 2014 without Sam Mitchell.  With some of the guys that we have lost from our backlines this year he is a simple replacement.  Really anyone that is going to average you 85 plus in your backline is always a lock given that there simply aren't that many of these guys around.  Yes everyone will have him, but do you really want to risk being the person that misses out and slips behind the competition as Sammy knocks out another 100?
FOLLOW ME ON TWITTER: @pkd73 for all things AFL Fantasy.  I will bring you everything I can from the Adelaide based teams both in the pre-season and of course during the year!  To discuss the deck on twitter use #deckofDT