Mitch Clark – Deck of Dream Team 2014
To put it very simply… Mitch Clark to too cheap to ignore. Yes, he's a key position player for the worst team in the AFL but at the price of $213K he's cheaper than the top rookies. Check out Calvin's take on the big man.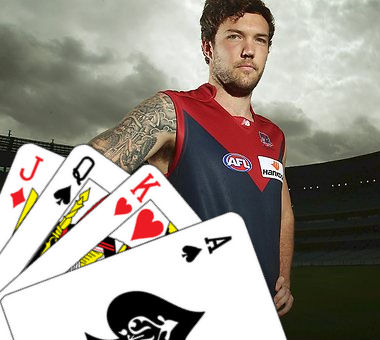 Name: Mitch Clark
Club: Melbourne Demons
Position: Forward
AFL Fantasy: $213,300
AFL Dream Team: $236,000
Bye Round: 10
2013 Average: 48
2013 Games Played: 4
Predicted Average: 71
Why should I pick him?
Last year, Mitch Clarke only managed 4 games for the Demons to average just 48. From those 4 games, he wore the red vest in the first one after being injured and is currently priced as an absolute bargain. His priced has been discounted due to the amount of games he played last year, making him set an average of just 39… so yeah, a bloody bargain.
As you can see from my trendy stats over there, he has scored quiet solidly over the past few years and even posted some decent
numbers in his first year with the Dees. We can't expect him to light up with huge scores sitting in the forward line at Melbourne but he still should average around the 70 mark next year.
Players who are currently priced at an average of 70 are worth $380,000, which means there is a lot of cash going down the drain if you don't roll with him from round 1.
He only turns 27 this year and has been back training. "I'll be putting my hand up (to play in the NAB Challenge) and I'd definitely like to play some footy before round one, so I'd imagine I'd be ready to go," he told Melbourne's website.
What more do you need than that?
Why shouldn't I pick him?
Well, he has only played 29 games of AFL in the last 3 years. This is very concerning but as I have said before, we have trades to burn if needed. If you're thinking about having Clark to play all the games for you this year – think again.
Chris Dawes is back training as well which may divert some of the ball away from Clark. Dawes played just 12 games last year before injuring his knee and is a real chance for round 1.
Star recruit, Jesse Hogan ($265,600) will also be getting the attention of the Melbourne midfielders as well. Now, I won't be talking about Jesse as his price is far too high to be looked at. But the kid is a monster and can play the game.
At the end of the day, is there enough ball to be shared and many games can Mitch Clarke actually pump out in 2014?
Deck of DT Rating.
JACK – Lock him into your team. He has to be there as he is just too cheap. This season we will be having many players like Clark instead of the rookies in previous years. Clark won't set the world on fire but he should average around the 70 mark, making him a must have in 2014.
FOLLOW ME ON TWITTER: @CalvinDT for all things fantasy.
Loading ...
https://twitter.com/MitchClark11/status/416778100660137984