Beau Waters – Deck of Dream Team 2014
Jeppa has been spending a bit of time with hard man Beau Waters in the off-season. See what insight he got and the predictions made for Waters in 2014. Enjoy.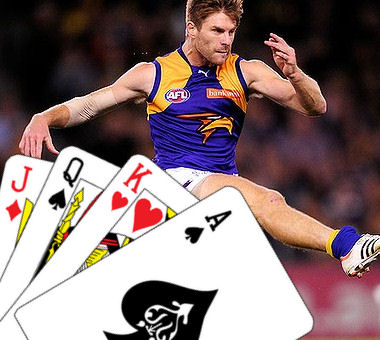 Name: Beau Waters
Club: West Coast Eagles
Position: Defender
AFL Fantasy: $428,400
AFL Dream Team: $427,000
Bye Round: 9
2013 Average: 86.9
2013 Games Played: 7
Predicted Average: 88
Why should I pick him?  
@Tbetta9 isn't the only one with a crush on Beau Waters. The man himself spent EVERY morning of the Eagles offseason at my gym and let it be known that Beau is a top bloke.
So with my Fantasy hat on, I spent a fair amount of gym time picking Waters' brain about the upcoming season…
Jeppa: How's the body feeling mate?
Waters: All good. My shoulder gets a bit stiff every now and then but she'll be right. I'll give myself a good test during the preseason.
Jeppa: Why do you back into packs like a mad man?
Waters: My job is to win the footy, so when it's in my vicinity it's a 'see ball, get ball' mentality. I don't think about the consequences. I'm my own worst enemy sometimes.
Jeppa: What role has Simpson pencilled you in for next year?
Waters: Still half back/back pocket. Nothing a lot will change except it looks likely that I'll have a few short spells on the ball from time to time to throw my weight around.
Up until recently, Waters was going really well on the training track. He was moving freely and started working with the main group. Unfortunately, Beau tweaked his quad a few days before the Christmas break. I'm told, it is nothing serious and he'll be cherry ripe to begin the New Year so don't panic.
When he's on the field, no one can doubt Waters' Fantasy scoring potential. From his 7 games last year, Waters scored a touch below 87 points per game, which put him in the top 8 for defender averages. Who knows what he would have achieved in 2013 if he got some consistency in his footy. Don't forget that my boy Waters averaged 91.6 from 19 games in 2012.
To Beau's own admission, he isn't blessed with a heap of skill but that works to his Fantasy advantage. The opposition tend to stay off Waters because he isn't the greatest kick running out of defence. Less attention from opponents = more possessions = more Fantasy points. What he lacks in skill, he makes up for in courage and leadership. Expect his mark and tackle counts to always be above average and you can never discount his attack on the footy.
Talking to him over the summer and seeing him train in the gym during the break, it's clear to me that Waters is determined to bounce back to his best next season. Don't be surprised if Waters returns to his 2012 All-Australian form next season.
Why shouldn't I pick him? 
Injuries and suspension. The only two reasons to stay away from my mate Beau in 2014.
Waters has endured just about every possible injury. Shoulders, elbow, quad, knees, calves and ankles. You name it and Waters has probably had it. For me, it's Waters risk of soft tissue injuries that's a concern. Beau is his own worst enemy. He pushes himself to ridiculous limits and doesn't listen to his body…trust me I've seen it first hand. To be honest, I don't think the bloke feels pain and that's half the reason why his body breaks down most years.
If his injury risk isn't enough to put you off then be wary of Beau's tendency to get suspended. Even though he has been a little tame in recent years, Waters doesn't mind taking out the opposition with an attempted 'clean' bump. With a previous poor record, he's odds on to be suspended for a coupe of weeks next season.
Deck of DT Rating. 
QUEEN – The fact that he is relatively injury free heading into the second phase of preseason has me excited but to be honest, I won't be starting him in my side. The risk of picking Waters does not outweigh the reward however, I still feel that he won't be far off the top 6 for defender averages at seasons end. The Eagles have a relatively easy draw and he is very eager to return to top form.
New  options in Mitchell, McVeigh and Jimmy and the value picks of Suckling and David Swallow are sensible defender picks to begin the 2014 season. Keep your eye on Waters though…he is likely to surprise many.
FOLLOW ME ON TWITTER: @JeppaDT for all things Fantasy. Got something to say about the deck? Use the hashtag…#DeckofDT. Fantasy Pre-season is here!