Ten things we learnt from BBL Fantasy – Round 1
The first set of BBL games have been completed and it was a round that was full of highlights and here are 10 things Feathertop took out of round 1. Don't forget the next BBL Fantasy game is on Boxing day evening.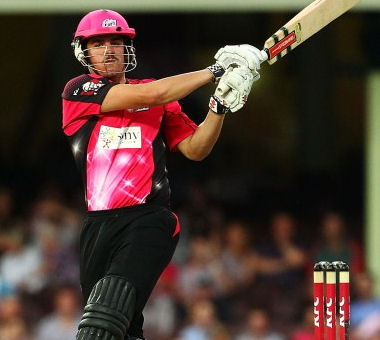 The first round of the BBL is complete and despite critics claiming it would fail it drew over a million viewers in all three completed matches and still managed half a million for the cancelled match down in Hobart. It was a round that was full of highlights and here are 10 things I took out of round 1.
1. The Stars are the team to beat
The strongest team on paper in all three BBL's were the strongest team on the field this week. Their list is star studded (pardon the pun) and they still have Lasith Malinga, Rob Quiney and James Faulkner to add to this side! Who can beat them? Luke Wright treated the Renegades bowlers with contempt and Jackson Bird looks fit after injury. The biggest problem facing the stars will be at selection!
2. The Sixers get the job done
The Sixers certainly aren't a team filled with A grade players but, like they did in BBL01 they just get it done. This time, it was Nic Maddinson who stood up and made an excellent half century to get the Sixers home against a fast starting Thunder. They have a few issues however. They'll lose captain Steve Smith who'll re-join the test team, Dan Smith looked well out of his depth behind the stumps (I BLOODY TOLD YOU) and Josh Hazelwood struggled with the new ball, Trent Copeland and Josh Lalor are the Sixers reserve pacemen and might need to be ready for game two.
3. The Strikers sent a warning
Whilst the match only lasted five overs, the Adelaide Strikers sent a weather warning to the competition. Expect plenty of Hale over the next month. Hales belted 49 in the restricted match and scored 69 Fantasy points. If this guy isn't in your side, bring him in!
4. The Scorchers are a batsman short
Saved by the power of young star Mitchell Marsh, the Scorchers avoided a belting at the hands of the champs, the Brisbane Heat. Instead we got a thrilling match in which Chris Lynn showed why he's someone we'll be seeing at international level soon. However, the game revealed a large hole in the Scorchers batting left by Dwayne Smith who pulled out of the BBL. The Scorchers opened with Simon Katich who didn't convince me that he's attacking enough to be there. Ashton Agar was used as a specialist batsman at 6. Yes, he did not bowl. The Scorchers need to address this problem as soon as possible.
5. Pace is where the points are at
Not including the great man, Bradley Hogg, the top 5 scoring bowlers in round one were pace bowlers and I believe that could have accentuated if Kane Richardson, Shaun Tait and Ben Laughlin had have bowled. I wouldn't be trading out any of those three just yet if you have them. Don't chase players like Coulter-Nile or Bird just yet, give your bowlers a chance to actually roll the arm over.
6. Ominous for our international T20 side?
The top four scoring internationals in round one of the BBL were ALL Englishmen. Luke Wright destroyed the Renegades almost single handily with the bat and followed it up by taking a wicket. Ravi Bopara grafted out 27 from 17 balls and bowled four overs taking a wicket and kept his economy below eight. (Great value as a batsman by the way). I've already mentioned what Alex Hales did in five overs and the fourth Englishman was Jos Buttler who was probably the Renegades only batsman who stood up on Friday night.
7. Injuries are unavoidable, even in 20 overs.
We're only one round in and we've already seen two injuries. Usman Khawaja seems to have injured his hamstring as well as taking a beating from Brett Lee, (watch out Piers Morgan) hopefully he's fit for round two. We also saw Adam Voges suffer a shoulder injury, the extent of which is also not known. The matches are short and intense. Even the great Adam Gilchrist said that twenty twenty cricket is just as mentally challenging as test cricket.
8. The Thunder are improved but still far behind
In BBL01, the Thunder won the few games they did relying on Chris Gayle. In BBL02 nothing changed… except Chris Gayle making no runs. They needed drastic changes and going into BBL03 with David Warner, Usman Khawaja, Michael Hussey, Eoin Morgan, Chris Woakes and Michael Clarke listed with Dilshan soon to come, it was thought they would be fast rises this season. However, Warner and Clarke will be on international duties, Khawaja is now injured, Michael Hussey looked like a man who hasn't played cricket in a year and the Englishmen didn't fire. I've previously mentioned their lack of bowling strength especially in the spin department and they did not even trouble the Sixers on a bowler friendly pitch. Mark Waugh's men have plenty of work to do.
9. The next generation of players stood up
Jackson Bird, Nic Maddinson, Chris Lynn, Mitch Marsh, Jason Behrendorffand, Ben Cutting, these are names you'll be hearing for many years to come. Each did exactly what their sides required of them. Two claiming man of the match honours.
10. Take it one round at a time!
Round one set many Fantasy coaches up with the temptation to rage trade players out. Kane Richardson, Ben Laughlin and Shaun Tait brought back donuts thanks to the rain, Michael Hussey looked well out of touch for his three points and expensive players like Luke Pombersbach, Ben Rohrer and Michael Lumb were disappointing. BUT don't trade them just yet. Luck is a major facet of the BBL so don't go sideways trading. The only trade I'd consider is Mike Hussey to Bopara, I think he's good enough value for the few round he's here. Make sure you have money in the bank for when Malinga arrives! Good luck for round 2!
Follow on Twitter: @FeathertopDT.