Nick Dal Santo – Deck of Dream Team 2014
I was going to profile Nicky Dal a bit earlier than today, but being Christmas morning I thought I'd bring him up now just so I can use these terrible puns – Nick Dal Santa or Nick Dal Sant-ho-ho-ho. Sorry, they are awful!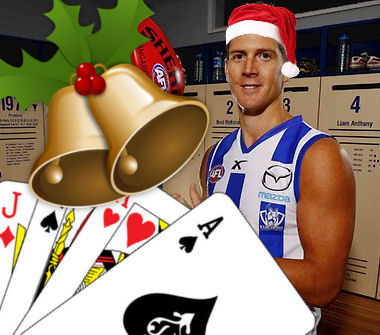 Merry Christmas to every member of the DT Talk community. Thank you so much for making our site what it is! We continue to go from strength to strength and that's thanks to our loyal readers. We have a lot of exciting things in the works for 2014, but for now here's Nick Dal Santo… or if you like a terrible Christmas pun like me, here's Nick Dal Santa or Nick Dal Sant-ho-ho-ho. Ok, I'll stop now!
Name: Nick Dal Santo
Club: North Melbourne
Position: Midfielder
AFL Fantasy: $479,200
AFL Dream Team: $483,000
Bye Round: 8
2013 Average: 88.4
2013 Games Played: 22
Predicted Average: 96
Why should I pick him?
Nick Dal Santo is an interesting prospect for AFL Fantasy in 2014. He was one of the big name trades a couple of months ago during the trade period (aka eternity) and the new North Melbourne midfielder will be an integral part of his new side's rise up the ladder.
While he hasn't posted numbers that prove him to be an uber-premium midfielder, his history is quite solid. Dal Santo posted averages of 103.8, 102.9 and 103.5 between 2009 and 2011. He missed just two games in this time. In fact, the biggest positive about the new Roo is that he has missed just three home and away games since 2004.
Holy sh*t! That is massive. That means he's played 217 of a possible 220 games. Durability, tick.
Over his biggest fantasy years between 2009-2011, the Saints were playing their best footy with the highlight being making the Grand Final in 2010 which resulted in a draw and then they lost the replay the next week. The stats show a correlation between Dal Santo's numbers and team success with more than half of his scores over this time over 110 AFL Fantasy points. North Melbourne are a team on the up. They would have been well inside the final 8 if they'd won those close games they seemed to be on the wrong side of all through 2013. Dal Santo's inclusion can only be a positive for the Roos.
Dal Santo is priced at his average of 88.4 in 2013 so he's close to 15 points under priced from his best.
Why shouldn't I pick him?
We'll be picking up Nick Dal Santo as a 30 year old when 2014 season starts. The Saints sucked in 2013 and he returned his worst AFL Fantasy average since 2008. I'm not going to put purely down to the Saints sucking, his age might be a factor in it too. However, looking at that durability this point could almost be void.
I see Nicky Dal as more of a SuperCoach player. He's definitely under-priced there after averaging under 100 SC points for the first time EVER. Make sure he's on your radar in that game as he's usually a 110+ kinda guy!
Dr. Dream Team has a massive love for the former Saint. He would always be in his AFL Fantasy side. He would celebrate hard when he busted out big scores which would come every now and then (he is capable of those 140+ scores), but not much was said about the low ones. Last season he had six scores over 100 with 11 scores under 85 – far too many for a midfielder that we're essentially picking as a keeper.
Consistency is a problem.
Even back in his best years, we still saw some pretty ordinary scores. In 2011, he still had 6 scores under 80 when he averaged 103.5. A trend has seen Dal Santo scoring better against the poorer teams. Unfortunately over the last couple of years, the Saints were one of those poorer sides.
Deck of DT Rating.
QUEEN – I can probably only call him a queen. He's certainly going to show some improvement on his average in 2014 when it comes to his fantasy numbers, but when I'm picking my midfielders I'm looking for a bit more value. There are guys who will be coming in at fair bit cheaper worth picking up for the same result. Dal Santo is capable of averaging about 100 this year, but I see that as his ceiling and I'm playing the percentages with saying he'll average 96 this year. His durability is a big plus and limits the negativity of him going into the season as a thirty-year-old. As I said in the trade period article, he's not on the radar for me but he wouldn't be the worst pick in the world. Look to get him as a bit of a bargain in draft games though!
Here's a meme from our mate @rumballz that he made last Christmas.
FOLLOW ME ON TWITTER: @WarnieDT for all things DT (and more). Got something to say about the deck? Use the hashtag… #DeckofDT.