"Drawing Board" – AFL Fantasy 2014 Team Picker
Our friend Chad over at www.dtlive.com.au has been busily working on his alternative for the non-existent 'Team Picker', his AFL Fantasy 'Drawing Board'. Pick a squad using the prices and positions that have been revealed.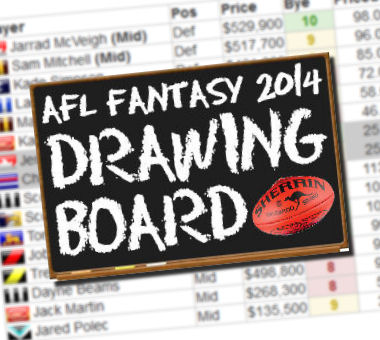 The 2014 AFL Fantasy prices and positions have been revealed and while they've been leaked out over the last 18 days, Chad from dtlive.com.au has been busy putting together his alternative to the non-existent 'Team Picker'… the Drawing Board.
Chad's Drawing Board allows you to pick a squad based on the official prices, positions and $10M salary cap. See what 'score/average' each player is priced at to see if you're getting value. You can also put in your predicted average for each of your players so you can get an idea of what your team will be scoring.
The Drawing Board will be an ever evolving resource so feel free to add suggestions in the comments.
HOW TO USE: It's pretty simple to play with. Sign up to a free dtlive.com.au account (if you've been using the site for NBL scores, then you'll already have one). Once in, you can start adding players to your team. Your login might be handy for the future too, stay tuned!
Once you've selected a team, you can simple copy and paste your squad to put in the 'My Team' post to discuss with other DT Talk readers.