Aaron Sandilands – Deck of Dream Team 2014
Aaron Sandilands is a big man with a tiny price tag. Certainly not a 'set and forget' ruck these days but he ticks a lot of boxes!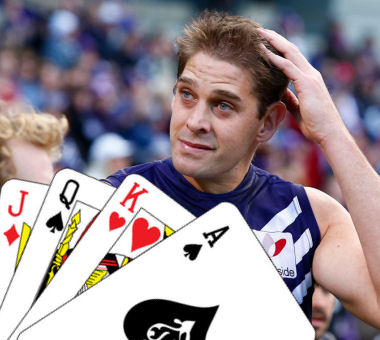 Name: Aaron Sandilands
Club: Fremantle Dockers
Position: Ruck
AFL Fantasy:  $244,500
AFL Dream Team: $270,800
Bye Round:  10
2013 Average: 49.5
2013 Games Played: 7
Predicted Average: 85
Why should I pick him?
Big Sandi is a no brainer as long as he is fit and ready to go in round 1 or 2. The veteran ruck is one of the biggest (no pun intended) bargains of the year after struggling with injuries in 2013 for just 7 games and a below par average of under 50 points per game. Despite playing less than 22 games in each season since 2008, Sandi's numbers are hard to ignore with averages of 96, 98, 95 and 93 leading up to last years disaster.
Even if Sandi is having a bad day as far as his possession count, he seems to manage respectable numbers from hit outs alone. In his last 3 games of 2012 he had 42, 33 and 44 and in 2012 he showed he can go really big, twice registering 54 hit outs.
Sandi's 7 games for the year means we get a handy discount to go with his 43.3 drop in average which included 2 vests, basically ticking all boxes to place him in the bargain basement category. I think his scores in his 2 finals appearances are a good indicator of what we can expect this year with handy contributions of 77 and 79.
Why shouldn't I pick him?
The only reason not to pick Sandi this year is the fact we know he will miss games. If you are a fan of the set and forget strategy in the ruck department, he is not your man. In his 11 year career, durability has not been his strength, only once playing 22 games and his last 3 years ring alarm bells with 13, 12 and then 7 last year.
The red vests are a concern. There is nothing worse than copping a vest with a below par score and twice Sandi owners were faced with this last year with scores of 35 and 15. Realistically he is a ticking time bomb every game.
Deck of DT Rating.
Queen – At this stage Sandilands is a lock for me based on sheer value. He is heavily under priced and has the potential to rise 40 points per game above his asking price. Even if we only get a few weeks out of him before a likely injury occurs, his price will rise quickly if he can find some form, playing the role of a handy cash cow. The big fella is locked in for destROY at this stage.
FOLLOW ME ON TWITTER: @RoyDT for all things fantasy.