Dale Thomas – Deck of Dream Team 2014
Every year it seems that there's a former fantasy superstar whose stocks have dropped due to injury. This year, I believe that man is Dale 'Daisy' Thomas. Looking for a fresh start in Navy Blue, he's well on the road to full fitness and looking to grab a spot in your AFL Fantasy team for 2014.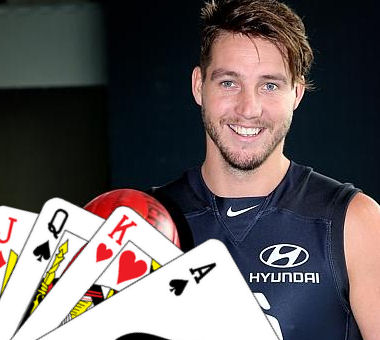 Name: Dale Thomas

Club: Carlton
Position: Midfielder
AFL Fantasy: $346,400
AFL Dream Team: $328,600
Bye Round: 9
2013 Average: 75.2
2013 Games Played: 5
Predicted Average: 93
Black, White and Navy Blue
Every year it seems that there's a former fantasy superstar whose stocks have dropped due to injury. This year, I believe that man is Dale 'Daisy' Thomas. Aside from Buddy Franklin, I can't think of an individual who has drawn more attention in 2013 than the (now) former Magpie. After years of service for the black and white, Daisy has packed his bags for dark navy pastures on his way towards his next chapter and (here's hoping) redemption.
Mick n' Dale
He who underestimates a relationship between a player and coach does so at their own risk. Daisy's reunion with former mentor and friend Mick Malthouse will do wonders for his career and well-being. Since Thomas' debut in 2006, he's played 171 games after being chosen at pick #2 in the 2005 National Draft (right after new teammate and captain Marc Murphy might I add). Between Collingwood's breakthrough triumph in 2010 and 2011 (last year with Mick at the helm of the Pies), Thomas averaged over 99 AFL Fantasy points over 41 games. Thomas is heading into the peak of his career – and on his way to truly fulfilling the promise of his potential. Sure, the injuries were a setback, but with Mick once again by his side – we should to see the better part of Dale Thomas return.
Fresh as a Daisy
Don't mistake it folks, he's still young. With a new environment, the 26 year old will take this fresh start and use 2014 to re-establish his path to becoming one of the best in the game. We know that he can score (fantasy-wise) and will help his new club in their quest to move up the ladder and add silverware to their trophy cabinet. It's just a matter of whether he can get ready in time to make an impact from day one of Season 2014.
Ankle Deep
After 2 consecutive years marred by injury, Daisy has been held to just half of the 44 games he could have played (missed 17 alone this year) in that time. Despite earning his spot back upon his return in the seconds, his troublesome ankles caused havoc again – ending his year (and inevitably his career at Collingwood) early.
Many will agree with the super-cynical Magpie faithful who believe Thomas is 'washed-up' and 'too far gone' with his injuries. But make no mistake, Carlton wouldn't have made the investment they did without sound assurances; and if modern times have proven anything, it's that anyone can return to their best with the right combination of motivation and rehabilitation. With a full off-season and a dedicated medical team behind him, Daisy is confident about lining up Round 1. If you don't believe he can get over his injuries to return to his best, then this article will do little to change your mind.
But as with most of these cases, we'll have to wait and see how he's tracking closer to Round 1 – because a lot can happen in a few months.
DPP No More
For those that will be wondering where Daisy's forward tag is – he's had his dual-position status revoked and is now only a midfield option. He must've done something real bad to nick off the guys in charge at AFT Fantasy HQ given he only played 5 games last year in what would normally be too small a sample to warrant a change in position. This may prove a factor in your decision to pick (or not pick) him in 2014, however I still think his upside is well worth it regardless.
Down Down
Speaking of upside, did I mention that he's priced at an average of just 63.91 ppg? That's a 15% discount on his 2013 avg right there. Add to the fact that 2013 was his worst statistical season since 2009 and he's got the largest upside of just about any player in AFL Fantasy for 2014. An avg of 93 in 2012 and 103 the year before, I see good things for this man in the season ahead.
With the increased measure placed on value and mid-pricers in 2014, Dale Thomas could be the difference between a fast start and an early finish for your AFL Fantasy Season. The extra cash you save with Daisy over picking a 'safer' option that's likely to average around the same could be very handy in your starting squad. What's that saying – you've gotta risk it to get the biscuit? Well, when the biscuit is a chocolate-covered $50,000 with a cherry on top… come on down!
So are you gonna play it safe in 2014? If so, be prepared to spend another year saying 'what if'. Fortune favours the brave, so afford yourself a few risks – that's the only way to truly be in with a chance. Will Daisy Thomas be one of those?
Deck of DT Rating.
QUEEN – Priced approximately 11 points below his 2013 average (and 28 less than his avg from 2012), Thomas is already ridiculously cheap for what he's capable of. If he can get fit for Round 1 and play half as good as we know he can, I'm confident that he'll be able to at the very least get back to his 2012 average of 93. Who knows – he may blossom once again under close friend Mick and once again push the boundaries of premium status. No DPP? No Problem. This could've easily been a KING selection, or even an ACE on value but I'll go conservative for now given the time between now and R1. If he lines up in R1, don't hesitate – lock him in and thank me later!
FOLLOW ME ON TWITTER: @McRathDT for my honest and unbridled opinions on AFL Fantasy. Let's get the deck discussion going, using the hashtag #DeckofDT.