Paul Chapman – Deck of Dream Team 2014
I am very bloody excited as an Essendon supporter to have Paul Chapman wearing the red and black in 2014. He is also underpriced in AFL Fantasy and while he's getting on, he certainly will be fantasy relevant this season.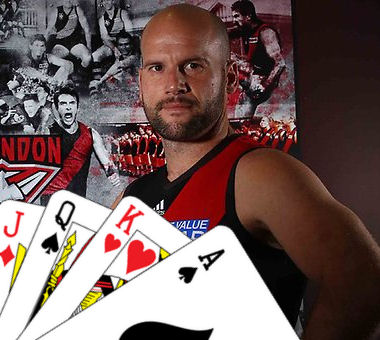 Name: Paul Chapman
Club: Essendon
Position: Midfielder/Forward
AFL Fantasy Price: $403,800
AFL Dream Team: $416,300
Bye Round: 10
2013 Average: 84.7
2013 Games Played: 6
Predicted Average: 89
Why should I pick him?
Surely Chappy would have to be a lot of people's favourite player outside of those at the club you support… maybe not if you're a Hawks fan, but you've gotta love the way he goes about his footy. This isn't really a good reason to pick players in your team, but it is nice if you're picking dudes that you like.
I like him and now I love him because he's a Don!
Alright, enough of that. Paul Chapman has to be one of the best AFL Fantasy forwards of the last decade. Since 2006, his season averages read almost like a midfielder.
2006: 101.2 points (22 games)
2007: 102.5 points (16 games)
2008: 92.6 points (17 games)
2009: 112.5 points (17 games)
2010: 113.7 points (21 games)
2011: 102.1 points (20 games)
2012: 97.4 points (20 games)
2013: 84.6 points (6 games)
Those figures are fantastic to look back over and reminisce about Chappy's fantasy contributions for our sides. He started the year looking great. 103, 90, tagged to 82 and then had a hamstring injury for 79. He then wasn't seen until Rd 22. Chapman started in the green vest against the Swans to score 59 and then managed 95 in Rd 23. In the Semi-Final against Port, he scored 113. So really, his averaged of 84.6 probably seems a little bit lower for what he did this year – and yes, it was only from six games.
So Chapman being priced at around 85 is pretty awesome in itself, but if you look at his starting price of just over $400K against the magic number, he provides value as he received a 9% discount on that average so really he's priced at approximately 74.5 points. Boom!
I've got no doubt he's going to be better than that and average in the high 80's. This would get him pretty close to the top ten forwards list for this year (and a certainty when we take out those who have lost FWD status).
Why shouldn't I pick him?
Twang.
It's a well known fact that Chappy has some pretty ordinary hamstrings. See those averages up there? They might look good, but there's only one year where he played all 22 games and there were plenty of times we were frustrated by him. And yep, most of these were hamstrings. This year's injury was a big one, too. We didn't see him from Round 6 until Round 22.
Chapman has recently turned 32… that's getting on in DT terms and those hamstrings definitely won't be getting better with age. This coupled with his actual fantasy output sees him as a huge risk going into 2014. I try to tell myself that risks are limited with the two trades per week, every week, but when Chappy will miss a game is not a case of if, it's when.
My other thought is that Essendon are serious about playing finals footy and they'll definitely want Chappy to be part of the action. I'm thinking they'll manage him pretty well during the season. Maybe we won't see him play every game of the first few rounds but look to play out the last part of the season leading into finals so he's fresh, fit and firing? A pre-season watch on workload is a must to know more about this.
Deck of DT Rating.
QUEEN – I am 50/50 on starting with Chappy. I straight away want to get #3 on my Bombers guernsey as he walks in now as my favourite Essendon player. I'd love to have him in my AFL Fantasy team from the start too. With the Bombers Round 10 bye, if Chapman could play the first nine rounds, with his MID/FWD DPP he could be very handy heading into Rd 10 to offload to a Rd 8 or 9 player to make the most of bye trading. I'll be watching his pre-season closely and I'm odds on having Chappy in my side at some stage… who knows, he could be an x-factor in the Warne Dawgs AFL Fantasy finals campaign!
FOLLOW ME ON TWITTER: @WarnieDT for all things DT (and more). Got something to say about the deck? Use the hashtag… #DeckofDT. It's going to be a big summer of AFL Fantasy! Giddy up!