BBL Fantasy Final Touches
Need some last minute advice on who to pick in your Big Bash Dream Team? Zeus takes us through some important positional roles, and helps you pick your team!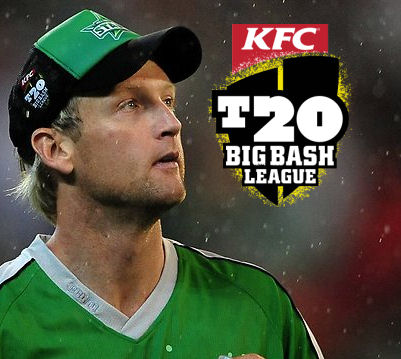 The Final Countdown!
Putting the final touches on you Big Bash League Dream Team? Well Zeus is here to take you through all the roles and positions you should be looking at for your team!
Batsmen
These are the players you want to have. They open the innings and will have the best chance to grab points. I have 5 openers in my team.
These are the players that try to rotate the strike and just stay at the crease for the whole innings. The last 5-10 overs they'll then tee off. These players are best used in conjunction with an attacking player, because it allows the hard-hitter to play with freedom knowing that if he gets out, there is a guy that is good enough to bat through the innings. A perfect example of this is Shaun Marsh. He did it all last season for the Scorchers, and did it perfectly. Other examples include: Jordan Silk/Marcus North (the attacker is Lumb),
These are the players that people pay big money to watch. These are the guys with the galleria shots. They can stun and dazzle an audience with brutal hitting and audacious lap-sweeps for six, but aren't too brilliant at building an innings first. They often get out going for shots that aren't on early in their innings, but if they are there at the end, watch out! Because of their power, these guys are the most well-known players. Examples include: David Warner, Michael Lumb, Dwayne Smith, Aaron Finch and Travis Birt. 
The middle order is often defined in tests as positions four through six. Tests are so long that these guys will often get a bat. However, in T20's, you only have 20 overs to make a mark, so I define the middle order as positions three through five. Ideally you would only want these guys if they were an allrounder. I've watched wayyyy to many matches where number three comes in in the fifteenth over. It's bloody horrible.
These are guys that are capable of building an innings if they come in early, or having a whack if they come in late. I still wouldn't take the risk though, you are bound to get the occasional low score. Examples include: Ben Rohrer, Eoin Morgan, Adam Voges, Joe Burns.
This is the only time I'll really go for a player in the middle order. They might not get much of a bat, but they'll make up the points through bowling. Some of the really good allrounders bowl four overs, which is fantastic fantasy wise. Examples include: David Hussey, Tillakaratne Dilshan (if he doesn't open), Mitch Marsh, Daniel Christian, James Hopes, Shoaib Malik.
I define the lower order as positions six through eight. These guys have roles that are known in cricket as 'finishers'. They do exactly as the name says, coming in late in games to finish off an innings with some big hitters. They might occasionally get promoted up the order as pinch-hitters.
These are guys that are there only to finish. They just basically swing at everything. They don't care about their average. They often only have one or two overs, and they will bloody well make the most of it. Examples include: Brad Hodge, Chris Lynn, Aidan Blizzard and Nathan Reardon.
Again, I don't mind picking these guys because of their bowling exploits. The bowling allrounders often occupy the number seven position, and are the ones used most often as pinch hitters. Examples include: Ashton Agar, Ashton Turner, James Faulkner, Dimitri Mascarenhas.
Bowlers that can bat a bit.
These are the lads that are picked in the side as bowlers, but are able to wield a bat. The tail can often make or break a team, a good tail gives the side a confidence booster. A bad tail, on the flip-side, puts extra pressure on the batsmen above to not get out, which adversely affects their scoring.
Examples include: Nathan Coulter-Nile, Ben Laughlin, Ryan Harris, Mitchell Starc and Mitchell Johnson.
Bowlers
At this point you are probably furiously inspecting your teams to see if the players you picked are opening batsmen or allrounders. Well, buckle up, there's still the bowlers to cover!
A spinner can often be both attacking and defensive, but usually has one mindset that he likes better. Attacking spinners aren't often used in Australia because of the lack of turn. A good example is Sunil Narine, who batsmen the world over struggle to pick. Attacking spinners are more likely to get wickets, but might get hit a bit. The really good ones though can keep the run-rate down though as well.  Examples include: Muttiah Muralitharan, Brad Hogg and Ajantha Mendis.
These are more the rage in Australia, often used to just tie up one end and let the pace bowlers do the work. This is not to say they don't get wickets, most of them do! They just won't get as many as the attacking spinners, but they'll have a better economy rate. A few examples include: Michael Beer, Daniel Vettori and Aaron O'Brien.
I actually didn't think there was a big enough difference between pace bowlers to divide them up into categories. Most of them steam in and try to bang it in as fast as they can. The only real exception to this rule is Trent Copeland, who relies more on accuracy (like Kolkata's Rajat Bhatia, for those of you who follow the IPL). The good bowlers will constantly change-up their lengths, lines and pace to leave the batsman confused. A really good exponent of this was Dwayne Bravo, it's a shame the Sixers lost him!
Conclusion
I realise I might have been overly detailed in the previous explanations, so I will basically sum up the most important points.
When picking batsmen, look for openers or allrounders. If you can't choose between two pure batsmen, as a general guide, go for the one that bats higher up the order.
»  When picking spinners, try to go for the more attacking ones, as they usually take the most wickets.
»  If you can't choose between two pace bowlers, choose the one that bowls at the death, as batsmen looking for quick runs will often be slogging and therefore getting out a lot quicker.
Bye-Rounds and Double Game-weeks (DGW's)
As you might have noticed, the fixture for this year's BBL contains a few hiccups for fantasy coaches. These 'hiccups' include bye rounds and DGW's. A bye round means that a particular team won't play in that round, and a DGW means that they'll play twice. If a team has a bye, they'll also have a DGW to make up the lost game.
People might look at them and go 'ughhhhh it's going to be tough to deal with these', but I think it's probably the best part of the game (besides actually watching the matches). For example, in IPL fantasy earlier this year, I did my research, saw which teams had a bye first up and loaded my team with them. This lead to an overall ranking of fourth after the first round and kick-started what was a successful campaign.
I have acquired a handy table from Shaun O'Neill (twitter: @DreamteamBOSS, facebook: ICC Fantasy Renegades), showing all of the teams and their byes and DGW's, so thanks Shaun.
The only team to not have either are the Melbourne Stars and the Brisbane Heat. Now, this is an advantage and a disadvantage. It means that you won't have to worry about force trading any of their players in or out at certain times, but it also means you can't have a double round with some of their awesome players (i.e. Malinga, Kieswetter, Hussey, Christian).
Not to worry however, because the rest of the teams have both. The Renegades are the first to have a DGW, in round three. It does mean though that the Sixers have a bye, so don't start with many of them. Therefore, we can see that it would be really good to start with Renegades players (or trade them in gradually before round three) and then dump them for Sixers players, who have a DGW the next round.
It's strategy like that that will win you the competition. You just have to keep an eye on the BBL at all times.
Late Outs
There is nothing more frustrating than having a late-out ruin your painstakingly researched and perfectly constructed team. That is why I'm going to try and list all of the players that are unavailable for Round One. Now this list is not definitive and should not be treated as such. There still may be others.
»  Dwayne Smith – Scorchers – Personal reasons
»  Mitchell Starc – Sixers – Injury – Replaced by Josh Lalor
»  James Faulkner – Stars – Injury – Replaced by James Muirhead
»  Patrick Cummins – Scorchers – Injury – Replaced by Ryan Duffield
»  Ben Hilfenhaus – Hurricanes – Injury – Replaced by Kelvin Smith
»  Lasith Malinga- Stars- International duty
»  Mohammed Hafeez – Renegades – International Duty
»  Dilshan and Mendis – Thunder – International Duty
»  All Australian test players excluding David Warner, George Bailey, Steven Smith, Nathan Coulter-Nile and Doug Bollinger
Wrap-Up
Well that's it for me on DT TALK for this season guys, I have thoroughly enjoyed the chance to write on this awesome website and I thank Warnie, Roy and Calvin for the opportunity. I hope you all have enjoyed reading these articles, and find them helpful and constructive.
However, I still will be writing articles throughout the BBL season over on Fantasy Cricket Galore, so please do jump over and join us for all of your fantasy cricket needs. Just in the next few days we've got articles such as Round One Captains, POD's and Relevant Rookies. I hope to see you there.
Cheers and good luck with your season,
Zeus O'Dea.