Heath Shaw – Deck of Dream Team 2014
He changed the way we play the game forever. Thanks for the reversible trades Heath! Now he has a new home, a leadership role, and has even added a colour to his jumper. But will it be enough to pick him? Shawly not!? Heater's up next in the Deck of Dream Team.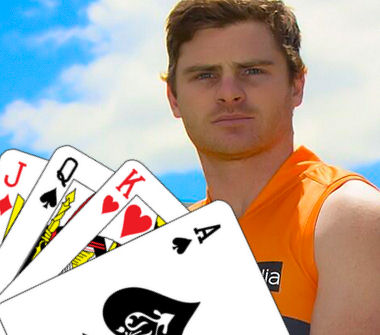 Name: Heath Shaw

Club: Collingwood GWS Giants
Position: Defender
AFL Fantasy: $441,300
AFL Dream Team: $444,800
Bye Round: 9
2013 Average: 79.6
2013 Games Played: 19
Predicted Average: 90
Why should I pick him?
You know what? It's highly likely that when you heard Heath Shaw's name mentioned your mind automatically thought about why not to pick him. So let's start with that and then come back to the positives.
Why shouldn't I pick him?
Where to start? He's at a new club with a new game plan and is an inconsistent accumulator. ASADA still won't allow him to take his ADHD medication and he's not reliable to play a full season. He's also on a few 'Never Again' lists. He only averaged 58.2pts over his final five games at Collingwood. His last full season was in 2007. He might get an offensive tag and he has had hamstring issues. He… Look; it doesn't look good for Heath.
The pros and cons do not add up. If Heath Shaw's negatives were a metaphor they'd be the fat kid on the see-saw; forever suspending the skinny kid in mid-air. He was shown the door at Collingwood due to his on-field attitude and supposed disagreement with the team plan off field, and he has a highlight reel dedicated entirely to his career from shouting at Nick Maxwell.
He shares his byes with Carlton, Hawthorn, Port Adelaide, West Coast & the Bulldogs, spelling bye-round trouble if you are looking at selecting him in a combination of Sam Mitchell, Luke Hodge, Brett Goodes, Andrew Walker, Kade Simpson, Beau Waters and/or Hamish Hartlett.
Shaw is not a trustworthy fantasy investment. With all his faults it's hard to see anyone picking him. You know, except for the fact that he is a good investment, and you probably will. For someone so inconsistent, you actually know what you get from Heater; you just don't know when, or how. Heath's basically a choose-your-own-adventure book for Fantasy coaches.
He will miss games, either through injury, suspension, or doing something, well, unorthodox. But…
Why will I pick him?
He scores big! When he's not tied down to the back pocket in a game-plan that doesn't suit him, shouting at Nick Maxwell and throwing footballs at Angus Monfries' head (still one of my preferred 2013 highlights), he's actually a bloody good footballer. Excluding his first season, Heater hasn't dropped below an AFL Fantasy average of 80, ever! As a pure defender, not a mid-come-defender, that's pretty impressive. Just two seasons ago Heath averaged 91.7 in his best season to date. And thanks to spontaneous on-field combustion in the last month of the 2013 season, he's also calculated a slight discount for himself.
There are some Heath Shaw previews going around comparing team statistics of the Giants and the Pies, implying that because the Giants have been poor, Heath will be poor; but that's just short-sighted analysis. Firstly, the Giants are on the up, and should show marked improvement this season, if only in their possession count. Secondly; it doesn't take into account Shaw's position. Have you watched any Giants games? I have. All of them. They hurt me sometimes. But that aside, you know what the Giants biggest issue is (apart from losing?), clearing their defensive zone. The ball just bounces around from player to player, trying to clear the zone, with no rebounding leadership. Enter Heath Shaw.
Heater will be given the freedom to play the running defender game he loves so much and that tallies up so many fantasy points. The Giants game plan is built for Heath; they aren't afraid to try and break defensive lines and carry the ball down the wing. Shaw has been recruited to lead this game play. Heater will be repeatedly fed the ball by his younger team-mates, and he'll take the game on. Will he get extra attention due to this? Yes. Will that bother him? Not as much as Maxwell's on-field 'feedback' sessions did.
Heater scored 90+ points on 10 occasions last year from 19 games, averaging 86.6 over his first fifteen games, before it started to go south. This includes smashing the 100+ barrier 6 times in those 15 games. And he will do similar this year. I'd take that from a defender! It is up to you if you want to start him in your team or wait until after his bye, but I'd expect him to be on most coaches lists' at some point during 2014. He will be given permission to exert himself onto the game at the Giants, and this will only help his poorer, bottom-end scores, lifting his overall average. He should get plenty of cheap football in the Giants backline, and can only improve on last year.
Deck of DT Rating
KING – Or Joker? I'm not shaw. Heath would be an Ace defender, if only he could figure out how to play every game in a season. Could this year be it? When playing his natural game, he's the type of player fans love to watch, and the type of player who could win you games off his own boot. Personally, I think I'll be starting Heater in 2014. If he fails in his first few games, you can always trade down to a performing defensive mid-pricer. If you don't start him, you're only asking to be burnt the week you bring him in, just like every other year. Wait; why are we picking Heath Shaw again?
FOLLOW ME ON TWITTER: @RLGriffin85 for all things Fantasy. Got something to say about the deck? Use the hashtag… #DeckofDT. Fantasy pre-season is here!