Brad Crouch – Deck of Dream Team 2014
Brad Crouch came to play in his first year but in 2014 he comes at a much much higher price. Plus… what about 2nd year blues? Is this a term you are familiar with? If not, you better get in there and start reading.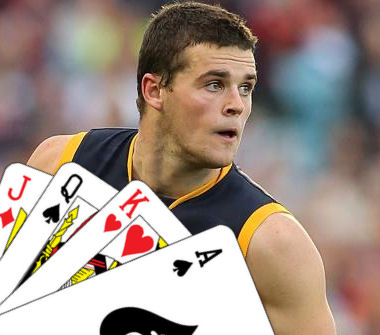 Name: Brad Crouch
Club: Adelaide Crows
Position: Midfielder
AFL Fantasy: $499,000
AFL Dream Team: $503,000
Bye Round: 8
2013 Average: 92
2013 Games Played: 14
Predicted Average: 99
Why should I pick him?
The kid is a ball magnet. He's an absolute freak. Even back in 2011 when he was playing with North Ballarat in the TAC Cup, he averaged 29d a game. His brother Matt joins him at the Crows ready for next year and his bro is also a magnet averaging a massive 37d for North Ballarat in the TAC as well. But we're here to talk about Bradley…
This year the rookie played 14 games and really stepped it up to claim himself as a future fantasy star in the making with 'pig like' tendencies. In his last 6 games of 2013 he had 5×100+ scores averaging 101 and should only be better in 2014. Surely…
Why shouldn't I pick him?
Second year blues anyone? Remember a guy called Toby Green? He averaged 96 in his first season causing many to hype him up as the next big thing. I even heard people comparing him to the Great Dane Swan (nuts)…Toby averaged 76.5 this year. Second year blues at its best. Now, it's a very tough call to say that about Crouch. Just because it's he's approaching his second year doesn't mean it happens to everyone. But then we also have Zorko? He averaged 94 in his first year and backed it up with just 74. It does happen and does come at a risk.
Why would you buy Crouch when Dayne Beams is at around the same price? Or you can save cash and pick up Marc Murphy who has averaged 111 before. I'm sounding very negative here and Adelaide fans will be spitting chips but it's all true.
Deck of DT Rating.
KING – 2014 is going to be very interesting for Crouch. The kid can play and is a fantasy freak. But so was Zorko and Greene and when you can buy Dayne Beams, a proven jet who has averaged 116 in 2012 when he was fully fit for the same price it's a no brainer for me.
FOLLOW ME ON TWITTER: @CalvinDT for all things fantasy and plenty more
Loading ...