Chad Wingard – Deck of Dream Team 2014
Winning the club Best and Fairest in his second year was a pretty awesome effort, but averaging 86 from all 22 games was huge too. Chad Wingard has DPP status in 2014 and Dunny looks as to why the MID/FWD should make your squad.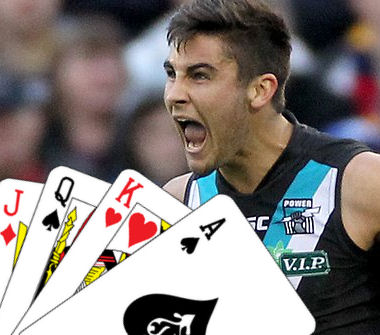 Club: Port Adelaide
Position: Midfielder / Forward
AFL Fantasy Price:  Approx $474,000
AFL Dream Team: $477,700
Bye Round: 9
2013 Average: 86.5
2013 Games Played: 22
Predicted Average: 90
Why should I pick him?
2nd year blues?  Not Chad Wingard.  Not only did he have a breakout year, he went on to win the John Cahill Medal as the Power's Best and Fairest.  In his first year he averaged 5.7kicks and 6.8handballs.  In 2013 he elevated that to be 12.9 and 8.3.  This saw his DT score go from 48.4 to 86.5.  Let's face it, this kid announced himself last year when he not only got plenty of the ball, he was there to win games when they were on the line (this maximises his SC score eg rd 19 last year where he scored 151).  In 2013 he had 8 scores over 100, but did have 10 scores under 80.  This isn't ideal, but it was only his second year.
He is not likely to be the first tagged in the midfield where there is Boak, Ebert and Hartlett.  However, when he plays up forward he is likely to get that tag as he is just so damaging.
Whilst those scores aren't enough to consider him as a Midfielder, his Forward status now makes him a very attractive proposition.  The key with him is that he does kick goals!  He kicked 43 at an average of 1.8 last year and only 20 behinds, so he is an accurate kick which equals a lot of points!
His average from 2013 would have seen him ranked 11th out of all Forwards.  We know that there are changes to this category in 2014 and if we remove those that are no longer Fwd eligible he jumps to 6th (he may dip a bit with some others that will gain FWD that I don't know about yet).
During 2013 he did spend a bit of his rest time on the bench when he was playing mostly midfield, with the new rotation cap in 2014 this will see him resting up forward more often and probably increase his TOG from the 87%.
Why shouldn't I pick him?
Wingard certainly jumped to attention last season, but unfortunately opposition coaches have also learnt how damaging he can be.  They have started to put that tag on him when he plays up forward.  He only scored 1 score 0ver 100 in his last 6 which was when teams started to work out how important he is.
There is only more and more competition for possessions in that Power midfield, whislt he faced that this year, this won't get any easier.  Particularly on the back of the Power getting a much tougher draw than in 2013.  There won't be the open space for him which will mean that his possessions may actually dip, hopefully he gets more goals from more time up forward to keep or slightly increase his average.
I think that his price is going to be the main concern that we all face.  I estimate he will be around the $465k-$470k range which will also have players like Lenny Hayes around that price.  I think that there may be better value at a lower price if you are looking in the midfield, but up forward, he may present a bit more value.
Deck of DT Rating.
Queen – I would love to say King as one of Wingard's idols is LeBron James, but I just don't see him that high.  I think that he will continue to improve and get more of the ball up forward which will hopefully result in goals and more DT points.  But Port will find it tougher next year after busting onto the scene with their resurgent season, their draw is more difficult and this will curtail his flair and ability to get free.
FOLLOW ME ON TWITTER: @pkd73 for all things DT (and more). Got something to say about the deck? Use the hashtag… #DeckofDT. Can't wait for the new season of AFL Fantasy!