Lachlan Hansen – Deck of Dream Team 2014
Twelve months ago if someone said to me that I'd be choosing Lachie Hansen to write about for the Deck of Dream Team, I'd think I had lost the plot and should hang up the 'mouse' and retire from AFL Fantasy. With ten scores over 90 from round eight onwards, Hansen is now on our fantasy radar.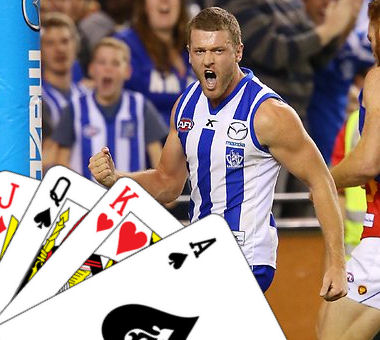 Name: Lachlan Hansen
Club: North Melbourne
Position: Defender
AFL Fantasy: $391,900
AFL Dream Team: $395,000
Bye Round: 8
2013 Average: 72.3
2013 Games Played: 20
Predicted Average: 82
Why should I pick him?
Lachie Hansen came onto our AFL Fantasy radar this season due to some very impressive scores throughout the year. If we were looking at a defender who posted ten scores over 90 which included three 100+ scores over the course of 14 games, you'd think we're talking about a certain top 6 defender.
Over that time he averaged just over 80 points but that did include two red vests, one was for 0 and the other 18. So it was more like 90+ during those rounds. Hansen can be seen as a bargain due to this averaging just 72.3 over his 20 games of the season.
Hansen's 2013 average was his best of his seven year career with his previous best being 69 back in 2010.
So what made a fair chunk of Hansen's games this year unlike the rest of his career? The obvious answer was his role. He spent a lot of games loose in defence, zoning off players for plenty of those handy mark-kick combos. Nine times this year he finished with double figure marks and the majority of those were then kicked (203 kicks, 131 handballs for the season). Uncontested marks still get you three points in AFL Fantasy!
While he managed to rack up the stats, he still did a great job on the tall forwards during the season. Quite often they would be the second or third tall (or resting ruckman) who he was able to take advantage of.
Why shouldn't I pick him?
Lachie Hansen has been playing since 2007 and his seasons have produced the following numbers:
2007: Average 21 (2 games)
2008: Average 53.7 (10 games)
2009: Average 60.4 (16 games)
2010: Average 69.2 (21 games)
2011: Average 54.7 (17 games)
2012: Average 52.7 (11 games)
2013: Average 72.3 (20 games)
If we purely look at those numbers you are well within your right to say "Warnie you are a friggen fool… why waste a card on Hansen". And that has some merit. Before this year (which still looks like a poor average on paper), he had scored over 80 just twelve times in 67 games. Not what we would want.
His year was fantastic in part this year and while I talked up his great games when we ignore his injury affected games, there were still some low scores thrown in there that would be very frustrating for coaches. Even when in form, his 54 vs Adelaide in Rd 20 and 54 v Collingwood in Rd 23 is what will pop up every now and then. But I guess you can take that from a defender if there were 8x 90+ scores around those.
Deck of DT Rating.
QUEEN – You'd think Lachie Hansen goes into 2014 down back… surely. If so, his AFL Fantasy numbers should increase. While you don't get points for efficiency in this game, he was pretty good with his disposals in 2013 and there were positive results for North when he was able to be used as that half-back that ran off and created play. I am worried that we might not see as many of those 90+ games that we did this year but we might see a more consistent output from him. Hansen is on my watchlist, but there's a bit of risk in picking him.
FOLLOW ME ON TWITTER: @WarnieDT for all things DT (and more). Got something to say about the deck? Use the hashtag… #DeckofDT. It's going to be a big summer of AFL Fantasy! Giddy up!