Dayne Beams – Deck of Dream Team 2014
Are you even considering not picking Dayne Beams next year? If you are, pinch yourself, take your meds, and pacify yourself with some stern words on Beamer – he's a must-have in 2014.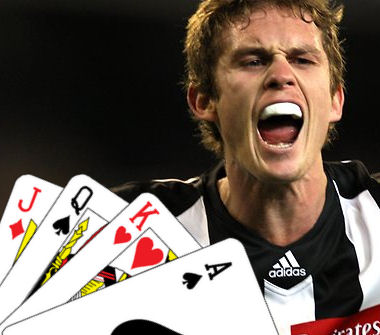 Name: Dayne Beams
Club: Collingwood
Position: Midfielder
AFL Fantasy: Approx. $498,800
AFL Dream Team: $497,300
Bye Round: Round 8 (shared with ADL, GEE, NTH, GCS, RIC)
2014 Average: 101.1
2014 Games Played: 7
Predicted Average: 114
Why should I pick him?
Short answer: he's a future pig and insanely under-priced. Let's take a quick look at the rise of Beams as a fantasy stud…
2011: Beams first burst on the scene in the latter stages of season 2011, capturing our attention with 5 straight tons – three of which were 128 or more – topping off what was already a solid year for the young ball magnet. He finished with an average of 101.6 that season, but it was his further classification as a DPP in the following season which really thrust him front and centre in the race to $50k.
2012: Many of us will fondly remember '12 as the year of the MID/FWD – budding stars such as Dangerfield, Sidebottom, Robinson and Zaharakis were all popular choices from the talent-shallow forward pool. However, thanks to a combination of a hefty 101-point price-tag and the well-known shin splint issues that forced him to miss all of the NAB Cup and even Round 1, Beams wasn't invited to the party. After three mediocre scores of 74, 93, and 85 upon return, it didn't look like it was going to be this particular Pie's year. Then….Bang! A fantasy piglet waddled over to the Dream Team trough, and once he started feasting, he didn't stop. In the remaining 18 games of the year, Beamer averaged a whopping 121.9 DT points, including just the single score below the hallowed three-figure mark.
2013: Once again, Dayne's season was derailed early by injury, crucifying many coaches along the way with his Round 1 late withdrawal with a thigh ailment, despite playing over the NAB Cup without any reported issues. His season debut wasn't until Round 16 – an 80-point effort against the Crows – and by now many of us had lost faith that Beams could be fantasy relevant in 2013. Cue scores of 134, 130 and 117 in the next three weeks.
So, why the lengthy trip down memory lane? Well, hopefully it's highlighted the strong correlation between fitness and massive fantasy scores from Beamer. He's an out-and-out gun, one of the few in the prestigious group that pump out elite disposal numbers while impacting the scoreboard. Only three players averaged 30+ disposals and 1.2+ goals per game in 2012 – Ablett, Swan and Beams.
Did I mention that he's likely going to get a 9% discount this year, based on the discounts we've seen so far? That's right. Thanks to playing just the 7 games last season, we won't be paying a price-tag that befits a 101.1 averaging player – we'll be shelling out the equivalent of a 92 average for the superstar-in-waiting. I feel like I should be saying this in a 'crazy warehouse guy' voice, that's how massive a bargain Beamer will be at sub-$500k.
Ask yourself this; If Beams was able to churn out 122 points a game in 2012 without a pre-season, 101 points a game last year without any match fitness base… what can the guy do with a solid off-season?
It's a scary thought.
Why shouldn't I pick him?
It's hard to come up with anything except If's, But's and Maybe's here, but I'll include them for argument's sake. Just know that I could have just as easy left this section blank.
What if he's not durable? That's a defensible statement to make, given Beams does have a spotty health record. A foot fracture in 2011, shin splints in early 2012 and the long-term thigh issues that plagued him this season make for uneasy reading. However, I'm not concerned. He's nowhere near the Grimes/Higgins basket yet, and these seem more like issues that most young players go through as they gradually adapt to the incredible trauma that AFL players put their bodies through each year.
But maybe he'll get tagged? Possible, but with the damaging Pendlebury needing constant attention and Swan still plugging away at an elite level, I can't see Beams attracting a significant tag on a regular basis. Worst case scenario is something like Pies vs Freo, where Pendles gets the Crowley tag and Lyon opts to send De Boer to Beams instead of Swan, to mix things up a bit. Hardly unbreakable, and remember, this is the worst case scenario.
Maybe the Pies will suck? The implied assumption here is that players find it harder to score in less successful teams. An interesting stat – in every season that Dane Swan has averaged over 100, the Pies have finished 7th or better on the ladder. How much 'help' does a DTer really get from playing in a successful team? What does the scoring of Beams and co. look like if the Magpies sink into the bottom half of the table? We'll likely never know. They did just deal significant pieces in Dale Thomas and Heath Shaw, but with the core of the club still intact and a swathe of young talent in the wings, it's hard to predict a significant drop off from Collingwood. Plus, given the elite ball-winning ability of Swan, Pendles, Beams and Sidebottom, the Pies won't be detracting from a possession-happy playing style any time soon.
And don't even think about telling me that you're considering not picking him because of his Round 8 bye, chock-full with other Premium midfield options like Swan, Pendlebury, Ablett, J. Selwood, Cotchin and Dangerfield. Can't fit them all in, you say? True, but if Beams isn't your first picked of that lot simply on a value basis, then you're a fool. Save that argument for the pricey Swan and Ablett dilemmas, not for the irresistible bargain staring you right in the face.
Deck of DT Rating.
ACE – He might be priced like a King, but make no mistake, this guy will produce like an Ace. The fact that he's discounted on an already naturally discounted 101-average is pretty much the reason why vouchers always have the "cannot be used in conjunction with any other offer" disclaimer asterisked at the bottom. He's basically 20 points under-priced as a result.
Anyway, I've probably just used a lot of words above to say what could have been summed up in two: Absolute. Lock.
FOLLOW ME ON TWITTER: @Tbetta9 for all things fantasy.