Tom Rockliff – Deck Of Dream Team 2014
I'm kicking off with My Boy Tom Rockliff and there is no prizes for guessing that I am a big fan of picking him up in 2014…… As in selecting him in my AFL fantasy team I mean.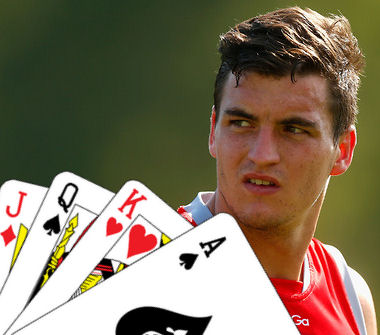 Name: Tom Rockliff
Club: Brisbane Lions
Position: Midfielder
AFL Fantasy: $558,800
AFL Dream Team: $563,200
Bye Round: 10
2013 Average: 103
2013 Games Played: 21
Predicted Average: 112
Why should I pick him?
Tom Rockliff ticks almost all boxes as to why he deserves a spot in your starting line-up for the 2014 season. Now before we go any further, I feel I need to clarity a couple of things re: my unhealthy obsession/man love for Rocky. Is it over the top? Yes, Would I say to pick him up even if he had a season the equivalent of Zac Dawson? Yeah probably. Am I jealous of his GF? Wow, that just got weird….. but the response would be the same answer an AFL player would give in a standard post match interview: Yeah Na, leaving it open for interpretation.
Okay, let's get back on track as I convince you to place him on your short list. Last year Micheal Voss went from one of my all time favourites to a member of my Black List alongside the likes of Ryan Crowley and Steven Baker. With the Lions struggling for an avenue to goal, Voss decided their best chance to kick a winning score was to take their best on baller and sit him in the goal square, obviously not taking into account that the ball won't get down there If Rocky is not up the ground winning it. Week after week Fantasy coaches frustration grew as Voss ignored our pleas and we could do nothing but watch our premium scorer go 6 weeks without cracking a ton, with 3 of those scores under 80 and the lowest two a ball breaking 63 and 67.
With frustration levels high, and a plummeting price tag in the vicinity of Kepler Bradley, some coaches understandably pulled the pin on Rocky, only to have Voss wake up and re injected him into the midfield for the last 8 rounds of the season and wow! Didn't he embrace the opportunity! Over this time he averaged a whopping 123 which included thumping "captain like" scores (Sorry Calvin, your territory, I know) of 134, 139, 140 and 144, whilst his lowest outputs were still respectable with 95 and 97. This run of hot form also saw him collect 19 Brownlow votes in this time, which will surely guarantee Lions new coach Leppa sees Rocky and their number 1 in the guts.
I like the fact Rocky has a round 10 bye which avoids many of the teams which will provide a number of our premium mids such as Collingwood, Geelong, Gold Coast, Richmond, Port, Carlton, West Coast and Western Bulldogs.
Why shouldn't I pick him?
Some coaches have ruled a line through Rockliff based purely on the fact he has lost his DPP. It's fair to say we were spoiled last year being able to grab him as a fwd and some believe his price will be too hefty when selecting him against the elite premiums of the competition.
With a new coach, and history to suggest he can be a successful forward, there is no guarantee that Rocky will play the role that we all think he should.
With champion mid Simon Black retiring, it leaves a free tagger and Rocky looks the obvious choice to attract the extra attention.
Deck of DT Rating.
Ace – Due to Rocky's extended stint deep in the forward line he is heavily under-priced at an average of 103. The level of domination he showed over the last 8 weeks with Brownlow votes as well as massive fantasy scores indicates that his game has reached a new level. During that period of dominance, he came up against the respectable tag of Daniel Jackson which he laughed off for 34 disposals and 115, leaving me feel comfortable he is ready to deal with the added attention. Without DPP, and at his price tag it will take balls to pick Rocky this year, but that will also mean he is quite unique as opposed to last year, giving huge potential upside on the competition.
Dare I say it, but he is blessed with many pig like abilities and as a full time mid I can see him potentially receiving a nomination for pig status alongside the great Dane Swan during the year.
When I asked him if there was anything he would like to say in order to sell himself, he replied "I am sure you will sell me well enough haha". That attitude reminds me of Mary off Something About Mary, how he is understanding and kind to his stalkers. #FirstPicked #TomLockLiff
FOLLOW ME ON TWITTER: @RoyDT for all things fantasy and use the #DeckofDT hashtag to chat about today's article.