Bernie Vince – Deck of Dream Team 2014
Paul Roos will be able to straighten up Bernie Vince. He'll turn him into a great fantasy player and he'll average way way more than he did in 2013. Ummmm…. Check out Calvin's take on the recycled Bernie Vince who has averaged 100 before.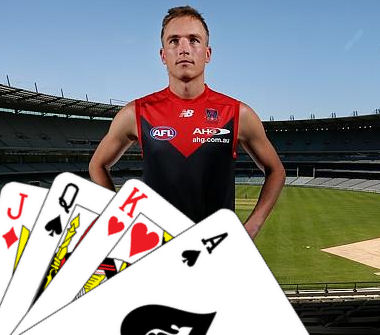 Name: Bernie Vince
Club: Melbourne Demons
Position: Midfielder
AFL Fantasy: $449,300
AFL Dream Team: $452,900
Bye Round: 10
2013 Average: 82.9
2013 Games Played: 21
Predicted Average: 86
Why should I pick him?
Old school fantasy coaches like myself remember the good times with Bernie Vince. For those who have forgotten, please cast your mind back to 2009. During this sensational season, Bernie averaged 100 (22 games) and dominated. He finished the season like a steam train carrying a lowest score of just 89 with 6×100+ scores in his last 8 games.
Vince starts with a nice draw as well. After playing the depleted Saints in Round 1 he then plays West Coast, GWS, Carlton and the Gold Coast Suns. A good start is certainly on the cards for new Melbourne #23. He'll get plenty of midfield time with the Dees, he's a proven scorer and finds himself at a new club and must be on your radar.
Why shouldn't I pick him?
Bernie Vince is one of these 'recycled players' who people think Paul Roos can fix but the facts here can not be disputed. Bernie Vince has been trying to score points his fantasy coaches for the last 4 years. Over this time he hasn't averaged over 86 during this interrupted period. He did manage 6×100+ scores last year from his 21 games… but with another 6 of them being under 60. Bloody hell! Yep, 6 scores under 60! His price would have been bouncing up and down more than a fat kid on a jumping castle.
Adelaide didn't want him. Bernie said himself he was "pushed out the door…" In 2012, he was suspended twice for missing curfews at Adelaide and was reprimanded when spotted at a bar celebrating a cricket premiership in his underpants. Ok yes, it's funny and yes, I do think Roos can straighten him up. He's 28 years old and basically has no choice. He has to straighten up or he'll be given his marching orders like the Crows gave him this year. He's playing with Melbourne. Life is going to be tough enough and if they are relying on him to dominate and to average us 100+ this year… it's just not going to happen. They don't get enough of the ball.
Deck of DT Rating.
QUEEN – I can see Bernie Vince's price rising. I can see him averaging more (just) than he did in 2013 but… It's not going to be substantial enough to make an impact in your fantasy team. My verdict… I'm not interested at the price he'll be set at unless he shows massive promise during the NAB Cup. But hey, it is early days so don't cross anyone off the list yet.
FOLLOW ME ON TWITTER: @CalvinDT for all things fantasy and much more.. and I'm a legend
Loading ...