Jobe Watson – Deck of Dream Team 2014
Kicking off the Deck of Dream Team for 2014 is Essendon Captain and under-priced midfielder, Jobe Watson. Warnie looks at whether you should inject him into your AFL Fantasy team in 2014.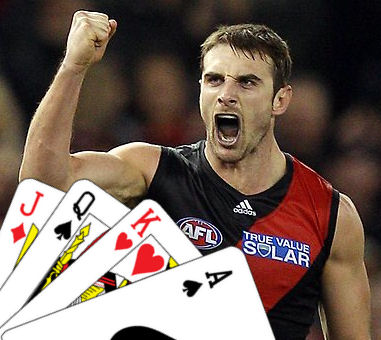 Name: Jobe Watson
Club: Essendon
Position: Midfielder
AFL Fantasy: $534,000
AFL Dream Team: $538,200
Bye Round: 10
2013 Average: 98.5
2013 Games Played: 19
Predicted Average: 108
Why should I pick him?
I've started with the captain of the club I support because he is close to being the first picked for me. In 2012 Jobe Watson had his fantasy breakout season averaging over 100 for his first time with 112.4 AFL Fantasy points whilst playing every game. 17 of his scores were over 100 including 9 of them 120+.
Oh yeah… he also won the Brownlow Medal!
This year Watson comes in under-priced after a few down games to go with a red-vest when he broke is collarbone during the first quarter in Round 15 for only 16 points. He missed three games before coming back for 113, 120, 121, 104 and 73 to finish the season.
Apart from his injury affected game, Watson didn't finish with under 20 disposals throughout this season or the last. He is certainly an accumulator of the ball! For fantasy, I worry about Jobe's handball happy game. This has improved over the last three seasons as back in 2010 he had a 1:1.7 kick to handball ratio. Over the last three years it's been in the positives with more kicks than handballs. Hopefully this can continue in 2014.
Another factor in his average drop in 2013 was the tough year he had off the field. The Bombers drug scandal can't have been good for the captain of the club but his numbers were still as high as ever. Even after that night when he admitted to being injected with AOD-9604 on "On The Couch", the following game against West Coast he had 122 fantasy points. My point being here is that it should be a much more positive season for the captain off the field which should translate to better on field performances.
Why shouldn't I pick him?
Looking back over his AFL Fantasy career, Jobe Watson hasn't really proven himself to be a premium midfielder. I was surprised that he hadn't averaged over 100 points before 2012 but in the three years leading into that he averaged 91, 94.9 and 99.5 to be a fair consistent, and gradually improving, fantasy player. The question still remains in my head about whether he actually is a 110+ type player.
One of the main reasons was the aforementioned kick to handball ratio. I did say he's improved but it is only slightly over 1:1 in favour of kicks. Nothing like our favourite fantasy pig in Swanny at over 1.5:1. Some examples of poor kick to handball this year was in his last game against Richmond with 8:17 (74 points going head to head with Cotchin), against GWS with 7:14 (54 points being tagged by Townsend) and 6:14 against Fremantle (65 points while being tagged by de Boer).
This bring up the next point… Watson can be tagged and kept to low scores. He more often than not breaks the tags but for consistency sake, it's not a great thing to cop a sub-80 type score from a guy who you have in your side to be averaging 105+.
Deck of DT Rating.
ACE – I think with the Bombers drug scandal dying down (well, I hope so anyway), Jobe Watson can get back to his best without that other rubbish in the background. I did think he was going to be my first picked but I am second guessing myself due to only one year averaging over 100 and the whole kick to handball/tag stuff. I still think he'll improve and as I have predicted him to average 108, he's currently in my starting squad… but it is only December 10!
FOLLOW ME ON TWITTER: @WarnieDT for all things DT (and more). Got something to say about the deck? Use the hashtag… #DeckofDT. It's going to be a big summer of AFL Fantasy! Giddy up!