St Kilda Saints AFL Fantasy Prices 2014
The best thing about the Saints prices is that Tassie AFL Fantasy gun Eli Templeton comes in at the basement price. Also ruckan Billy Longer will probably end up on a few benches this year.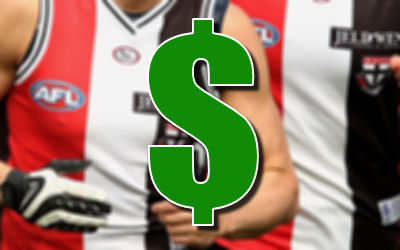 Billy Longer was picked up in the pre-season to potentially have a crack at the number one ruck spot for the Saints. His price of $194,400 could see him as a popular bench ruck. Midfielder and rookie draftee Eli Templeton averaged 90.8 points at the Under 18 Championships this year.
| | | | | |
| --- | --- | --- | --- | --- |
| Leigh | Montagna | St Kilda | MID | $606000 |
| Nick | Riewoldt | St Kilda | FWD | $559000 |
| Jack | Steven | St Kilda | MID | $532400 |
| David | Armitage | St Kilda | MID | $473900 |
| Lenny | Hayes | St Kilda | MID | $470400 |
| Farren | Ray | St Kilda | MID | $448100 |
| Clinton | Jones | St Kilda | MID | $420200 |
| Jarryn | Geary | St Kilda | DEF | $383800 |
| Sam | Gilbert | St Kilda | DEF | $369200 |
| Shane | Savage | St Kilda | MID | $364900 |
| Sam | Fisher | St Kilda | DEF | $361000 |
| Dylan | Roberton | St Kilda | DEF | $358500 |
| Sean | Dempster | St Kilda | DEF | $358300 |
| Thomas | Curren | St Kilda | MID | $324100 |
| Jack | Newnes | St Kilda | MID | $323100 |
| Adam | Schneider | St Kilda | FWD | $312300 |
| Maverick | Weller | St Kilda | DEF | $306700 |
| Sebastian | Ross | St Kilda | MID | $305200 |
| James | Gwilt | St Kilda | DEF | $291400 |
| Thomas | Lee | St Kilda | FWD | $282900 |
| Tom | Hickey | St Kilda | RUC | $282700 |
| Josh | Bruce | St Kilda | DEF | $278400 |
| Trent | Dennis-Lane | St Kilda | FWD | $276300 |
| Terry | Milera | St Kilda | FWD | $269900 |
| Beau | Maister | St Kilda | FWD | $261400 |
| Jack | Billings | St Kilda | FWD/MID | $257400 |
| Rhys | Stanley | St Kilda | DEF | $247500 |
| Arryn | Siposs | St Kilda | FWD | $243000 |
| Jimmy | Webster | St Kilda | DEF | $235500 |
| Samuel | Dunell | St Kilda | MID | $231100 |
| Josh | Saunders | St Kilda | MID | $228700 |
| Luke | Delaney | St Kilda | DEF | $224800 |
| Luke | Dunstan | St Kilda | MID | $216800 |
| Blake | Acres | St Kilda | MID | $214100 |
| Nathan | Wright | St Kilda | DEF | $213300 |
| Brodie | Murdoch | St Kilda | FWD | $208900 |
| Billy | Longer | St Kilda | RUC | $194400 |
| Darren | Minchington | St Kilda | FWD | $183300 |
| Spencer | White | St Kilda | FWD | $172800 |
| Tom | Simpkin | St Kilda | DEF | $154800 |
| Cameron | Shenton | St Kilda | FWD/MID | $135500 |
| Jason | Holmes | St Kilda | RUC | $115200 |
| Daniel | Markworth | St Kilda | FWD | $115200 |
| Lewis | Pierce | St Kilda | RUC | $115200 |
| Eli | Templeton | St Kilda | MID | $115200 |