BBL Fantasy 2013/14: Adelaide Strikers Preview
The Adelaide Strikers had a poor first season in the Big Bash League, and didn't do much better in the second edition. But that doesn't mean you shouldn't pick any of them in your BBL Fantasy team. While Zeus doesn't name up any locks, there is plenty of value from the Adelaide side.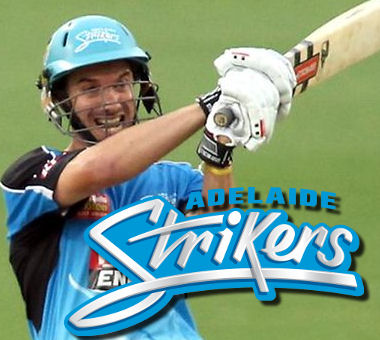 Team Name:
Adelaide Strikers
Summary
The Adelaide Strikers had a poor first season in the Big Bash League, and didn't do much better in the second edition. Much like the Sydney Thunder, they are very reliant on one or two players, and that brings about their downfall when they get out or don't take wickets. Their batting (apart from Klinger, Ferguson and Hales) isn't brilliant (Hughes I haven't seen in the T20 format enough to comment on whether he's good or not).
Their bowling is slightly better. Botha is a warrior and has vast experience. He's a good choice to captain the side. Richardson can mix it up a bit, and Tait can bowl fire on his day. Their fourth bowler will be interesting, a toss up between Zampa, Putland and Holland. Lawford could come into consideration as well.
Team XI for GW 1
Alex Hales
Michael Klinger
Phillip Hughes
Callum Ferguson
Nathan Reardon
Tim Ludeman
Andrew McDonald/Michael Neser.
Johan Botha
Kane Richardson
Shaun Tait/Gary Putland
Adam Zampa/Jon Holland
Injuries
None that I'm aware of.
International vacancies
Alex Hales could get called up to the English team for the ODI series if he plays particularly well.
Locks
There are no real 'locks' in the Adelaide team.
Blocks
Jono Dean, Ben Oakley. Won't be playing a lot.
Adam Zampa and Jon Holland, until you know for sure which one will probably partner Botha, if they select two spinners at all.
Value Players
Michael Klinger is a decent option because he will more than likely open, and he has been in decent form. Worth a shout at 76k.
Travis Head, if he plays would almost be a lock for your team. Only 32k.
Jon Holland and Adam Zampaare very decent options for your fifth bowlers slot. You just have to see if they will play.
Prediction
As I said above, Adelaide has been mediocre this season, and I can't see how this is going to change this season. Apart from Klinger, Ferguson and Hales, none of their batsmen are really brilliant. Their bowlers are pretty decent, with the X-factor of Shaun Tait thrown in, they will have to play a really big role if Adelaide are to get anywhere near the finals. Bottom four.
I know the Hurricanes preview was released yesterday, but I thought I'd attach a link to a page that has an interview with Travis Birt. You can see that interview here.
Written by Zeus O'Dea, founder of and author for Fantasy Cricket Galore.
SEE THE OTHER PREVIEWS: Perth Scorchers | Sydney Sixers | Melbourne Stars | Sydney Thunder | Melbourne Renegades | Brisbane Heat | Hobart Hurricanes | Adelaide Strikers
EDIT: There was a bit of confusion about why I said that you should avoid Tim Ludeman because he won't be playing, then listing him in my GW1 XI. My apologies. I wrote the 'locks', 'blocks' and 'value players' before I wrote the XI, and assumed that Adelaide had another, better keeper, thus Ludeman was a 'block'. However, when I looked at Adelaide's list, I realised they didn't have another keeper, and had to include him in the side. I didn't go back and proof-read the article afterwards, hence the mistake. This has now been corrected.
To clarify though, you should still avoid Ludeman, as there are cheaper and better keeper options out there.