Melbourne Demons AFL Fantasy Prices 2014
The Demons look to have a few bargains in their list. Jesse Hogan was going to be a lock for quite a few coaches before the prices dropped, maybe not now?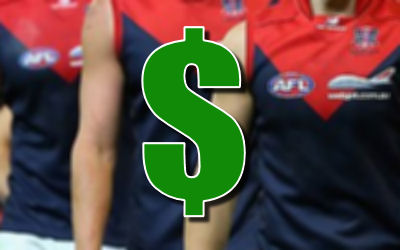 Our eyes went straight to Jesse Hogan and maybe we put a line through him now at $265,600. Probably a bit too much for a key position player despite his likelihood for games. To be honest, he probably won't improve on his price much coming in priced at approximately 49.0 points. Former Docker Viv Michie ($193,900) should be a consideration for our midfields.
Click here for the AFL Fantasy Advent Calendar.
| | | | | |
| --- | --- | --- | --- | --- |
| Daniel | Cross | Melbourne | MID | $485700 |
| Bernie | Vince | Melbourne | MID | $449300 |
| Dean | Terlich | Melbourne | DEF | $434900 |
| Jack | Trengove | Melbourne | MID | $422500 |
| Nathan | Jones | Melbourne | MID | $420800 |
| Jack | Grimes | Melbourne | DEF/MID | $416200 |
| Matt | Jones | Melbourne | MID | $383100 |
| Jack | Viney | Melbourne | MID | $374400 |
| Lynden | Dunn | Melbourne | DEF | $369800 |
| Mark | Jamar | Melbourne | RUC | $369200 |
| Jeremy | Howe | Melbourne | FWD | $366700 |
| Jack | Watts | Melbourne | DEF/FWD | $365200 |
| Colin | Garland | Melbourne | DEF | $363400 |
| Michael | Evans | Melbourne | MID | $361000 |
| Mitchell | Clisby | Melbourne | DEF | $355400 |
| Daniel | Nicholson | Melbourne | DEF | $342400 |
| James | Frawley | Melbourne | DEF | $339900 |
| Jake | Spencer | Melbourne | RUC | $338800 |
| Max | Gawn | Melbourne | RUC | $334400 |
| Cameron | Pedersen | Melbourne | DEF | $332800 |
| Jack | Fitzpatrick | Melbourne | FWD/RUC | $326700 |
| Tom | McDonald | Melbourne | DEF | $326500 |
| Shannon | Byrnes | Melbourne | FWD | $323900 |
| Jordie | McKenzie | Melbourne | MID | $308500 |
| Chris | Dawes | Melbourne | FWD | $282700 |
| Jesse | Hogan | Melbourne | FWD | $265600 |
| Jimmy | Toumpas | Melbourne | MID | $259400 |
| Luke | Tapscott | Melbourne | FWD | $256800 |
| Dean | Kent | Melbourne | MID | $241400 |
| Christian | Salem | Melbourne | MID | $241200 |
| Rohan | Bail | Melbourne | MID | $234400 |
| Dom | Tyson | Melbourne | MID | $218400 |
| Mitch | Clark | Melbourne | FWD | $213300 |
| Neville | Jetta | Melbourne | MID | $199900 |
| James | Strauss | Melbourne | DEF | $195500 |
| Viv | Michie | Melbourne | MID | $193900 |
| Sam | Blease | Melbourne | FWD/MID | $172400 |
| Jay | Kennedy-Harris | Melbourne | FWD | $157200 |
| Jayden | Hunt | Melbourne | DEF/MID | $135500 |
| Aidan | Riley | Melbourne | MID | $135500 |
| Dom | Barry | Melbourne | MID | $115200 |
| Alexis | Georgiou | Melbourne | DEF | $115200 |
| James | Harmes | Melbourne | MID | $115200 |
| Max | King | Melbourne | RUC | $115200 |