GWS Giants AFL Fantasy Prices 2014
The first of the team prices and positions have been released today and we are able to see what the GWS boys will cost us. The big one is the price of the number one draft pick, Tom Boyd.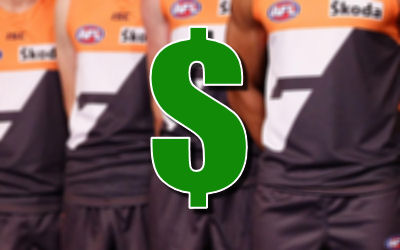 Here are the GWS Giants prices and positions for AFL Fantasy 2014. Initial observations see the first draft pick Tom Boyd come in at a whopping $262,900… much higher than the rookies have been in the past. Second pick Josh Kelly ($260,200) is $2,700 cheaper. Using the supposed magic number, Boyd is priced based on an average of approximately 48.5 while  Kelly is priced at 48.0 points. The other thing we'd been waiting for was to see if Toby Greene ($415,100) would gain DPP. Alas, he is still just a MID. Keep an eye on some of the cheaper players from GWS as they are one of the clubs most likely to blood some of the >$200K players throughout the season.
Click here for the AFL Fantasy Advent Calendar.
| | | | | |
| --- | --- | --- | --- | --- |
| Callan | Ward | GWS Giants | MID | $510200 |
| Adam | Treloar | GWS Giants | MID | $482100 |
| Heath | Shaw | GWS Giants | DEF | $441300 |
| Shane | Mumford | GWS Giants | RUC | $423000 |
| Toby | Greene | GWS Giants | MID | $415100 |
| Stephen | Coniglio | GWS Giants | MID | $413400 |
| Tom | Scully | GWS Giants | MID | $406200 |
| Devon | Smith | GWS Giants | FWD/MID | $400500 |
| Adam | Tomlinson | GWS Giants | FWD | $399200 |
| Rhys | Palmer | GWS Giants | FWD/MID | $394700 |
| Dylan | Shiel | GWS Giants | MID | $390500 |
| Lachie | Whitfield | GWS Giants | MID | $385400 |
| Jonathan | Giles | GWS Giants | RUC | $362600 |
| Jeremy | Cameron | GWS Giants | FWD | $360300 |
| Curtly | Hampton | GWS Giants | DEF | $348700 |
| Stephen | Gilham | GWS Giants | DEF | $337600 |
| Josh | Hunt | GWS Giants | DEF | $327900 |
| Nick | Haynes | GWS Giants | DEF | $313400 |
| Tim | Mohr | GWS Giants | DEF | $311400 |
| Tomas | Bugg | GWS Giants | DEF | $295000 |
| Phil | Davis | GWS Giants | DEF | $292300 |
| Zachary | Williams | GWS Giants | MID | $291700 |
| Adam | Kennedy | GWS Giants | DEF | $282100 |
| Dylan | Addison | GWS Giants | FWD | $276000 |
| Will | Hoskin-Elliott | GWS Giants | MID | $268100 |
| Tom | Boyd | GWS Giants | FWD | $262900 |
| Josh | Kelly | GWS Giants | MID | $260200 |
| Jacob | Townsend | GWS Giants | MID | $245200 |
| Jed | Lamb | GWS Giants | FWD | $243400 |
| Liam | Sumner | GWS Giants | FWD | $243300 |
| Matthew | Buntine | GWS Giants | DEF | $241200 |
| Cameron | McCarthy | GWS Giants | FWD | $227600 |
| Mark | Whiley | GWS Giants | MID | $209300 |
| Jonathon | Patton | GWS Giants | FWD | $204100 |
| Rory | Lobb | GWS Giants | RUC | $187000 |
| Lachlan | Plowman | GWS Giants | DEF | $178900 |
| Aidan | Corr | GWS Giants | DEF | $166400 |
| Tim | Golds | GWS Giants | DEF | $158300 |
| Andrew | Phillips | GWS Giants | RUC | $157200 |
| Nathan | Wilson | GWS Giants | FWD | $150000 |
| Kristian | Jaksch | GWS Giants | FWD | $146200 |
| Sam | Frost | GWS Giants | FWD | $144200 |
| Jake | Barrett | GWS Giants | MID | $135500 |
| Tom | Downie | GWS Giants | RUC | $135500 |
| Jonathan | O'Rourke | GWS Giants | MID | $135500 |
| Sam | Schulz | GWS Giants | MID | $135500 |
| James | Stewart | GWS Giants | FWD | $135500 |