BBL Fantasy 2013/14: Brisbane Heat Preview
The Brisbane Heat had a (not going to sugar-coat it) crap first season. However, the second season they rose to the top, taking out the title ahead of the luckless Scorchers. The Heat are a well balanced team, having stars in all facets of their game. But are there any decent BBL Fantasy picks?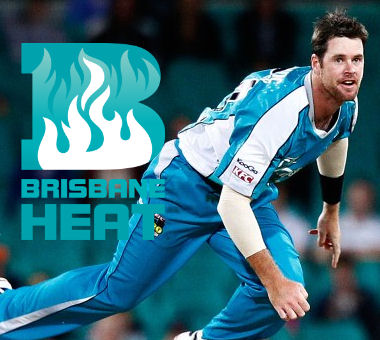 Team Name
Brisbane Heat
Summary
The Brisbane Heat had a (not going to sugar-coat it) crap first season. However, the second season they rose to the top, taking out the title ahead of the luckless Scorchers. The Heat are a well balanced team, having stars in all facets of their game. Luke Pomersbach, Peter Forrest, Joe Burns and Chris Lynn are hard-hitting batsmen that can change the fate of a match. However, Craig Kieswetter is the Heat's biggest signing. The English keeper is a brilliant player in the T20 format, and should play every game, most probably opening. The best part is – he's only 32k!
Shane Watson, James Hopes and Dan Christian are their allrounders, and these men are what made the Heat so dangerous last season. Watson might only play a couple of games due to international commitments, but any games he does play are a bonus.
Brisbane's bowlers do their fair share. Hauritz was their lone spinner but with the arrival of Daniel Vettori may not bowl all of his overs. You can expect the spinners to tie up one end, allowing the Heat's massive pool of fast bowlers to do get the wickets. Kemar Roach was dangerous last season,but wasn't invited back due to international commitments. . McDermott and Cutting both have great variation, and should play every game. Matthew Gale impressed one and all in the Champions League, but was signed by the Renegades for this year.
Strengths
Their batting line up.

The Heat bat deep, all the way to number nine, so most games where they are chasing they should win. Kieswetter and Pomersbach are probably among the most explosive opening partnerships around, and if those two get going for even a small amount of time, expect Brisbane to get a massive total. Chris Lynn, Peter Forrest and Ben Cutting can either stabilise after a collapse or come in for a late-innings slog, depending on the situation.

Their versatility

. Because of their massive stock of allrounders, the Heat will be a very versatile team. They could almost afford to drop a batsman if the pitch looks like a road.  On the other side of the coin, they could drop a bowler if the pitch is a green-top. This flexibility will prove very useful in the middle of games as well. They could send Cutting up the order as a pinch-hitter, knowing that their batting could recover if he fails or wastes precious overs. They could afford to take bowlers out of the attack who are having a bad day, knowing that they'll still have the resources to bowl a team out.
Weaknesses
Their spinners.

Vettori and Hauritz, while not game breaking, are steady and economical bowlers. However, sometimes in T20, you need to be more than that.  You need to take wickets, because no matter how good you are as a spinner, you'll get hit by a well set batsmen (the only exception being Sunil Narine– and look how in-demand he is!). Therefore, both of them will know that to keep their spot among the logjam of bowlers, they'll have to take wickets. Hauritz even more so, because Vettori is kind of guaranteed safety by being an international player and having a huge amount of experience.
Team XI for GW 1
This is the team I think they will take into GW1. The players who would replace a player in this team in a 'Best XI' are named in bold brackets next to the player they would likely replace.
Luke Pomersbach
Craig Kieswetter (wk)
James Hopes (C)
Joe Burns (Shane Watson, but Watson would bat at three)
Daniel Christian
Chris Lynn
Peter Forrest/Chris Hartley *
Ben Cutting
Daniel Vettori
Nathan Hauritz(Mitchell Johnson, but he'd bat higher)
Alister McDermott (Ryan Harris)
*If Chris Hartley plays (which I'm fairly sure he will – I think he's a better bat than Forest), then expect him to keep.
Injuries
Not that I know of.
International vacancies
None, unless Kieswetter is called up for the Australian ODI and T20 series.
Locks
I've said it before, I'll say it again: Kieswetter is a massive lock!
Blocks
The test players – until you know for sure whether they'll play in the first round or not.
Peter Forrest, because even if he does play, he'll probably bat waaaayyyyy to deep to have an impact.
The same applies with Chris Lynn.
Chris Sabburg – the guy is employed as a specialist fielder. Enough said.
Nick Buchanan and Cameron Gannon. If either of these two guys can displace McDermott, Hauritz or Cutting (unlikely), then they provide excellent value at a low price. However, until you are sure they have nailed down a spot, leave them alone.
Value Players
Joe Burns is pretty good value at 69k, but there are just way too many options around that price. I'd watch for now, but if you see him firing, get him in.
74k is a really low price for someone of Watson's ability. If you know he's going to get a game, I'd recommend trading him in. In the IPL fantasy game, he was the top priced player for a couple of weeks (I really nailed that price rise!).
Like I said before – Kieswetter at 32k = LOCKKKKKK!
I was looking through the bowlers and I noticed Dan Vettori at that awkward middle price of 72k. He is hugely experienced, but from my experiences with him in previous T20 competitions, he can really tie up an end, but sometimes struggles to take wickets. I'd avoid to start with, and I'd only really take a punt if he starts reaping scalps.
Nathan Hauritz is decent value at 52k, but to be honest, I wouldn't touch him. There are better options around that price, such as Bollinger, McKay or Rimmington.
Season Prediction
Look, I think that the Heat have a nice opening pair, but the rest of their batting might struggle a bit if two or three quick wickets fall. They're a bit like the Scorchers that way. The bowling is solid, but not game breaking. They're also a bit inconsistent, which is something they'll have to work on. I think they'll get eliminated in the semi-finals.
Written by Zeus O'Dea, founder of and author for Fantasy Cricket Galore.
SEE THE OTHER PREVIEWS: Perth Scorchers | Sydney Sixers | Melbourne Stars | Sydney Thunder | Melbourne Renegades | Brisbane Heat | Hobart Hurricanes | Adelaide Strikers