2014 AFL Fantasy Pricing – What We Know
Updated with GWS info. This morning saw the release of precious AFL Fantasy prices for the upcoming season with an info leak on the AFL website. Even with just the snippets of details to work with, we're still able to work out some very important pricing structures that will largely dictate how we play AFL Fantasy in 2014.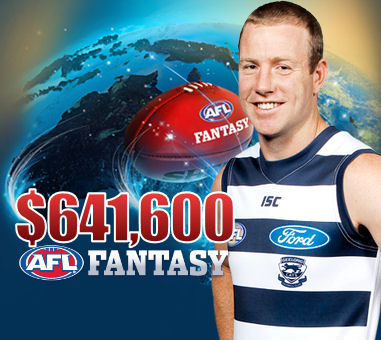 This morning saw the release of precious AFL Fantasy prices for the upcoming season with an info leak on the AFL website. Even with just the snippets of details to work with, we're still able to work out some very important pricing structures that will largely dictate how we play AFL Fantasy in 2014.
1.     The Magic Number
Most readers of this site will intuitively know what the Magic Number (MN) is, and it's critical role in fantasy. If not, do some background reading here http://dreamteamtalk.com/?s=magic+number – in summary, it is the constant (constant across all players at any one time, but evolves week to week) that dictates a player's price based on one's average, and it rises and falls across the course of a season to account for inflation.
But right now, the dynamics of the MN aren't so important – we're just interested in what this means for initial prices. Remember; the higher the MN, the more expensive the players, and therefore the lesser quality we'll able to afford with our fixed salary cap.
Generally speaking, a player's initial price is calculated simply as the MN multiplied by 2013's DT average. Using this fact, we can easily calculate the 2014 Magic Number using any player's price and previous DT average – For Steve Johnson, this is $641,600 divided by his 2013 average of 118.38 – making the 2014 Magic Number…. 5420.
This makes sense. The 5.24% increase on the MN (5150 last year to 5420 this year) reflects the trend of inflation, given the AFL Fantasy salary cap increase of 9.4% this year (up to a smooth $10 million in 2014).
This all means two things:
a)      Our initial squad strength will be roughly the same as last year – meaning you can still fit in all your favourite Premiums (typically 12-15 last year) without too much hassle.
b)      Dane Swan will be priced at close to $636,600 this season, once again begging the question… Do we start with the famous fantasy pig in 2014?
 2.     The Fresh Meat
Well, that escalated quickly!
Certainly the most revolutionary news to come out of this info leak is the revelation that Number 1 pick overall, Tom Boyd,will set back suitors a whopping $262,900 – a significant increase on what we've seen from rookies in the past. Last year, first pick Lachie Whitfield kicked us off at $183,700 – factoring in the increase in the MN, this effectively means that we're paying an extra 36% for Boyd than we would have in 2013.
Boyd's closely followed by fellow Giant Josh Kelly at an equally hefty $260,200.Common sense suggests that the $2,700 price difference will be repeated for each successive pick, making St. Kilda's new recruit Jack Billings a $257,500 investment, and so on. If we assume that the recent addition to the Collingwood FC in Jonathon Marsh ($135,500) falls in at basement draftee price (as suggested in the article), then that would means that roughly the first 47 picks in this year's National Draft will come with a premium attached – that would certainly be a shift from the first-rounders-only system that we've come to expect in the past.
Friday's reveal of the GWS prices, and in particular McCarthy and Lobb, confirmed this assumption. This implies that the pay scale tapers off after pick 47 or so, so West Coast's Dylan Main (Pick 49) onwards should come in at this basement price of $135,500 – but anyone drafted earlier than this will hit you in the hip pocket.
Unfortunately, the Giants only have one player on their official AFL Rookie List – Sam Schulz – and he's also priced at $135,500. However, he did play a game in 2012, so we can't be sure that all Rookie-listed AFL players will come in at $135,500, or whether they'll get a further discount as they have in year's past. We'll just have to wait until tomorrow for that one – as players such as Clisby, Goodes, Laird and Rampe all had a fantasy impact last season, this is definitely something to keep a keen eye on.
Overall, it looks like we'll have to be much choosier with our rookies this year, and maybe even look for value further down the order… Maybe Matt Crouch (Pick 22) at roughly $203k, like fellow rookies selected down the order, will prove to be a smarter pick than the Jack Billings (Pick 3) at $257k? Or maybe we have to redefine what a 'rookie' means to us in fantasy – could it be a better tactic to overlook draftees and instead pick up cheaper, more experienced AFL players?
3.     The Discounts
From what I can see, there are 14 players on the Giants list who have received a discount on their 2013 efforts, and they all follow a very simple formula:
% Discount = 30 – 3 x (2013 Games played)
Provided that they played between 1 and 9 games in 2013.
Additionally, there are two further players on the Giants list who didn't play in 2013, but did so in 2012. One is Sam Schulz (as mentioned previously, he's on the rookie list), and the other is Andrew Phillips. Andrew is a very helpful fellow. You see, he averaged 41.4 DT points in 2012, but is priced at 29 points ($157,200) in 2014… which just so happens to be a 30% discount.
This is an excellent omen for those tracking Hamish McIntosh, Matt Suckling or Alex Johnson this pre-season – with assumed 30% price cuts, they'll be priced at 64, 58 and 42 points respectively!
Where's the Value at?
Given the increase in rookie pricing, coupled with the generous discount formula (I mean, 9 games gets a discount? Wow!), a lot of the value will be with the players who were injury-affected, sub-affected, or just plain out of favour last year.
For instance, Jared Polec played just the single game last year for 31 points – the discount formula dictates that he gets a 27% discount, which brings him all the way down to a basement-priced $135,500! He'll be very difficult to overlook if he gets a starting gig at Port next year, especially when you consider that some of the more promising rookies like Billings ($257k), Luke McDonald ($244k) and other first-year rookies are so much pricier.
Sandilands will be even cheaper than we expected (7 games for a 9% discount on 49.5avg for $244k), Fasolo will be hard to overlook (3 games for a 21% discount on 48.6avg for $208k) after he averaged 72.5 in 2012 – heck, even DT's biggest licketty-lock in Dayne Beams (7 games for a 9% discount on 101.1 avg for $499k) will come in under $500k this year! How can you say no to that?
Also, while we're here…
It's not exactly pricing news, but we've been dangled a few carrots position-wise… As of 2014, our perennial lock-in defender Brendon Goddard will become a MID only. No need to stress though, prolific trio Sam Mitchell, Luke Hodge and Jarrad McVeigh have been granted MID/DEF status this season to more than fill the gap!
Most of the AFL Fantasy puzzle has been completed for us now, but we're not quite done yet! Stay tuned for the Melbourne reveal tomorrow, which is sure to give us more information on rookie-listed prospects, plus the big one – where will Jack Hogan, and by extension, Jack Martin, find themselves on the rookie pay scale? Find out on Saturday!
Click here for the advent calendar of the AFL Fantasy prices and positions for 2014.