NBL Dream Team: Round 9 Preview
Despite players delivering some record equalling scores it was a low scoring round for most. This week there are lots of options for trades and a tough call on who gets the captain armband.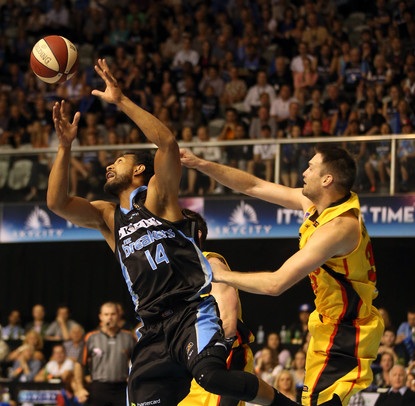 Despite players delivering some record equalling scores it was a low scoring round for most. This week there are lots of options for trades and a tough call on who gets the captain armband.
Big Scorers
Scott Morrison delivered in style this week. He started big on Thursday night when he went head to head with Mika Vukona to see who could score the most dream team points. Vikona took the honours with a record equalling single match score of 80 points. Not to be outdone though, Morrison continued his form and delivered in his second match to equal the season record for a double with 114.
There was serious daylight before third spot, where Nate Tomlinson scored 56 and rewarded those who gambled to put him on court. James Ennis kept his fine form going, also scoring 56, while Loughton (50), Tragardh (48) and Rhys Martin (46) all scored nicely from their single games. Chris Goulding was also amongst the top scorers with his 52, however this was a relatively mediocre score given he had entered the round with a 45ppg average.
Disappointments
The Melbourne Tigers, having played a poor double match round, comfortably dominate the disappointments this week. Mark Worthington only managed 36 points which, particularly given his price tag, hurt a lot of people. Adam Ballinger after his brief rise started plummeting back down again with a score of 6. Meanwhile Auryn MacMillan continued to taunt with his -2 being the second time this season he's scored a negative straight after a 20+ score. Chris Goulding can have another mention here too because anything less than 70 from an expensive high scoring player with a double match round, who was also my captain, is genuinely disappointing.
Tom Jervis was an absolute disaster for those who decided to keep him when they saw that Knight was missing the match. His score of -4 also dropped over $19K off his price tag. Stephen Weigh got 2 but I think everyone has given up on him at this point. McCamey also got 2 which brought his run of decent scores to an abrupt halt. Finally, despite Sydney getting their act together, Ben Madgen failed to bounce back and scored 8 points, dropping almost $11K off his price.
Double Match Trade Targets
Adelaide and New Zealand have the double match this round and offer us some great players to choose from. There is a catch though, after this week the next time they have double matches is round 18 for Adelaide and round 19 for New Zealand, meaning that they're mediocre choices if you're looking for a long term investment.
New Zealand Trade Targets
Mika Vukona, after his record equalling 80, is a very appealing target. He had some up and down form to start the season though, which does make him a slight risk given his big price jump. Thomas Abercrombie has finally settled into his game again and is looking all class. He's probably worth it even though his price has jumped significantly already. Gary Wilkinson offers some good value as he is now quite cheap yet is slowly finding form and has great potential to go big.
Avoid Kerron Johnson until his injuries get better, it's clearly affecting his ability to produce those nice scores we saw at the start of the season. Alex Pledger has been relatively quiet in his last two, so probably not worth his cost. Corey Webster has had three positive scores in a row which is great if you have him, but his last was only a 6, so I wouldn't trade him in now. Daryl Corletto hasn't been consistent enough lately for a three point specialist.
Cheap options in Ruben TeRangi and CJ Bruton both had good matches so could make some nice money if they have a good double. Both have been getting ok court time too, so it's really a case of them finding consistency.
Adelaide Trade Targets
Daniel Johnson and Gary Ervin have been delivering some exceptional basketball of late and despite their hefty price tags you want at least one of these two for your captain. Adam Gibson and Anthony Petrie have both been playing well most games and should deliver solid points.
Cross Jarrid Frye off your list as his ankle is looking like it's going to be a constantly recurring injury and it's certainly limiting his output at the moment. Mitch Creek had a great start to the year but seems to be slowing down and his scores are getting smaller. Luke Schenscher started the year recovering from an injury and just doesn't seem to have settled. Despite how cheap he is, he's not getting enough court time to really score big either, although if he found touch I'm sure that would change.
Jason Cadee and BJ Anthony are both cheap and both had reasonable games leading into this double, so are potential options if you are looking to make some money.
Other Trade Targets
Scott Morrison is a great grab at the moment after his huge score and he should jump up significantly in price as his -2 drops out of his rolling average. Tragardh is looking like he's found his form so if you want him jump on before his price shoots up. Loughton's price has already shot up but he's scoring so well he's worth considering.
After a slow first game, Sam Young delivered in style against the Tigers and from the look of him a 40+ average is possible. Even though he was given a high starting price he'll still increase in value and is worth getting. From Wollongong Oscar Forman and Rhys Martin have both lost a lot of value but are settling into some decent scoring and will deliver in the long term.
Cheaper options include Cam Gliddon who is now only $96K but probably still a week away from bottoming out. Kevin Tiggs is $91K and has started to deliver some alright scores again. He's virtually no risk at this price. Russell Hinder, Steven Markovic and Greg Vanderjagt all had good scores before Townsville's bye and are set to gain some value.
Trade Them Out
If you didn't get rid of Tom Jervis last week then do it now. That -4 means he's going to lose more money for the next two weeks and with Knight getting regular game time there's little chance his price will go back up.
Damian Martin has been exceptional this season but if the game against Cairns is anything to go by then he's at his peak. His score of 20 gives him the potential to lose a lot of money and Perth is a while away from more double matches so consider dropping him if you need cash.
Mark Worthington has been on a streak of poor form but is still worth $154K so consider selling him off before his price plummets even further. Apparently he is playing injured and if it's the injury that's causing his form drop it could be a while before he bounces back.
Ben Madgen played a great game against Melbourne that translated to only 8 dream team points as he sacrificed his shooting game for the team. He has a break even somewhere around the 80 mark this week so expect him to lose a lot of value.
Captain Choice
Daniel Johnson will be wearing the captain's armband for me this week, but it's pretty hard to split between him and Gary Ervin. Johnson has reliability but Ervin could go big. Mika Vukona is a chance to score huge as he plays Perth, then the Tigers again who he just scored 80 on.
Alex Pledger, Thomas Abercrombie, Adam Gibson and Anthony Petrie are all good options too if you don't have any of the three above.
Extra Thoughts
It's been mentioned that I list a lot of trade options without being definitive. This is because of the up and down nature of basketball and most players are pretty inconsistent. It also really depends on your specific team circumstances.
That said, this week I'm planning to trade Madgen to Young and then, using the cash from there and from trading Ogilvy out last week, trade Steindl to Morrison using DPP.
I've also made two trades nearly every week and will only have 17 left after this round. I'll be hoping I can save a few over the next few weeks as ideally I'd want 13 or 14 trades left after the midway point of round 12.
Lockout is Friday 8:30pm AEDT, so we've all got some extra time to think and make decisions this week.
Good Luck All
Tristan
Coach of the Statismathgicians