BBL Fantasy 2013/14 Value Picks
The BBL|03 Fantasy game is now open and we'll be providing tips and advice over the summer. FeathertopDT has sent us in the first article for the season with some of his thoughts on value picks.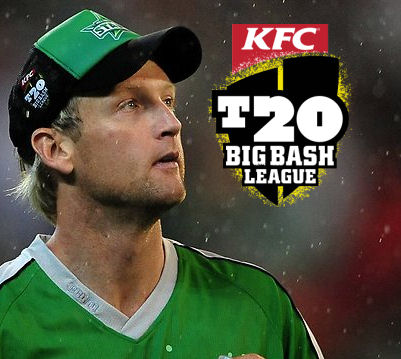 The BBL|03 Fantasy game is now open and we'll be providing tips and advice over the summer. FeathertopDT has sent us in the first article for the season with some of his thoughts on value picks.
Sign up at fantasy.bigbash.com.au and once you're in, join our group by clicking this link.
DT TALK LEAGUES
DT TALK Hurricanes – 336138
DT TALK Renegades – 666132
DT TALK Sixers – 907069
DT TALK Scorchers – 552169
DT TALK Heat – 844191
DT TALK Strikers – 800128
DT TALK Thunder – 753340
DT TALK Stars – 918330
More leagues coming soon…
BATSMEN
Rob Quiney (Melbourne Stars) $70,200
Quiney is in great form with the bat at the moment and is certainly under-priced for his ability. Quiney averaged 51 in the RYOBI Cup and 47 in the Sheffield Shield and is coming off decent form last season. Quiney has also been used as wicket keeper for the stars giving him chances to score points for stumpings and more catches however, with Matthew Wade no longer in the test side don't expect much of that this season.
Rating: Consider
Cameron White (Melbourne Stars) $68,500
The Bear is in brilliant form so far this domestic season averaging 77 runs in the RYOBI cup and 75 in the Sheffield Shield. White is priced cheaply due to his form slumps in the last few years but is back to his best and is almost a lock for your side. He's also bowled a few overs in recent times and may be a chance to sneak a few points for taking wickets as well, but I wouldn't bank on that.
Rating: Lock
Alex Doolan (Melbourne Renegades) $53,300
On the cusp of test selection, Doolan is certainly one to consider for BBL03. He's isn't Aaron Finch or Brad Hodge and won't be scoring massive totals of 40 balls but is a consistent performer and will probably open the batting again for the Renegades meaning he will be front and centre to score points.
Rating: Consider
Nic Maddinson (Sydney Sixers) $41,800
Well under-priced for what he is capable of. Maddinson didn't have the greatest RYOBI Cup but is in the Sixers best XI and will probably bat at 3 or 4 for most of the tournament. He is almost bottom priced and should definitely be considered for your bench position or 4th batsman slot.
Rating: Consider
Marcus North (Sydney Sixer) $37,400
The former Scorchers captain will play for the Sixers in BBL 03 and despite lean scores last season is in sensational form so far. North is averaging 118 in the Sheffield Shield meaning he's seeing the ball well and will take plenty of confidence into the Big Bash season. At that price he simply must be in your side.
Rating: Lock
Others to Look Out For
Chris Lynn ($68,800) is worth considering, the Bulls and Heat batsman is starting to come of age and make consistent runs. If Travis Birt ($75,000) is fit and playing he's another to look out for after being one of the leading run scorers in BBL01. Jordan Silk ($32,000) is another to consider for your bench spot. This is Silks first time on a BBL list and should get a chance for the Sixers at some point. Travis Head ($32,000) is in a similar boat with the Brisbane Heat, has made plenty of runs recently and could get a go. I'd still be sticking with Marcus North however as your bench batsman.
Best to Avoid:
Could come back to bite me but I'm saying to avoid Usman Khawaja. ($65,300) Khawaja doesn't seem to excel at the shortest format and struggled to make runs in the first two seasons. There are better options out there. Ben Rohrer ($101,200) had a blistering BBL02 which matched the Renegades rise up the ladder but he is well overpriced despite being a quality batsman. Wait for him to come down a bit before considering. Finally, do NOT pick any player in a test or ODI squad as they will most likely be unavailable for selection. So don't go picking George Bailey or Steve Smith just yet. Make sure you watch the team announcements and make sure one of your starters isn't 12th man or injured.
ALL-ROUNDERS
Luke Wright (Melbourne Stars) $60,800
The man responsible for one of the fasted 50's in Australian domestic history. Wright is great value at that price as he might open the batting for the Stars again this season. The only concern is he isn't really an all-rounder as he isn't thrown the ball very often so you won't get a great deal of points from his bowling, but he is certainly worth a look anyway.
Rating: Consider
Michael Neser (Adelaide Strikers) $59,100
Neser seems to have locked himself a spot in Queenslands middle to lower order this season after a decent RYOBI cup. As he'll probably be batting down the order he might not get as many runs as other batsmen but will probably get three or four overs in most matches. There are probably better options out there however.
Rating: Better options available
Moises Henriques (Sydney Sixers) $46,100
Another who is under-priced and definitely worthy of consideration, Henriques is a solid batsman who will probably bat at four or five for the sixers in most matches. However, he doesn't bowl as often as you'd think in the BBL and can be expensive at times which could cost you economy rate points. At that price, however, he is worth a chance.
Rating: Consider
Others to Look Out For:
The Duke Hastings ($45,800) is worth a look probably as bench cover for your side. He's not strictly an all-rounder as he'll probably bat at seven for the Stars but will bowl his four overs and play most matches. Sean Abbott ($54,900) might find it a little harder to crack into the Sixers side than it was with the Thunder but can bat and knows how to jag a wicket with the ball. Mohammad Hafeez ($87,500) is a world class all-rounder and will join the Melbourne Renegades this season HOWEVER he will NOT be playing the first few matches so avoid for now but he should definitely be considered later on in the season.
Best to Avoid:
Evan Gulbis ($82,400) is a rising star for the Hurricanes and will play often this season but is too expensive for my liking especially with the class of some of the players around him. James Faulkner and Shane Watson should also be avoided if they are still in the test squad. All-rounders are very important and are usually your highest scorers. Make sure you find players who will bowl every match and bat higher up the order to avoid them getting the dreaded DNB.
WICKET KEEPERS
Tim Paine (Hobart Hurricanes) $78,100
Probably your safest option this season, third in line for test selection meaning he will probably be available all season and Paine is good hitter. Paine also occasionally opens the batting for the Hurricanes which will mean he'll be scoring every match as a batsman as well as taking a few catches behind the stumps hopefully.
Rating: Flip a coin
Matthew Wade (Melbourne Stars) $68,900
With the form of Brad Haddin, Wade will probably be available for the entirety of the Big Bash competition and if that's the case he is excellent value as your number one wicket keeper. The only problem with Wade is he may find himself batting at six and not getting much of a hit in most games.
Rating: Other side of that coin
Chris Hartley (Brisbane Heat) $36,000
An absolute bargain, Hartley will most likely be the Heats keeper for the full competition making him an absolute steal at basement price. If you don't have Hartley as your bench keeper you… probably have Peter Nevill… but if you don't have either of them then you're insane!
Rating: Flip a different coin
Others to Look Out For:
As I said above, Peter Nevill ($36,000) is also a steal as the Renegades sole keeper, like Matthew Prior for the Thunder last season, I doubt international signing Jos Butler ($90,000) will be doing the keeping for the Renegades and if that's the case Nevill is great value. Another great basement pricer is Tom Triffitt ($36,000) the Scorchers keeper will probably play most games again this season and should definitely be considered. However, as he'll probably bat at six I would look at Nevill or Hartley for the time being. There are plenty of great options in the keeping ranks with Peter Handscomb ($36,000) another one to watch mainly as a batsman however.
Best to Avoid:
Dan Smith ($43,000) I hear what you're saying, with Haddin in the test team Smith is the Sixers only option as keeper and is therefore great value. NO. AVOID. End of story… Moving on, watch out for keepers who are second in line such as Sam Whiteman ($32,000) at the Scorchers and Ben Dunk ($36,000) at the Hurricanes as they probably won't get much of a look unless there's an injury.
BOWLERS
Lasith Malinga (Melbourne Stars) $110,300
You might be thinking, I thought this article was about bargains? Well you'd be right, because no matter what price he is, if he's playing round one, Malinga must be in your team. Malinga is not only one of the most economical bowlers but with the ability to take five wicket hauls in BBL matches which is almost unheard of. He should even be considered as your captain
Rating: Lock
Clint McKay (Melbourne Stars) $60,200
Virtually the first bowler picked in our ODI squads, McKay should definitely be considered for your starting BBL side. He takes wickets often and is capable of keeping his economy rate below 8.00 and therefore gives you maximum economy points.
Rating: Consider
Cameron Boyce (Hobart Hurricanes) $59,700
Boyce is a much improved leg spin bowler and is worth a look this season. He rarely goes through a match without wickets and has actually taken the equal most amount wickets so far in the Sheffield Shield.He will be a good scorer despite, most likely, an average economy rate. The downside to Boyce is that he will be playing second fiddle to Xavier Doherty and might not get much of a game unless the Hurricanes play two spinners.
Rating: Wait for team selections before considering
Doug Bollinger (Hobart Hurricanes) $50,200
Dougy is in good form and a confident Bollinger is a Bollinger worth considering for your Big Bash side. Will probably be selected along with Hilfenhaus and Laughlin as the Hurricanes pace bowlers and could be a great pick up at that price.
Rating: Consider
Trent Copeland (Sydney Sixers) $32,000
The Sixers have a large fast bowling contingent with Lee and Starc locks if fit as well as Tremlett once the Ashes are over and youngsters Josh Hazelwood and Sean Abbott however with Starc injured and Tremlett on international duties, Copeland may get a few games early on and would therefore make good bench cover. Look to use him as a cash cow and upgrade later on.
Rating: Consider
Others to Consider:
There is not as much value in the bowlers as there is with the batsmen and wicket keepers. My advice would be to save some money in those two areas and load up with premium priced bowlers. The best place to start is the great Muralidaran ($89,800) who is back for BBL03. The spinner should take wickets and be economical as always meaning he'll pick up handy points. He'll cost you a pretty penny but Ben Laughlin ($95,400) should prove worth it again this season. Laughlin took the more wickets than anyone else in BBL02, even more than Malinga and he's a great final overs bowler which'll gain him economy points. Look out for the likes of Mitchell Starc ($82,800) and James Pattinson ($98,200) who will probably make their returns to the international squad through the BBL. Both are top class bowlers and are capable of throwing the bat around as well.
Best to Avoid:
I would be avoiding Luke Feldman, ($82,100) he is a little overpriced for my liking and there is better value around him. Watch out for the likes of Jackson Bird ($57,300) and Pat Cummins ($53,200) who are great value at those prices but are currently out injured. It might also be best to avoid the Wild Thing, Shaun Tait ($87,100) who is known to break down with injuries or be very expensive in the runs column. As always, don't pick the likes of Peter Siddle, Mitchell Johnson, Ryan Harris or Nathan Lyon who are in the test side and maybe wait for the likes of Ben Cutting ($101,900) and Alfonso Thomas ($99,000) to come down in price slightly before considering.
My last bit of advice is making sure you have good diversity in your side. You don't want too many players from one team in your starting squad as a bad game or even two batsmen dominating can mean that your others players don't score so well. As always with Fantasy games, try and keep some coin in the bank in case of injury or restings and good luck!
FOLLOW ON TWITTER: @FeathertopDT
SEE THE TEAM PREVIEWS: Perth Scorchers | Sydney Sixers | Melbourne Stars | Sydney Thunder | Melbourne Renegades | Brisbane Heat | Hobart Hurricanes | Adelaide Strikers