Jeppa's Phantom Draft 2013
In 9 days, the best youngsters in the country will know where their football journey will continue. So where is each draftee headed and more importantly which rooks are fantasy worthy next year? Jeppa gives us his take on both issues in the lead up to the 2013 AFL draft.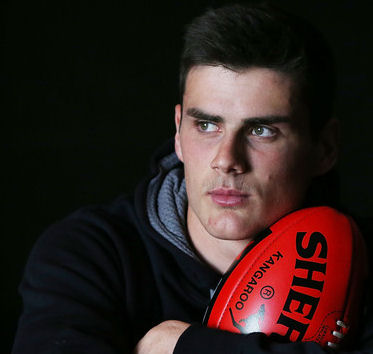 Fantasy planning is in full swing! @WarnieDT has given us his thoughts on this year's trade period, @Tbetta has analysed the fixture and now it's time for me to look at the draft.
Compiling my Top 30 was no easy task. For each pick, a football club will either select the best player available or draft on need. More often than not, it's the latter. For example, Port Adelaide are desperate for another key forward but who will be available at pick 21 and are they a worthy pick? Or, do Port revert back to selecting the best player available? I've asked myself these types of questions at every pick so hopefully my predictions aren't that far off. Here goes nothing.
JEPPA'S TOP 30

Skilful tall forwards are few and far between and Boyd is the complete package. He's strong, agile and has a very good pair of hands. Lock it in.

A ball winning midfielder that can run all day. Kelly is very effective by hand and foot and composed no matter what the situation. A future star of the game.

When you think of Billings, think of a match winner like Stevie J. He's great overhead, clever in congestion and a very accurate kick even off his non preferred. I'm a big fan.

Aish is a very classy user of the footy and only needs a dozen or so touches to carve up the opposition. An exciting talent, too good for the Dogs to pass up.

Ko-lo-jazz-nee is a hard running defender with size and athleticism for the modern game. There's little doubt that his best asset is his raking left foot. Draws comparisons to Birchall.

With Shaw gone and Maxwell nearing the end, I find it hard to believe that the Pies will pass on this future 200+ game defender. Scharenberg is an architect from defence with his leadership and pin point disposal.

The first item on the Lions shopping list has to be a key forward. McCarthy has strong hands, a huge leap and a ton of potential given that this year was his first concentrating solely on football.

McDonald is a skillful, running half back who gained valuable experience with Werribee in the VFL this year. He is locked in at pick 8 via the father-son rule and is highly rated by those at North.

A slow Melbourne midfield will welcome Freeman with open arms. He's drawn comparisons to Patty Dangerfield with his break away pace and ball winning ability. My early pick for the NAB Rising Star award.

Pies will still get their man at pick 10. Bontempelli stands at 192cm but moves like the wind. I suspect the Collingwood hierarchy will 'manage' his development for at least the first half of next year.

Put ya house on it! Sheed is of the Simon Black mould given his accurate left foot and high work rate. Even though many will disagree, in my opinion, Sheed is a top 5 prospect this year.

Strong bodied midfielder with great skills and excellent overhead for his size. Salem is arguably the best kick of this year's draftees and would be a great fit at any club.

The draft slider but the Blues won't mind. Lennon is a half forward with superb foot skills who loves to win the contested ball. Similar to Paul Chapman.

Touted as the next Darren Glass, Gardiner will replace the recently departed Josh Bruce at the Giants. He's a competitive beast and is rarely beaten in a one on one contest.

The only glaring need at the Swans is a ruckman. Lobb is the best big man in this year's field so expect the Swans to pounce. Standing at 206cm, Lobb is quick off the mark and runs the 3 kilometre time trial in the same time as most midfielders. He's still a little raw but the upside is enormous!

Midfield dynamo, Lewis Taylor is a prolific ball winner and future star of the AFL. He's quick, powerful and reads the play as good as anyone I've seen. Notably, Taylor's side step is up there with a young Chris Judd. A great get for the Cats.

It's crazy to think Freo will add another 190cm+ midfielder to their list. Acres can play a variety of roles and it's likely that he'll do an apprenticeship on a flank before moving into the midfield. Clean hands, endurance and agility are his best attributes.

The biggest talking point from the draft combine was Hartung's 16.6 run in the beep test. Aside from running all day, Hartung is explosive and can break the lines when he takes the game on. An exciting prospect.

Crouch is the Dane Swan of this year's draft pool. He averaged just under 38 disposals in the TAC Cup and is a clearance machine. He's got plenty of areas to improve upon but like his brother Brad, footy comes naturally.

Dumont is a strong, well balanced midfielder that rarely wastes a possession. He was named in the bests for Norwood in SANFL grand final and is good enough to walk into an outside midfield role at the Suns.

Apeness is your typical forward/ruck that will fill a desperate need at Port Adeliade. He attacks the footy well, is a great contested mark and is a dead eye in front of goals.

Lions will look to Jones to fill the half back/back pocket void left by Yeo and Docherty. Jones is rarely beaten by his opponent however, it's his run and carry from defence that is most appealing.

Dunstan is a man child. With arms bigger than my legs, he has the strength and power to extract the ball from a contested situation. Dunstan is also a natural leader with second efforts and work rate a big feature of his game.

Cripps is a big bodied, in and under midfielder with a high footy IQ. He's arguably the best clearance player in this year's draft but he'll need to work on his fitness and speed if he wants to be an elite footballer.

Battersby has break away pace and is an exceptional kick. He's played most of his footy at half back however, I believe the Lions will see value in him as an outside midfielder given his composure and excellent decision making.

Bombers need a small forward. Not only is Kennedy-Harris a live wire around goals, he's a leader with great skills that will continually put his body on the line for his team. When required, Kennedy-Harris can have a run on the ball with great effect.

A powerful tall forward who won the 20m sprint at the draft combine with a time of 2.78 seconds. Marsh is a true athlete that can do the unexpected however, his kicking can be wayward. Improvement over time will see Marsh develop into something special.

Twin brother of Kade played as a key back for Tasmania in the U/18 competition but he'll likely be used as a third tall at AFL level. His pace, power and versatility are reasons why the Lions should pick him up. Similar to Will Schofield.

Reynolds is a strong leading medium forward with a superb left foot. He's excellent overhead and will regularly put it lace out for Boyd, Patton and/or Cameron. A player of Reynolds' ilk is what the Giants need.

The Roos will add to their tall stocks with McStay. He's your typical athletic CHB that can be thrown forward to take a contested grab, a bit like Jake Carlisle. Will need time to develop.
FANTASY RELEVANT ROOKIES
Here's an early indication of the first year players to make waves in the AFL next year. Keep tabs on these youngsters throughout the pre-season.
Luke McDonald (Def/Mid) – McDonald has already made an impression at pre-season training and looks to be on target for an early season debut. He'll be a bit pricey but good rookie defenders are hard to come by.
Nathan Freeman (Mid) – At 85 kilos, Freeman has a mature frame to mix it with the big boys. A player with a high kick to handball ratio that averaged 22.4 disposals in seven TAC cup games. If he gets to the Dees at pick 9, I'd almost say that he's a lock for next year.
Dom Sheed (Mid) – A ball-winning machine that won this year's Larke Medal after being judged the MVP in the Under-18 Championships. His best performance was a 29 disposal, 4 goal effort against Vic Country. If the Eagles pick him up then expect him to get plenty of opportunities.
Christian Salem (Mid) – His ability to spot up targets on both sides of his body will see him rewarded with senior opportunities. During his TAC Cup campaign, Salem averaged 23.0 possessions at 73% efficiency and 5.2 tackles. He'll be hard to ignore especially if gains DPP status as maybe a defender/midfielder.
Matt Crouch (Mid) – The most Fantasy relevant rookie given his ball winning ability. Hopefully his TAC Cup stats carry on into the pre-season however, he'll need to drastically improve his disposal efficiency before getting a run at AFL level. Crouch is one to watch regardless.
James Battersby (Def) – Selection in the National Under-18 All Australian team and senior experience with Sturt will hold him in good stead for an early debut. Battersby averaged a remarkable 88% disposal efficiency from his ten SANFL games this year. His AFL opportunities next year will depend on where he ends up.
OTHER CHEAPIES TO LOOK OUT FOR
Jesse Hogan (Fwd) – Remarkably won Casey's best and fairest after averaging 15.1 disposals, 7.1 marks, 1.9 tackles and 2.6 goals. If not pre-listed be the Dees last year, Hogan would have been a Top 5 draft pick.
Jack Martin (Fwd/Mid) – Martin should play most games next year on a half forward flank for the Suns. He wont hit huge scores but has high job security after starring in the NEAFL throughout this year.
Viv Michie (Fwd) – Averaged 25.6 disposals, 4.2 marks and 3.6 tackles in WAFL this year. Dees need more ball winners that use it well so I expect 10+ games from Michie in 2014.
Xavier Ellis (Def/Mid) – Former no. 3 draft pick pencilled in for a half-back/sweeping role at West Coast. His body will need to hold up during pre-season before he can be considered Fantasy relevant.
Claye Beams (Mid) – After rupturing his ACL last pre-season, Beams is back running and looks likely to participate in a full training come January. With the exodus of players at Brisbane during the off season, Beams will be up in the selection pecking order and should be good for a 70+ average.
Tim Membrey (Fwd) – A powerful medium forward who almost made a surprise debut for the Swans in their preliminary final match against Freo this year. No Jed Lamb or Jude Bolton should see him get opportunities in 2014. Check out this effort from Membrey in the NEAFL (link).
That's all from me for now. Keep an eye out for future write-ups throughout the pre-season as well as comments via Twitter @JeppaDT.