Ep 016: Mad Monday Podcast – Trades, Fixtures, Bargains
It's been a busy couple of months since we last did a podcast so we fire it up with a look at trades, the fixture, 2014 bargains and more. Don't forget to subscribe on iTunes.

Audio clip: Adobe Flash Player (version 9 or above) is required to play this audio clip. Download the latest version here. You also need to have JavaScript enabled in your browser.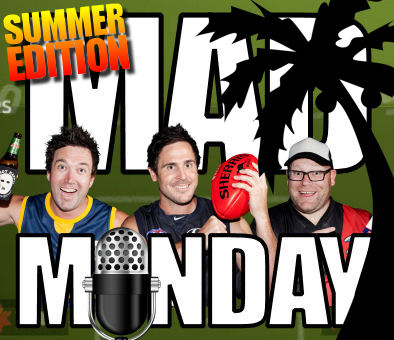 We're back for our first Mad Monday podcast looking ahead to the big 2014 AFL Fantasy season. Subscribe now in iTunes and feel free to give us a rating and comment.
This Mad Monday we talk about:
The massive trade period and all of the trades and their DT value.
2014 Fixture and the fantasy implications.
Potential bargains.
Position changes.
What to expect in the AFL Prospectus 2014.
Audio clip: Adobe Flash Player (version 9 or above) is required to play this audio clip. Download the latest version here. You also need to have JavaScript enabled in your browser.
Thanks for listening! We will have a couple more podcasts over the next couple of months before firing them up weekly when the game opens. Feedback is always appreciated. Hit us up in the comments here and if you're feeling nice, a review on the iTunes page would be great!
DON'T MISS THE FOLLOWING ARTICLES: