Pre-order the AFL Prospectus 2014 now
The AFL Prospectus 2014 is available for pre-order from www.championdata.com and this year we'll have it in our hands before Christmas. In some other exciting news, it will be available for tablets (iPad and Android) for the first time in February.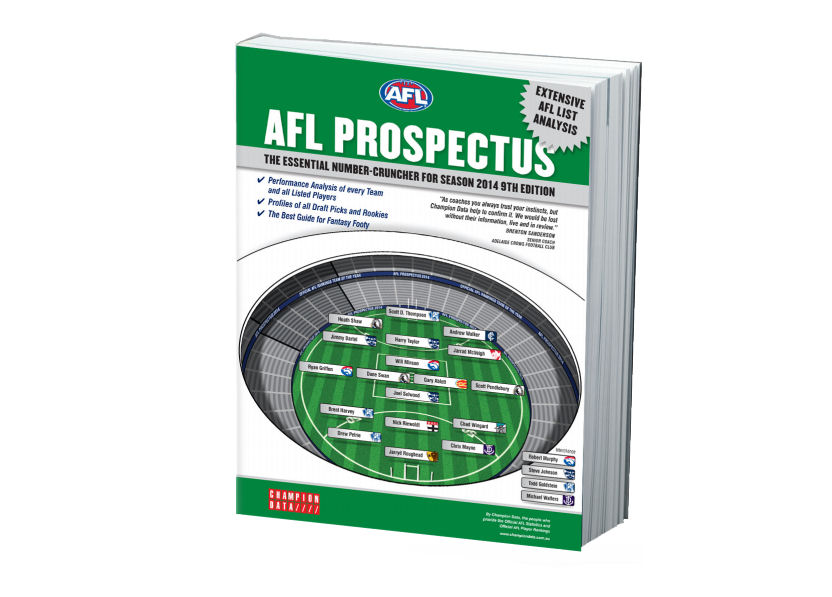 From the AFL Prospectus team:
It is that time of the year again when the focus turns to the best AFL publication in the business; AFL Prospectus 2014. This year will be the 9th edition of our book and we wanted to let you know about a number of important changes that we are making.
For the first time ever our book will be available for delivery mid-December. With the AFL moving the date of the National Draft forward this has allowed us to finalise the book earlier which means you can get it under the Christmas tree as a gift for someone or read it yourself over the holiday break.
The economics of books have been changing for some years now so there are two other important changes this year. This edition we will release the first ever tablet versions (iPad and Android) and these will be available in February 2014 for $13.95.
The other major change is that our book will only be available to purchase online and will not be sold in book stores or newsagents. This change has been made to ensure the long term viability of the book. Go to www.championdata.com.au, click on the AFL Prospectus links and you will be directed to our new online store for purchase. We have retained the cover price at $39.95 but due to rising postal costs we will charge for postage and delivery.
For those that don't buy things online, we will be selling the book for two days only from the ground floor of our office prior to Christmas. Our office is located in Southbank, Melbourne but we will send you an email with details once arrangements are finalised.
This year's edition is a cracker. It is now BIGGER than ever with 432 pages full of information for coaches, players, fans and fantasy footy coaches.
   / Performance analysis of every team and all listed clubs
   / In depth analysis of every team's 2014 player list (over 800 players)
   / Profiles of all draft picks and rookies
   / The AFL Prospectus Team of the Year
   / Our predicted Top 25 of the 2014 NAB AFL Draft and the Freako's take of them
   / AFL Dream Team and Supercoach essentials
   / Plus much more…
We take great pride in our book and we thank you for supporting our product. We hope these changes mean that we can meet our readers varying needs for a traditional printed book or an electronic version whilst also setting a platform for future editions.
To order the AFL Prospectus 2014, go here.
To order back issues (2007-2013), go here.
Good luck in 2014!