AFL Trade Period 2013 and Dream Team
It felt like an eternity, but the Gillette AFL Trade Period is over for 2013. Warnie has a look at every single player who changed clubs and gives his opinion on what these trades might mean for AFL Fantasy in 2014.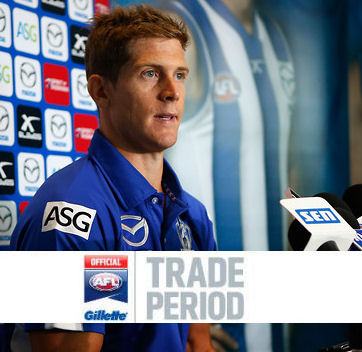 The AFL Trade Period is underway and we'll look at every player traded and what it might mean for AFL Fantasy in 2014. Stay tuned to this post as we'll update it as trades are finalised over the three weeks of the silly season.
ANDREJS EVERITT TO CARLTON
TRADE #27 – Friday October 25, 2:00pm
DT VERDICT: In the final trade of the year Everitt becomes a Blue. Surprisingly (or maybe because I take no notice of him) he played 17 games at the Swans and the semi and prelim finals. He'll be priced at his 2013 average of 60 which is about right. If you pick him, that's what you'll get from him. Everett's only better return was in his last year at the Bulldogs where he averaged 67.8. PASS.
SAM DARLEY TO WESTERN BULLDOGS
TRADE #26 – Friday October 25, 1:52pm
DT VERDICT: Darley has been starved of opportunity at the Giants playing just 13 games in his first two years. The Tassie boy averaged 59.5 points from four games this year predominately chasing forward flankers around the ground. Depending on his role, the defender could offer some value if he gets a bit of a discount. WATCHLIST AND IF BEST 22 WE'LL SEE A BIT OF A PRICE RISE.
TRENT WEST TO BRISBANE
TRADE #25 – Friday October 25, 12:53pm
DT VERDICT: Trent West heads to Brisbane to sit behind Matthew Leuenberger in the ruck stocks. When on song, he can rack up the hitouts but his DT numbers aren't huge due to lack of disposals around the ground. West averaged 55.6 this year from his 13 games and while this is a bit down on some of his previous returns, there is limited value in him as his numbers won't increase much. PASS.
SCOTT GUMBLETON TO FREMANTLE
TRADE #24 – Friday October 25, 12:49pm
DT VERDICT: If Gumby has put his injuries behind him, we'd be silly to look at him for fantasy. He's not a walk up in Freo's best 22 at this stage and even if he is, expect some sporadic DT numbers. Gumby came into the Bombers' line up in Rd 4 as a late inclusion and kicked 4 goals for a massive score of 112. Let's contrast this with his 2 points that he got for his half he played for just one handball before being subbed out at half time. No thanks. PASS.
PAUL CHAPMAN to ESSENDON
TRADE #23 – Friday October 25, 12:28pm
DT VERDICT: As a Bombers supporter, I'm pretty stoked to have Chappy and I think we'll play him sparingly and he may even end up being a second half of the season specialist for the next couple of years. His average of 86.6 was his lowest since 2005 and we will be getting him at a reasonable price as there was a green vest included in his 6 games this year. Chappy finished the year well with 95 in Rd 23 and then 113 in the semi final against Port Adelaide. POSSIBILITY TO PICK UP IN THE BACK HALF OF THE YEAR.
JOSH HUNT TO GWS GIANTS
TRADE #22 – Friday October 25, 12:20pm
DT VERDICT: The delisted Cat has never been a DTer and that won't change at his new club. Hunt will be 32 at the start of next season and even though he should play more than the 10 games he got this year, we can still expect an output in the 60-70 range. Not really enough to warrant picking him. PASS.
JAMES PODSIADLY TO ADELAIDE
TRADE #21 – Friday October 25, 12:14pm
DT VERDICT: The jPod has a nice place in the hearts of AFL Fantasy coaches due to being a mature aged pick and averaging 81.7 in 2010. Sadly, the old man is getting on and even though he averaged about 75 this year, there will be better options for the price. PASS.
JOSH BRUCE TO ST KILDA
TRADE #20 – Friday October 25, 12:09pm
DT VERDICT: The DEF/FWD played 11 games this season at 51.3 DT points per game. He's a key defender and won't be a DTer. Bruce could be a good pickup for the Saints, but we won't want him in our fantasy teams. PASS.
BILLY LONGER TO ST KILDA
TRADE #19 – Friday October 25, 11:52am
DT VERDICT: The deal that we all thought would happen as soon as McEvoy went to the Hawks was finally done with a couple of hours left in the Trade Period. The former first round pick and 202cm ruckman played four games this year at an average of 43.7 after 58.6 from five last year. He should receive a discount and we'll see him as a potential $200K player and a worthy R3 for 2014. Watch how the Saints will look to play both Hickey and Longer before locking. LOOKS TO BE A GOOD R3 OPTION.
JACKSON PAINE TO BRISBANE
TRADE #18 – Friday October 25, 11:43am
DT VERDICT: Hmm… Paine is going into his third year in the system and he will be almost rookie priced after not playing a game in 2013. There are quite a few tall forwards up at the Lions, but you'd think he will get an opportunity. Paine only averaged 47.5 in his debut season in 2012 but there should be some improvement on that. DEFINITELY CONSIDER IF ROOKIE PRICED AND IN ROUND ONE CALCULATIONS.
PATRICK KARNEZIS TO COLLINGWOOD
TRADE #18 – Friday October 25, 11:43am
DT VERDICT: There was so much pre-season hype over Karnezis this year… we were all over him after a fantastic NAB Cup. His first game he scored 66, solid but nothing too exciting but then he ended up with the green vest in the second game and only came on in the last quarter for 9 points. Karnezis was then dropped, without changing value at all in DT, and only played one more game for 18 touches and 74 points before not being seen again. While he may not be the cleanest bloke with the ball, if he gets an opportunity, then Karnezis will be a value pick this season. PRE-SEASON WATCHLIST.
PLEASE NOTE: Trade #17 was an exchange of picks between West Coast and Gold Coast.
JARED POLEC TO PORT ADELAIDE
TRADE #16 – Thursday October 24, 5:52pm
DT VERDICT: After quite a few trades that didn't really mean much for us as DT coaches, the final one of Thursday is a ripper. Jared Polec played just the one game for the Lions this year for 31 points and an ankle injury. He wasn't seen again in the ones for the season. Polec got homesick and wanted a trade to the Power. He got it and will go into his fourth AFL season basically rookie priced. The former number 5 draft pick will be a must have midfield rookie. LOCK IF BEST 22.
ELLIOT YEO TO WEST COAST
TRADE #15 – Thursday October 24, 5:46pm
DT VERDICT: Elliot Yeo only missed three games this year and averaged 58.1. Not a great return, but justified as he played negating roles all season. Possibly a good get for West Coast, but not for our Dream Teams. PASS.
SAM DOCHERTY TO CARLTON
TRADE #14 – Thursday October 24, 4:26pm
DT VERDICT: The kid can play and the Blues have got a bargain and we could possibly have a bit of a mid-priced bargain in DT. He played 13 games this year in his debut season for an average of 50.2 but we definitely need to take into account he had 6 vests. With 90 and 85 in his last two games of 2013, there is some hope that he can grab some numbers. For me though, there is upside… but probably not enough. ON THE WATCHLIST.
STEWART CRAMERI TO WESTERN BULLDOGS
TRADE #13 – Thursday October 24, 2:00pm
DT VERDICT: The former Bomber got his wish and Crameri is now a Bulldog. What does this mean for DT? Personally I wouldn't be touching him. He's a key position player – who can play various roles – so this doesn't bode well for consistent numbers. Crameri is heading into his fifth year and will be priced at his 2013 average of 65. His best return was in his second year when he averaged 72.7 from 20 games. PASS BUT I WILL HAVE HIM ON THE WATCHLIST IN SUPERCOACH.
HEATH SHAW TO GWS
TRADE #12 – Wednesday October 23, 3:00pm
DT VERDICT: Heater is probably on quite a few 'never again' lists, but we can't write off a bloke who posts premium numbers in defence. While he hasn't played 22 games in a season since 2007 due to injury or stupidity, he's posted an average of 80+ every year since his sophomore year in 2006 with his biggest being 91.7 in 2011. I can see him being good value priced at 81.4 points but that worry of a forward tag that he cops every now and then. DEFINITELY ON THE WATCHLIST ESPECIALLY IF HIS ROLE LOOKS DT FRIENDLY.
TAYLOR ADAMS TO COLLINGWOOD
TRADE #12 – Wednesday October 23, 3:00pm
DT VERDICT: We were all aboard the Taylor Adams train in 2012. In his debut year, he averaged an impressive 75.4 from his 15 games. He backed it up with some natural progression playing sixteen games at an average of 82.1. What was impressive about this was three of these games involved wearing the vest. Round 1 he only played the last quarter for 12 points, and he was down on his usual production when subbed out for 48 and 62 in his other sub affected games. With six scores over 90, including 111 and 101 to finish the season, he is a DTer… but where's his place in the 'Pies lineup in 2014? Tough call to buy a guy priced at 82 who is unlikely to be a 'premium' midfielder. PRE-SEASON WATCHLIST FOR SOME MORE IMPROVEMENT.
SHAUN EDWARDS TO ESSENDON
TRADE #11 – Tuesday October 22, 5:00pm
DT VERDICT: Two games at 41.5 this year (one was sub affected) and ten games at 49.5 in 2012 hasn't seen Edwards as a big DT scorer. He is currently over in Ireland representing the Aussies in the International Rules Series. He'll be close to rookie priced and is he is named up as a defender again, he might be a consideration but I'm not at all confident. PASS.
KURT AYLETT TO ESSENDON
TRADE #11 – Tuesday October 22, 5:00pm
DT VERDICT: Aylett is most likely going to be a depth player… or someone who needs more time. 2013 was the midfielders second year into the system where he spent the season playing in the NEAFL. Aylett played one game in 2012 getting subbed out on 27. Probably unlikely to trouble the DT scorers much this year. PASS.
PLEASE NOTE: Trade #10 was an exchange of picks between Hawthorn and St Kilda.
LUKE DELANEY TO ST KILDA
TRADE #9 – Tuesday October 22, 10:31am
DT VERDICT: Heading into his fourth year, Luke Delaney hasn't shown that he's a Dream Teamer as a 194cm defender… but really, not many are! He had an average of 48.8 this year from his five games and while we should see him as a walk up player for the Saints, don't expect anything more than about a 50-60 average. PASS.
JESSE WHITE TO COLLINGWOOD
TRADE #8 – Monday October 21, 12:00pm
DT VERDICT: Did you know that Jesse White is in line to be the first player with a surname of 'white' or 'black' to play for the Magpies? Anyway, that's about as interesting as it gets for this trade and AFL Fantasy. He had his best year of his six year career averaging 62 points and scored a 121 and 103 towards the end of the year. Jesse White isn't a DTer and I don't think he ever will be. I wouldn't even select him in Calvin's team. One thing to consider though is what effect this will have on Travis Cloke. PASS.
PLEASE NOTE: Trade #7 was an exchange of picks between Collingwood and West Coast.
BERNIE VINCE TO MELBOURNE
TRADE #6 – Friday October 18, 6:00pm
DT VERDICT: Bernie Vince has only averaged over 100 once in his eight year career and that was all the way back in 2009 when he won the Crows' B&F. Will things change in 2014? You'd think they would at the Demons, but as he's a fairly versatile player, who knows what roles he'll be playing week to week. Vince will be priced at 82.9… which is probably what we'd expect as that's close to what he's averaged the last four years. Maybe he gets a new lease of life at the Demons and he gets a DT game? I'll be staying away. PUT HIM ON THE WATCHLIST, BUT AN UNLIKELY DT STARTER.
SHANE MUMFORD TO GWS
TRADE #5 – Friday October 18, 2:16pm
DT VERDICT: Finally this deal was done and GWS will be big winners. As for DT, Mumford will possibly be one of the popular ruck choices being priced at his average of 78 for this year. As the number one ruck at the Giants, we'll see his numbers increase and hopefully he'll be back to premium status and return something similar to 2011 when he averaged 91.4. SOLID RUCK CHOICE WHO SHOULD INCREASE AVERAGE BY 10+ POINTS.
NICK DAL SANTO TO NORTH MELBOURNE
RESTRICTED FREE AGENT – Friday October 18, 12:51pm
DT VERDICT: While Nicky Dal certainly has some good footy left in him, I think he's done as a DTer… despite what Dr Dream Team and his mancrush thinks. Over the last three years he has dropped his average from 103.5 to 88.4. He is bloody durable, playing ever game over the last three seasons, but going into 2014 as a 30 year old says no for me. NOT ON THE FANTASY RADAR FOR ME.
DOM TYSON TO MELBOURNE
TRADE #4 – Friday October 18, 10:00am
DT VERDICT: The Dees may have got us another cash cow here in third year player Dom Tyson. He was the third pick overall in the 2011 National Draft and managed 13 games for GWS in his first two seasons. A knee injury saw him miss the majority of this year and in his three appearances, he scored 59, 27 (green vest) and 67. Tyson averaged 91 in the U18 Champs in 2011 and 103 in the TAC Cup that year. He'll definitely increase his output and price with opportunity at the Demons. WILL BE AWKWARDLY PRICED, BUT THERE IS UPSIDE.
VIV MICHIE TO MELBOURNE
TRADE #3 – Thursday October 17, 1:00pm
DT VERDICT: Unfortunately (harsh I know), Michie made his debut this year for Freo playing just the one game, donning the green vest and knocking out 49 points when coming on in the second quarter. Due to playing this game, he won't be completely at basement price, but still… cheap enough for a bench spot. The forward may get an opportunity at the Demons and be a cash cow, but we won't be expecting too much from him when it comes to DT output. Michie averaged 80 in the TAC Cup in 2010 and 68 in the Under 18 Championships but had a pretty good season with multiple 30+ disposal games in the WAFL this season. The Fantasy Freako let us know in this tweet that he averaged 26 disposals, 4 tackles and 95 AFL Fantasy points this year in the WAFL. PRE-SEASON WATCHLIST AND CONSIDER FOR BENCH.
XAVIER ELLIS TO WEST COAST
UNRESTRICTED FREE AGENT – Wednesday October 16, 11:40am
DT VERDICT: The Hawthorn premiership player, and a bloke who could have had a Norm Smith Medal hanging around his neck is now an Eagle. Despite me thinking a few years ago that he was a DTer (I picked him for the final 4-5 rounds in 2009 when I was a shot for the car… and he stunk it up), he isn't going to set the world on fire in DT terms no matter where he is playing. BUTTTTTT… he averaged just 30 this year from his two games thanks to a green vest in his first and a red vest in his second game. Due to this, we'll see Ellis basically a rookie priced player and if he's in the Eagles round one calculations, then he's a lock! Be warned, X-man is a walking injury risk, though! (Check out this awesome interview we had with him back in 2010… legend!). CASH COW ON PRE-SEASON WATCHLIST.

SHANE SAVAGE TO ST KILDA
TRADE #2 – Thursday October 10, 9:02am
DT VERDICT: With 44 trades and 8 on ground midfielders, midpriced players come into the mix much more than before. Savage struggled to cement his spot in the best 22 for Hawthorn. He managed 15 games at an average of 67.2 but of those games, he was vested in five. Without the vest, he returned scores such as 85, 97, 105, 102, 93 & 115 to average 86 in vest-less games. In his fifth year, Savage is not going to be a fringe player at the Saints so we should see an increased average. 90+ isn't out of the question, but the worry is that he'll be in a pretty average side. HIGH ON THE PRE-SEASON WATCHLIST.
BEN MCEVOY TO HAWTHORN
TRADE #2 – Thursday October 10, 9:02am
DT VERDICT: Oh boy wowee, Big Boy McEvoy will be suiting up in a Hawks jumper in 2014. Sorry, had to do it… bloody BTisms. Anyway, McEvoy averaged 75 points while playing every game this year. A solid season, but definitely down on his previous two years. We basically considered him as a premium ruckman after averaging 90 and 89 in 2011 and 2012 respectively. McEvoy should increase that average taking the retiring Max Bailey's #1 ruck spot. WATCHLIST FOR ME, DEFINITELY GETTING HIM CHEAP.
DALE THOMAS TO CARLTON
RESTRICTED FREE AGENT – Wednesday October 9, 11:52am
DT VERDICT: Collingwood have decided not to challenge the Blues with their offer for Daisy's services in 2014 and beyond. He only played 5 games this year for an average of 75.8 due to ankle issues, his lowest return since 2008. He was named as a MID/FWD this year after coming off three epically good DT seasons averaging 95, 103 and 93. Thomas should find himself averaging much higher in 2014 at the Blues. A 100% LOCK IF HE RETAINS MID/FWD STATUS.
LANCE FRANKLIN TO SYDNEY
RESTRICTED FREE AGENT – Tuesday October 8, 6:16pm
DT VERDICT: Finally today the AFL approved the massive 9 year deal for the free agent and the Hawks said they weren't going to match the offer… Buddy Franklin will be sitting in the Swans forwardline from 2014. He returned his lowest DT average this year since his second season back in 2006. Next  year he'll be priced at an average of 78.6 points… a long way from 101.6 and 101.3 in the two previous seasons. Whether you think he will get back to that or not, he'll should still average over 90 and be one of the top forwards in AFL Fantasy in 2014. LOCK AND LOAD, BABY.
SHAUN HAMPSON TO RICHMOND
TRADE #1 – Monday October 7, 5:37pm
DT VERDICT: While most of us would prefer to pick his partner in our 'fantasy' teams, Hampson doesn't excite us very much for AFL Fantasy. He played six games for Carlton this year at an average of 61.6 which was his second best DT average of his seven year career behind his 64.9 in 2012. The only DT related thing about this trade is one less 'ruck' in the mix for Matthew Kreuzer and the Blues and what the pre-season and role might mean for the under-priced Ivan Maric at the Tigers. PASS.
EDDIE BETTS TO ADELAIDE
RESTRICTED FREE AGENT – Friday October 4, 5:01pm
DT VERDICT: Eddie has only had one season in his nine where he has averaged over 70 points (74.2 back in 2010). While the Crows will like what he'll bring to the team, there's no fantasy value in the ex-Carlton forward. PASS.
MATT WHITE TO PORT ADELAIDE
UNRESTRICTED FREE AGENT – Friday October 4, 11:48am
DT VERDICT: White hasn't had a DT game in the past, but if he is named as a forward… and rids himself of the green vest (he had seven in 16 games this year), maybe he is some value priced at just 58.2 points. White did register some decent scores for the Tigers when he played a full game. 102 v West Coast, 94 v Brisbane and 86 v GWS this year. There's a chance he is named as a forward by Champion Data off the back of spending a lot of time in the forward 50. TOWARDS THE BOTTOM OF YOUR WATCHLIST.
COLIN SYLVIA TO FREMANTLE
UNRESTRICTED FREE AGENT – Friday October 4, 11:47am
DT VERDICT: I'm an unashamed Colin Sylvia fan and I hold a lot of hope now for him under Ross Lyon. Between 2009 and 2011 he was considered as a premium forward averaging 95, 96 and 91 over those seasons. He'll be priced at his 2013 average of 81.8 and if he can get back over the 90 mark over in the west, he'll be a premium player again in 2014. We'd like to see him put together more games though to consider him. VERY RISKY, BUT A PRE-SEASON WATCHLIST.
Discuss the trades and any DT value you find in players at their new club in the comments.