NBL Dream Team: Round 3 Preview
The 2013/14 NBL Season is truly underway and after two weeks it's trade time. But firstly: Lockout is on Thursday at 5:30pm AEDT – don't miss it. Read on as Tristan reviews the first two rounds and looks ahead to Round 3.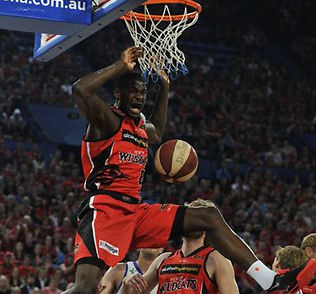 The 2013/14 NBL Season is truly underway and after two weeks it's trade time.
But firstly: Lockout is on Thursday at 5:30pm AEDT – don't miss it.
He's on Fire
James Ennis cemented his "must have" status this round, posting a massive 100 points from his two games. It was even better since many people had him as captain. If you also had Kerron Johnson posting 98 points, you had the makings of a big week.
Despite these huge tallies though, the league leaders for scoring are the local big men with AJ Ogilvy at 54 ppg, closely followed by Daniel Johnson on 52 ppg.
Trade Targets
If you don't already have James Ennis or Kerron Johnson then, as unfortunate as that is, cross them off your list for the time being. Both have already jumped in price and there are a swathe of options this week all on the 2 game cusp.
Daniel Johnson is the top priority if you don't have him. Despite his price tag he has four games in the next two weeks and if he maintains current form, he'll go up in value.
AJ Ogilvy as the top scorer also has to be considered. Even think about trading Pledger out for him. Do not trade Tom Jervis out. If you don't have Jervis get him in despite his price rise.
Gliddon is another that I'd love to be trading into my team but, just like the start of the season, he'll probably miss out. Lucas Walker was great to watch going head-to-head with Ennis on Sunday and he came up with a decent DT score too. Brad Hill has settled nicely into Sydney and with his cheap price should be grabbed.
The bargain players are headed up by BJ Anthony, whose price is rock bottom. However his double games mean you'll get less value from his already good work and will be relying on him continuing to get good scores. At least he can't lose any money though.
Other bargains include Tomlinson who had a great week one but Goulding's return affected his output dramatically. Kevin White and Mitchell Young both had a good game and then an average game. Vanderjagt is getting decent court time and  making the most of it, while Tyson Demos has started well this year and could be a great grab if he finds some consistency.
There are some players which I'd be slightly hesitant about. Blanchfield had the best game of his career on the weekend but was a very up and down scorer last year. Could be worth the gamble as he's not too expensive. Tom Garlepp had a huge game one but was quiet in week two, but again his price makes him an attractive choice despite the risk.
Trade Them Out!
Round two trading is all about maximizing your early cash gain. If you took a chance on any of Adam Ballinger, Ayinde Ubaka, Ben Madgen, Charles Carmouche, Oscar Forman, Rhys Martin or Stephen Weigh then cut them now before they lose you a lot of cash. I've added all these players to my watch list as they're potential future bargains in the making.
My personal chopping block has Rotnei Clarke and Thomas Abercrombie sitting squarely in its sights. Despite ok performances I'm prepared to risk trading them out and will be grabbing someone who has shown exceptional form. I put players like Conklin, Davidson, D. Martin, McCamey, Sanders, Tragardh, Wagstaff and Worthington into this category. They have a decent price now that they could lose, so trade them out if you don't have any big under-performers taking priority.
Additionally, you might give consideration to trading out Anthony Petrie and Luke Schenscher. Despite their imminent double games their form says they're probably going to lose a bunch of cash during that time and with their current value you can trade them to someone else who'll possibly outscore them with a single outing.
Also, if you have Jermaine Beal or Darnell Lazare trade them out despite the fact that they've already lost you a chunk of cash. It's not going to come back anytime soon and they're likely to just loose more in the short term.
Captain Choice
With round 3 double games going to Perth and Adelaide the choice for captain becomes a tough one. Daniel Johnson for me, just slightly ahead of Ennis only because Lucas Walker did such a good defensive job on Ennis for the last 3 quarters and it hindered Perth substantially, so we may see it attempted from other teams. You could also try Redhage or Ervin if you're after a point of difference.
As this is the first weekly article for the season (I was overseas in the Cook Islands last week where apparently they still use dial up because it was really slow and cost $15 for 50MB of usage) I'm open to suggestions for what people might want to see regularly.
I hope you all have a high scoring week.
Cheers
Tristan
Coach of the Statismathgicians