A complete guide to picking your 2013/14 NBL Dream Team
The NBL 2013/14 season is here and it's time to get serious about NBL Dream Team. Our friend Tristan is very bloody good at NBL DT and he's here to share his expertise on the season ahead. The first lockout is on Thursday!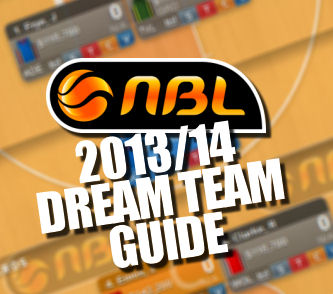 The NBL 2013/14 season is here and it's time to get serious about NBL Dream Team.
Strategy
The essential principle of NBL DT is to have your team of 10 players scoring as many points as possible, whilst at the same time have those players increase in value.  The trick to doing this is how you use your trades. You want to have five high scoring players on the field every week, who are ideally scoring above their price, and you want your five bench players to be increasing significantly in value. Because your bench players only score half points their score is often overlooked, but having decent points from each bench player can often be the difference between a win and a loss. By season end you ideally want a team of guns. It's usually achievable; my team value last year was around $1.6 million for the final eight games.
Trading for fixture
To keep your five on court players scoring as much as possible you need to look to the teams who have the double game weeks. You should have at least one decent scorer each week who is playing a double game to make your captain. This is one of the largest areas for points scoring, I had some weeks last year where my captain's doubled score was greater than the rest of the team combined.
It's clear from the games plot that starting with players from Adelaide, New Zealand and Perth will offer a clear advantage for the first four rounds. Don't overload on players from these teams though, at the start of the year selecting a player only because they'll score more points is actually detrimental to your team, you need all your players to be gaining value too.
For your starting team, don't worry too much about the player's upcoming opposition. Some players will have teams they play worse against, but it changes from year to year as the line ups and team tactics change so dramatically.
Tracking Your Players
Before selecting players make sure you know who they are, what they look like and how they play. This will help you know if the big game they just had was a one off or if they've had a change of role. During the season the best tool for this is NBL TV as it allows you to watch replays on demand, but you can also search around online. For teams like Wollongong, Cairns, Townsville and New Zealand, the local papers (which are online) have decent coverage of their basketball team, so they're a great place for extra information.
I also research every player who gets injured as their injury will be creating opportunities for someone else. Knowing what the injured player's role was will let you know who is going to be asked to step up or be given more court time in their absence.Although there is usually an injury list published on the NBL website each week,for many minor injuries the teams often choose to keep it to themselves, so againI make a point of doing a search on each of my players on the day of lockout to make sure there's no information about them out there that I've missed.
The Players
Finally, you say.
Even though there are only 3 positions on the court in NBL DT, I split the players up into 5 types because the dual position players are so important. Having dual position players in your team enables you to have a much greater flexibility when considering who is on court and who is on the bench, as well as giving you access to more options when trading.
Below are the 25 players who I'm still considering for my squad. If someone's not below then I don't think they're someone you should be selecting. As I've left out some serious players I'm happy to chat about the reason for some of my exclusionsin the comments if you're interested.
Centres
Alex Pledger ($152,500)
Established himself as one of the best bigs in the league last season and is guaranteed to deliver a decent score most weeks. Has double games early too.
AJ Ogilvy ($124,400)
Has put up some solid scores from not many minutes.Crosswhite showed last season that Heal loves to have a strong centre to help keep the guards open and it pays off in points. I'd only be hesitant because he had a groin injury recently and Sydney are being very careful with their star.
Tom Jervis ($49,100)
Is getting some really good minutes while Knight is injured. The addition of Jarrad Prue might impact this slightly but I still think he'll have a decent price increase before Knight returns.
Greg Vanderjagt ($49,100)
Put together some nice games when given extra time whilst Hinder was being rested. It's still unclear if he'll get the same opportunities though once the season starts, but if he does he's worth having.
Dual: Centre / Forward
Daniel Johnson ($165,100)
Has had a really solid pre-season and is a very reliable player, however his scores drop a bit when Schenscher plays decent minutes. Expensive, but has double games early so if Schenscher isn't back could be a great investment.
Cameron Tragardh ($119,000)
Started and finished last season with great runs of big scores, but had a number of games through the year where he just went completely missing. He's one of the best scorers in the league so jump on if you think he can start big again.
Brian Conklin ($116,700)
Recruited from the NZNBL, Conklin has shown that he's a great scorer. Will be a lynchpin of Townsville's offense. The only negative here is that when Townsville does get a double game it's round 7 and directly before a bye round. He'll be expensive by that time though.
Tom Garlepp ($79,100)
Had a great 2012/13 season and will continue to improve. Has been getting good minutes to support Ogilvy as Allen again appears to be failing to deliver.
Forwards
Stephen Weigh ($123,400)
Has great talent and playing with a new team with a lot of strong inside players that like passing could really suit him. Will probably not be selected much,being pricier than the imports means he's just a touch expensive for my liking.
Jarrid Frye ($116,700)
I haven't had the chance to watch a game that Frye has played in yet, but based on his pre-season stats and having Joey Wright as a coach he could be big this season.
Clint Steindl ($49,100)
Has the occasional game where he simply explodes for a score of 50+. Someone to consider for the bench as you'll make a great bundle of cash if you have him when he scores big and he has every chance to do this early.
Mitchell Young ($49,100)
Straight from college, has shown that he could be really exciting and score well. Will probably be a consistent scorer too, Cairns showed last season that they're happy to give the youngsters significant court time.
BJ Anthony ($41,900)
Got good minutes during the preseason and if he keeps getting them would be a great selection, however he will probably see a lot more of the bench once Schenscher returns.
Dual: Guard / Forward
James Ennis ($142,200)
LOCK!!! Should be in 100% of teams and I'd advocate deleting any team which doesn't start the season with him.
Josh Pace ($116,700)
Townsville also recruited Pace from the NZNBL to score points and he's been delivering solid scores every game so far. Same negatives as Conklin, but also looks like he'll be expensive by the time you want him.
Thomas Abercrombie ($108,600)
Started last season injured and took much of the season to find his stride. Having played all off-season he looks genuinely under-priced and with early double games could be a great grab.
Tim Coenraad ($84,100)
Didn't play a bad game all pre-season and scored nice DT points along the way. If he keeps this consistency he'll be a great pick up.
Brad Hill ($75,700)
The change of team seems to be suiting him wonderfully and if he can stay consistent we might finally get regular huge DT scores from this talented player.
Guards
Cameron Gliddon ($124,100)
Was a big improver last season and he seems to have just kept improving in the offseason thanks to time with the Boomers.
Kerron Johnson ($133,500)
Has big shoes to fill as the replacement for Cedric Jackson, but has shown some serious scores in the pre-season. Combined with New Zealand having a few double rounds early, he's a good choice.
Rotnei Clarke ($116,700)
Played some brilliant games during the Blitz and seemed to get better when Martin was reintroduced into the line-up. Not sure if the loss of Summers will affect him, but Wollongong's track record of making superstars out of their import guards makes him close to a lock in my mind.
Charles Carmouche ($116,700) & Jess Sanders ($116,700)
Both import guards have been given big minutes by Heal and both have shown they have clear talent. Either could be a star but neither has shown enough consistency for my personal liking. At least one, probably both, will be decent scorers all season though.
Nate Tomlinson ($49,100)
Absolute lock due to the extensive injuries in the Tiger's front court and his cheap price. Put up some big scores last year when Flynn was injured so he has already shown he can deliver when given the chance.
Kevin White ($49,100)
Another Sydney player, but one of the few who isn't new to the club. Heal likes White and he gets good minutes every game. It's just a matter of time before that translates to good DT scores.
Finalising Your Team
Your starting squad is very important, but if you make a mistake it's not the end of the world. You have 30 trades and you will likely trade out every single player in your starting squad at some point during the season. I generally like to keep a $30K – $40K spare in my treasury at the start the year as you may need to trade in a big scorer you missed.
Double check all your players before lockout and make sure you're picking with your head. Just because you hate a particular team, it doesn't mean their star isn't going to score big when playing against you. It's actually a consolation if you have them in DT squad.
As for your week one captain I'll be going with James Ennis, but also consider Daniel Johnson against a Knight free Perth or some potentially big scorers in Kerron Johnson and Rotnei Clarke.
Finally, Good Luck
Tristan
Coach of the Statismathgicians
If you want to join me in a league you can join on code: 463773