NBL Dream Team 2013/14 Preview
If you're after a fantasy hit over the off-season, play NBL Dream Team! Our basketball guru, Chook gives you some hints to get started with your team. We have some leagues for you to join.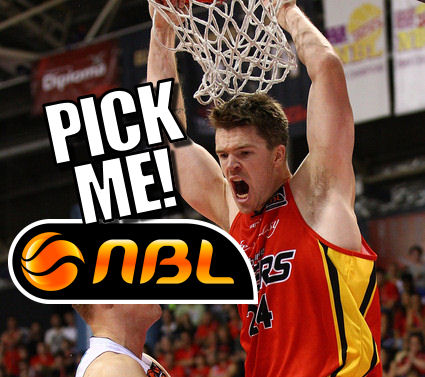 An injection of top-line talent from overseas and the return of some of Australia's best basketball brawn has set the stage for an exhilarating National Basketball League season. Now the only problem is working out how to squeeze all of these frighteningly good hoopsters into one fantasy team.
Returning for the 2013/14 season is NBL Dream Team, the exciting fantasy game where your ultimate 10-player squad scores points based on their actual on-court efforts. Selecting your team is pretty simple: just grab four guards, four forwards and two centres that fit under the $1,000,000 salary cap, with your starting five all earning full points while your bench players contribute half their score to your team's total. And this year there's a flood of fresh faces to choose from.
Direct from the NBA draft, super-athletic forward James Ennis headlines a list of US imports that also includes Belmont University star Kerron Johnson, sharp-shooter Jermaine Beal and aerial specialist Durrell Summers, while Aussie pair AJ Ogilvie and Mark Worthington are back from abroad to bolster the Sydney and Melbourne squads.
Despite starting the season at a slightly inflated price compared to his fellow imports, Perth recruit Ennis ($142,200) should be locked into one of your guard or forward positions (some players can be selected in more than one) after a pre-season in which he averaged 47 Dream Team points. Johnson ($133,500), brought in to the New Zealand Breakers line-up to replace reigning MVP Cedric Jackson, will also be vying for one of your guard positions along with Wollongong pair Rotnei Clarke and Summers, who are both available for the regular import price of $116,700. In the budget bracket, Melbourne point guard Nate Tomlinson looms as a potential cash cow this year courtesy of the Tigers' decimated backcourt and a series of impressive pre-season outings.
Another injury to Wildcats big man Matty Knight leaves teammate Shawn Redhage as the best credentialed Dream Team forward from last season, when he averaged just under 30 points per contest. He looks to be the best value of similarly priced forwards Worthington ($159,600) and Oscar Forman ($153,700), if only for the fact that Perth play 10 times over the first seven weeks. In comparison, Wortho's Melbourne and Forman's Hawks will play only eight times in the same period.
Adelaide and New Zealand are the other teams with the busiest start to the year which, coupled with strong pre-seasons, makes 36ers tall Daniel Johnson and Breakers big man Alex Pledger the leading candidates for your starting centre.
There's nothing better than snagging a narrow win over your best mate or boss in one of the five leagues that you can join, but you can also compare your progress with players from your state or favourite club. And the player that racks up the most points overall will win flights, accommodation and tickets to a 2014 NBL Grand Final Series game. It's shaping as a thrilling season of NBL Dream Team, so head to dreamteam.nbl.com.au to register now!
JOIN A DT TALK LEAGUE
(Please only join one)
Chook DT TALK – 949079
Roy DT TALK – 135999
Calvin DT TALK – 262934
Warnie DT TALK – 971331
Jeppa DT TALK – 232542
Lefty DT TALK – 430016
DREAMTEAMTALK.COM – 973743
For more detail on all the best buys and strategy in NBL Dream Team, look out for expert articles from Tristan, coach of the perpetually high-ranking Statismagicians, on DT Talk soon.