Early 2014 AFL Fantasy Bargains
Thanks to Nix's spreadsheet, Warnie looks at which players will be cheap in 2014 based on a drop in average this season.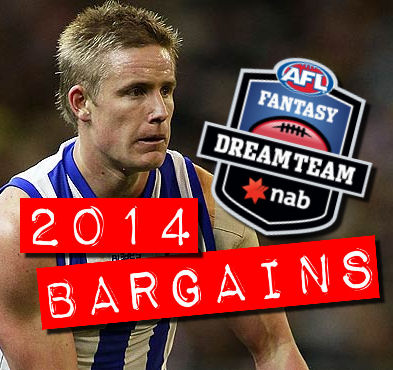 With the siren of 2013 AFL Grand Final still ringing in the background, it's time for us to start making a watch list for our AFL Fantasy Team for the new year. Warnie has his first look at the bargains of 2014.
Thanks to our statsman Nix, we have a spreadsheet available for download (see below) which compares player averages from 2012 to 2013. If you were unaware, player prices are based on their average from the previous year; the higher you average, the more you'll cost. As we're on the hunt for bargains, let's look at players who were down in 2012 and the best value pick ups for the new season.
The player that had the biggest drop in average in 2013 was North Melbourne midfielder Liam Anthony. He averaged 96.9 from 18 games in 2012 and only managed an average of 48 from 5 games, of which 3 of them he started in the green vest. Anthony has a DT game as he returned an average of 95+ in his first two seasons. If he can get it together and be a regular member of the 'Roos 22, then he will be one of the bargains of 2014 if he can gain some of that 48.9 difference back.
Third on the list, with a drop of 43.3 points from 2012 to 2013, Aaron Sandilands played seven games to average under 50 for the season to be one of the cheaper rucks next year. He was subbed out twice when he returned from injury this year and scored 77 and 79 in the last two finals. While he might not be the 90+ averaging player of the past four years next season, priced at under 50, you could be doing a lot worse than 211 in your side from the start of the season.
The other three players with the biggest average drops in the top five were either delisted or retired; Shane Tuck (dropped 46.1 points), Kyal Horsley (dropped 40.8 points) and Patrick Veszpremi (dropped 38.8 points).
DOWNLOAD: 2012 v 2013 AFL Fantasy DT Averages.xlsx
Let's have a look at some of the most fantasy relevant players per position that you should consider after a 'poor' 2013.
DEFENDERS
Defenders are always very sporadic with their output and I wouldn't be picking too many guys with confidence off the back of a poor scoring 2013 season. Nathan Bock (Gold Coast) was named as a DEF/FWD this year and only played two games for an average of 33 points, being subbed out in both – the second early due to injury for just three points. Watch him as he'll be very cheap. One of my boys this year, and probably every other year of his career, is Jack Grimes (Melbourne). Another injury affected year saw him play 15 games at an average of 76.8 points, down 15.2 points off the back of his 21 game season in 2012.
If Christian Howard (Western Bulldogs) can have a big pre-season, he'll be pretty close to rookie priced heading into 2013 after one game for 31 points off the back of 11 games at an average of 60 in 2012. Heath Scotland (Carlton) is an old man, but he's definitely capable! A drop of 13.9 points would see him cheaper than what he was the year before but he'd be risky.
MIDFIELDERS
A lot of the midfielders we see high on the list include those getting towards the end of their careers, retirees or other that might be delisted. Andrew Carrazzo (Carlton) had a 28 point decrease on his 2012 average. He battled injury with a calf ending his season. I wouldn't be looking at him as a midfielder next year but if he regains DEF status, he'll be worth a look. One day we'll see brother of Dayne, Claye Beams (Brisbane), break out. He had a full knee reconstruction in Round 3 and from all reports, his recovery is ahead of schedule. In this world of 44 trades, we might get him when he returns as he'll be cheap after averaging just 45.5  from two games (with a green vest). Roy's boy Toby Greene (GWS) was a failure of a pick this year, dropping his average by 19.6 points. His debut season of 96.2 was pretty special. He's certainly on my watch list as a mid-priced midfielder for 2014.
Some of the 'premium' midfielders will have a bit more 'value' picking them for the new season after a lower output this year. Trent Cotchin (Richmond) went from 110.7 to under-100 points in 2013 with 94.3. Marc Murphy (Carlton) had an injury interrupted season to drop well under 100 points per game to 85.5. Brett Deledio (Richmond) was down 15.4 points, Dayne Beams (Collingwood) only played 7 games at an average of 101.1 and Jobe Watson (Essendon) dropped from 112.5 in his Brownlow year to 98.5 in this tough year for the Bombers. Even our favourite fantasy pig Dane Swan (Collingwood) couldn't back up his 133.6 in 2013 dropping 16.1 points to a 'low' of 117.5 point average.
Some other players worth having on the pre-season watch list include Daniel Rich (Brisbane) who was down 17.8 points, Andrew Gaff (West Coast) excites a few and he could be cheap being priced at under 70 points and a dirty as it sounds, Brock McLean (Carlton) went from 100.2 in 2013 down to 86.5.
RUCKS
Apart from the previously mentioned Aaron Sandilands, there are a few other rucks who have averaged well in the past down a few points on their previous averages. Ivan Maric (Richmond) had a break out season in 2012 averaging 98.1. He dropped 23.7 points this season. We're not sure if last year was a freak year, or if he can consistently score well in 2014. Ben McEvoy (St Kilda) went from 88.9 to 75.7 after an average of 90.4 back in 2011. Sam Jacobs (Adelaide) was down over 12 points after two seasons averaging over 87.
Depending on what happens with Brisbane over the trade period, Stefan Martin was down 32.7 points on his previous average and could offer some value, albeit very risky. I deliberately haven't included guys who didn't play a game this year in this article, but after a season averaging over 90, Hamish McIntosh could be a huge bargain with his discount that he'll get. Also off the back of the news of him signing to GWS, Shane Mumford averaged 78.1 last year, which was only down 4.5 points on 2012, but he did average 91 back in 2011. The rucks will be very interesting indeed.
FORWARDS
A fully fit Mitch Clark (Melbourne) will offer some value after averaging just 48 from 4 games. It was a long time ago, 2009 to be precise, but this man averaged 94.4 points for Brisbane. His role has changed a lot, but his price will certainly head north from what he'll start at. Taylor Walker (Adelaide) had a career high average of 87.1 points in 2012 and with his season interrupted by injury for just 4 games and an average of 61.4, he dropped 25.7 points and will be value. A premium, possibly not, but a good stepping stone, yes. Is Alex Fasolo (Collingwood) going to be a DTer? I'm not sure, but this is the year to take a punt on him after playing 3 games for an average of 48.7. At worst, he should bridge most of the 23.9 point gap from 2012 to 2013.
The big one most of us will be thinking about in the forward line will be Lance Franklin (Sydney). He dropped 22.5 points off his big 2012 that saw him average over 100. I'm more than likely going to pick him, but checking out the Swans' structure will be interesting in pre-season matches. Another frustrating guyfor those who went with him was second year player Dayne Zorko (Brisbane). The mature aged recruit averaged a massive 94.7 in his debut year but couldn't back it up in 2013 with 73.8 points; down 20.9 points.
There are quite a few other forwards that will be worth a punt who were down on form who were close to premiums in 2012. Matthew Pavlich was down 20.2 points, the incredibly inconsistent Jarrad Waite averaged 88.3 and was down to 68.8 and maybe Dale Thomas should be picked up now as a Blue after dropping 18 points. While he only dropped 14.4 points, Gary Rohan will be a must have as he'll be massively cheap off the back of 3 games at 32.3 – the sub vest helped 2014 fantasy coaches there!
DOWNLOAD: 2012 v 2013 AFL Fantasy DT Averages.xlsx
Alright there you have it. A nice way to kick start your AFL Fantasy Dream Team study for 2014. Play with the spreadsheet, discuss players in the post… whatever! A big thanks to Nix for his awesome work with this spreadsheet. It's a ripper! Hopefully we hear from him plenty of times during the pre-season… he's a wealth of knowledge! Stay tuned for more pre-season content.
FOLLOW ME ON TWITTER: @WarnieDT to talk DT and other stuff!