AFL Fantasy Match Day Finals – Prelims
AFL Fantasy Match Day continues this weekend into the Preliminary Finals. This weekend the games are the Hawks v Cats on Friday night and Dockers v Swans on Saturday night. Make sure you read on for Calvin's hot tips to give you a good chance at winning the $1000 in each game this weekend.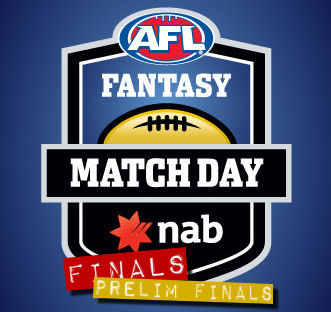 AFL Fantasy Match Day continues this weekend into the Preliminary Finals. This weekend the games are the Hawks v Cats on Friday night and Dockers v Swans on Saturday night. Don't forget that there is $1000 up for grabs for both of these games and a massive $3000 for the Grand Final.
If you would like to be part of our 3100+ strong league, sign up at fantasymatchday.afl.com.au with the league code of 612437.
Even if you didn't enter last week, you can enter your teams for this weekends games as there is no overall prize… they are all stand alone games. Don't forget that on Saturday you'll need to clear your Friday night team and update it with Freo and Swans players.
Calvin had a look at the match ups for this weekend and here are some 'tips' for this weekend. If you've got some ideas, share them in the comments.
Hawthorn v Geelong (MCG)
LOCKOUT: Friday 7:50pm AEST
Captain: Owww, toss the pirate coin but you better go with Joel Selwood. Over the course of the year he scored 122 and 128 on the Hawks and can be massive in these games. Your other option if you want to roll the dice a little would be Sam Mitchell who has scored 128 and 127 on the Cats this year. He was tagged by Hunt last time they played but with this new half back role he has, he could take 10+ marks and pump out something big.
Roughie: Has to be Andrew Mackie. He's scored 109 and 100 on the Hawks this year and is fresh off an All Australian selection. He'll be out to fire. Also keep an eye on Jack Gunston. He has scored 103 on the Cats this year and last week, Justin Westhoff (104 with 3g) top scored for the Power in their loss. Will Rioli be vested? If not he could be  a great pick to get on. He scored 130pts in the Preliminary Final last year and could be the sneaky pick that wins you the cash.
Off Topic Prediction: Geelong by 2pts in a ripper!
HAWTHORN
B: B Stratton B Lake B Guerra
HB: S Burgoyne J Gibson G Birchall
C: I Smith S Mitchell J Hill
HF: L Breust L Franklin J Gunston
F: P Puopolo J Roughead C Rioli
FOLL: D Hale B Sewell L Hodge
I/C: J Lewis M Bailey B Whitecross L Shiels
EMG: M Spangher J Anderson K Cheney
IN: L Franklin C Rioli
OUT: M Spangher (omitted) J Anderson (omitted)
GEELONG
B: J Rivers T Lonergan J Hunt
HB: A Mackie, H Taylor J Bartel
C: J Kelly J Selwood M Stokes
HF: A Christensen N Vardy S Motlop
F: J Podsiadly T Hawkins J Caddy
FOLL: M Blicavs  M Duncan S Johnson
I/C: J Corey C Guthrie J Murdoch T Varcoe
EMG: T Hunt S Kersten T West
IN: Caddy, Murdoch
OUT: Chapman (suspended), T Hunt (omitted)
Fremantle v Sydney (SUBIACO)
LOCKOUT: Saturday 5:45pm AWST (7:45pm AEST)
Captain: Now these teams have only played each other once this year in the game ending in a draw. Kieren Jack (138pts) monstered with Dockers that day with 33d and 11t. He's a jet and worth a though that's for sure. Michael Barlow had 123pts that day and has loved it at Patersons this year but I also like Ryan O'Keefe and Josh Kennedy. ROK had 154pts in the Preliminary Final last year and is a big game player. He'll tackle his arse off that's for sure. JPK had 135 on the Dockers this year despite a tag from Suban and… 115 in the 2012 Preliminary Final. How many captains can you have Calvin? All great options but if you ask the pirate, he's giving the nod to ROK based on his massive ceiling!
Roughie: Watch out for Paul Duffield. Ow, he only had 105 on them earlier this year but it's what Simpson (107) and Walker (111) did across half back last week against the Swans that get me excited here.  Also watch for other Freo defenders to cash in as well.
Caution: Yeah… there are a few tags you need to watch this week. Last time these teams played, Crowley went to Hannebery (116) and De Boer sat on McVeigh (95). After his game last week, do not be surprised if Freo send their #1 tagger to him this week.
Off Topic Prediction: Sydney by 11pts
FREMANTLE
B: L Spurr, Z Dawson, P Duffield
HB: M Johnson, L McPharlin, T Mzungu
C: D Mundy, M Barlow, S Hill
HF: M de Boer, C Mayne, D Pearce
F: H Ballantyne, M Pavlich, M Walters
Foll: A Sandilands, N Fyfe, R Crowley
I/C: C Sutcliffe, Z Clarke, N Suban, L Neale
Emg: A Silvagni, J Hannath, T Sheridan
In: M Johnson
Out: T Sheridan (omitted)
SYDNEY SWANS
B: D Rampe T Richards S Biggs
HB: J McVeigh H Grundy N Smith
C: A Everitt K Jack N Malceski
HF: D Hannebery J Bolton C Bird
F: L Parker M Pyke J White
FOLL: S Mumford J Kennedy R O'Keefe
I/C: H Cunningham L Jetta B McGlynn G Rohan
EMG: B Jack J Lamb L Roberts-Thomson
IN: B McGlynn G Rohan
OUT: K Tippett (knee) T Mitchell (ankle)
Good luck this weekend and feel free to discuss your team in the comments. Hopefully a DT Talk regular can take home one (or all) of the $1000 prizes up for grabs.