Win tickets to watch the AFL Grand Final on the big screen at HOYTS
Experience this year's AFL Grand Final at at Hoyts cinema. Entries are now cloased and the winners for Victoria, South Australia & Western Australia have been announced.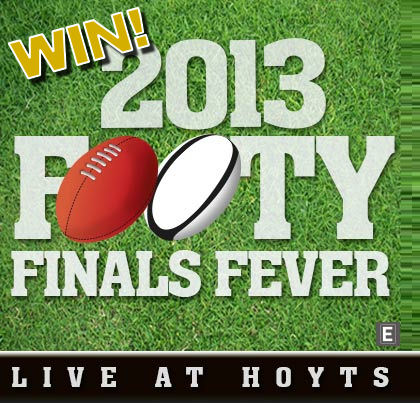 Watch this year's AFL Grand Final live on the big screen at HOYTS!
If you're looking for a great way to watch the biggest game of the year, the cinema experience is something special. For only $10, you can sit back and take in the thrills on that one day in September. There is also a $20 combo that gets you a drink, popcorn and a choc top! Grab a group of mates or take your family to watch it in comfort on the big screen.
There are three participating Hoyts Cinemas showing the Grand Final. Chadstone (Victoria), Tea Tree Plaza, Modbury (South Australia) and Carousel, Cannington (Western Australia).
Click here to purchase tickets.
WIN TICKETS!
We are lucky enough to have 5 double passes for each cinema to give away (15 in total).
To win, email us: competitions@dreamteamtalk.com with your name, address and cinema location that you'd be able to attend with your answer to the following question.
If a movie was made about your DT season this year, what would it be called?
Send your emails with the subject: "Hoyts Competition" including your state (eg. Hoyts Competition SA). Entries close on Friday 20th September, 2013 at 9am AEST. Winners will be notified by email and tickets posted to you.
Good luck!
TICKET GIVEAWAY WINNERS
Congratulations to the following lucky DT Talk readers who won a double pass to the participating Hoyts cinema in their state. We will be in contact with your tickets soon.
VICTORIA
Alan Schauder – "The Year of Living Dangerously"
Jesse Walton – "The Good, The Bad & The Ugly. Starring Gary Ablett, Ivan Maric & Hamish Hartlett."
Schmacko – "The Tradies"
Ian Hawkins – "The Man Who Knew Too Little"
Erin Musovic – "Spud Farm"
SOUTH AUSTRALIA
Sam Agnew – "From Hunter, To Almost Dead…"
Dean Cook – "Costa Concordia – The Captain has gone missing"
Max Hughes – "TOTAL REBUILD" starring Colin Farrell as Pearce Hanley
Kevin Sghendo – "Great Expectations – but always falling short"
Peter Biggs – "Why the f*ck didn't you play you weak arse sh*t"
WESTERN AUSTRALIA
Jai Sinclair – "The Underperforming Stars"
Brandon Gough – "Goughy's Guns – Story of misfiring guns from the wild west"
Julia Parker – "Go Ahead; Push My Buttons"
Will Cuzucca – Original Working Title : 'Great Expectations' Actual Title : 'Jackass'
Don Elieff – "Injury Institution"