Possible position changes for 2014
As we gear up for the 2014 AFL Fantasy pre-season, we can speculate on some position changes for players. Some may gain some DPP action, while others may lose it. Here is a list of some possible changes.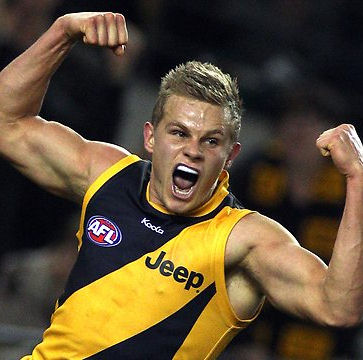 Quite a few people have been thinking about some players who may change position eligibility for next year. While not all of these are totally DT relevant, the list that I have come up is more for some discussion. The list isn't by any means who I definitely think will change positions, whether that is gain DPP, lose DPP or change position, but some possibilities. If you played Ultimate Footy this year, players gain eligibility in other positions throughout the year. Maybe some of these will go through to 2014?
It is important to note that position changes are made by Champion Data at the end of each season… not just for fantasy purposes. They don't throw out these willy-nilly… so don't expect Dane Swan to be a MID/FWD just yet. Last year there were 141 changes. Here's a few that have been thrown around.
GAIN DPP
Jake Carlisle (Essendon). Gain FWD to be a DEF/FWD.
Patrick Dangerfield (Adelaide). Quite unlikely, but could regain his MID/FWD status.
Brandon Ellis (Richmond). Would have to at least gain MID to make him a DEF/MID. May lose DEF?
Toby Greene (GWS). Spent some time down back, could possibly become DEF/MID.
Jack Grimes (Melbourne). Runs through the midfield enough to be classified as a DEF/MID.
Pearce Hanley (Brisbane). Anything could happen here. DEF/MID likely, but has also spent time forward.
Luke Hodge (Hawthorn). Could he regain his DEF/MID status?
Jarrod McVeigh (Sydney). Would certainly be an option as a DEF/MID.
Sam Mitchell (Hawthorn). Has spent a bit of time in the backline, could become a DEF/MID.
Paul Seedsman (Collingwood). Popular opinion sees him as a DEF/MID in 2014.
Kade Simpson (Carlton). Could gain DEF to make him a DEF/MID.
Mathew Stokes (Geelong). Would have to gain MID status to make him a MID/FWD.
David Swallow (Gold Coast). Roy thinks he a chance to pick up DEF/MID.
Andrew Walker (Carlton). May have DEF added to him.
Chad Wingard (Port Adelaide). Kicked a few goals, could be a MID/FWD.
A host of ruckmen could have FWD added to them, eg. Matthew Kreuzer (Carlton).
LOSE DPP
Jimmy Bartel (Geelong). Lose MID/FWD and could become a DEF next year. DEF/FWD or MID/DEF?
Bryce Gibbs (Carlton). Does Mick see him as a MID now? Could lose DPP, but will likely stay.
Brendon Goddard (Essendon). After a year with the Bombers he may become MID only.
Brett Goodes (Western Bulldogs). He'll most likely just be a DEF, surely.
Hamish Hartlett (Port Adelaide). Thinking he's just a MID now.
Dyson Heppell (Essendon). A decent chance to be a plain old MID.
Steve Johnson (Geelong). Sadly we could see him be just a MID, but I'm tipping he'll remain MID/FWD.
Tom Rockliff (Brisbane). Possibly be a MID only… now Vossy has gone!
The comments are open for you to discuss what you think may happen! Post who you think may change positions… or have a crack at some of these possibilities.
(I'll add to these as we see some 'good' suggestions in the comments).