AFL Fantasy Match Day Finals – Week 1
For those wanting a DT fix after the real stuff finished, there is the AFL Fantasy Match Day Finals competition starting this week. The Match Day competition has been reset for the finals and now we have $1000 up for grabs over the 7 games and then $3000 for the AFL Grand Final. For more details and tips on how to play, read on.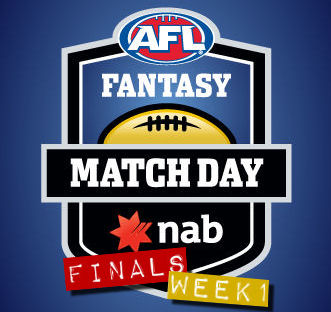 AFL Fantasy Match Day is back for the finals with games across each weekend of the 2013 AFL Finals Series. The best news is that $1000 will be awarded to the winner of EACH game that it runs for… which is pretty much all games of the finals. This weekend the games are the Hawks v Swans on Friday night, Magpies v Power on Saturday night and Tigers v Blues on Sunday arvo. All semi-finals, preliminary finals and the grand final (which has a prize of $3000) will have Match Day games.
The premise of the game is to pick 8 players (2 defenders, 3 midfielders, 1 ruck, 2 forwards) from the two competing teams, naming a captain and the entry with the most DT points wins the $1000. It's a pretty simple game to play. The game opens back up sometime after each game (probably give it until the morning) to create your team for the next match up. You can select your team right up until each lockout – this weeks lockout times are outlined below.
We had a massive league running with Match Day during the year (over 2200 coaches got involved). The same league will run for the Finals game, but all of the scores are reset. If you would like to be part of our league, sign up at fantasymatchday.afl.com.au with the league code of 612437.
Some things to remember…
Teams can be edited right up until lockout. So make sure you stay tuned for subs and any late withdrawals. There is no bench, so you need to make sure your whole team is playing.
Captains are worth double as per usual (no extra points for your VC).
There is live scoring, so you'll be able to see how your team is going while the game is in progress.
After each game, the scores are calculated and once lockout ends, you will be able to not only see your ranking, but start putting your team together for the next game… ie. Late Friday night or early Saturday morning, you will then need to pick your eight players for the Pies v Power game.
Our Irish Pirate Calvin has done the form on the teams and offered some tips for the three matches for this weekend. He has kept a bit to himself, so feel free to do some of your own research and discuss potential teams in the comments.
Hawthorn v Sydney
LOCKOUT: Friday 7:50pm AEST
Swans ruckman Shane Mumford DNP the Hawks in Rd. 7, but did in Rd. 23. He had 134pts with 41 hitouts. He's a must and a possible captain as the Hawks can't match-up against opposition ruckman. Todd Goldstein even topped scored on them in Rd. 22 with 118pts. Josh P Kennedy has a great record on his former team and even had 93 and 121 on them this year. He'll be over looked by many so he too is a great option in the midfield.
HAWTHORN
In: B.Guerra, M.Bailey, C.Rioli
Out: L.Franklin (suspension), S.Savage, T.Duryea
SYDNEY SWANS
In: N.Smith, K.Tippett, L.Jetta, D.Hannebery
Out: M.Morton, H.Cunningham, S.Biggs, B.Jack
Collingwood v Port Adelaide
LOCKOUT: Saturday 7:45pm AEST
In this game you have to watch the taggers. Kane Cornes went to Harry O'Brien (72) when these teams met in Rd. 14 in a game that Port won. Brent McCaffer stuck to Chad Wingard (88) and will probably run with him again. Port won the game, so why will they change too much up this week. Paul Seedsman had 148 in Rd. 14 on them and if you can snag a guy like him, the $1,000 is pretty much yours.
COLLINGWOOD
In: L.Ball, H.O'Brien
Out: J.Russell, B.Kennedy
PORT ADELAIDE
In: A.Carlile, R.Gray, H.Hartlett
Out: B.Renouf, L.Stevenson, J.Hombsch
Richmond v Carlton
LOCKOUT: Sunday 3:15pm AEST
Richmond's Shaun Grigg is a sneaky guy to throw into your midfield here after he has scored 100 and 92 on the Blues this year. As is Brock McLean who had 127 with a tag from Daniel Jackson last time these guys met which was in Rd. 21. Mitch Robinson had 120 and Kade Simpson had 109 to round out the good scores. Richmond on managed 2×100+ scores and Brett Deledio led the way. A player to avoid would be the popular picks of Trent Cotchin who received a hard tag last time they met.
RICHMOND
In: C.Newman, J.Riewoldt, S.Edwards, M.Dea
Out: M.White (hamstring)
CARLTON
In: C.Judd, B.McLean, H.Scotland
Out: –
We are playing SuperCoach Finals (Code: 664481)… but probably not taking it very seriously as firstly, there is no prize and the salary cap makes it a bit of a thinker… good for strategy, but we're burnt out after a big year! Here's to a much more fun game in AFL Fantasy Match Day!
Calvin was also good enough to give some tips on the Geelong v Freo game. Maybe some handy stuff if you're playing SC Finals or AFL Fantasy Punt. You need to be Over 18 to play this and you'll need a Luxbet account. Sign up here. Calvin says: Avoid Joel Selwood who will get the tag from Ryan Crowley like he did in Rd. 14 when he was held to 38pts. Stevie J didn't play that game but the tag has to go with Selwood again. Allen Christensen had 135pts that day and along with Mathew Stokes (95) could be a good sneaky inclusion.
Good luck this weekend and feel free to discuss your team in the comments. Hopefully a DT Talk regular can take home one (or all) of the $1000 prizes up for grabs.