The Numbers – Grand Final Edition
Relief… hard-earned, sweet relief… 5 ½ months, 165 days since that Friday Night opener in Round 1 greeted us to the beginning of 2013. Let's dive in for one final time for the year as I bring you The Numbers.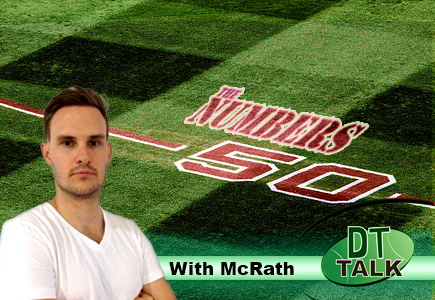 Relief… hard-earned, sweet relief… 5 ½ months, 165 days since that Friday Night opener in Round 1 greeted us to the beginning of 2013. I now sit here 23 rounds later typing the final edition of The Numbers for this mind-spinner of a season. It's been a pleasure writing about the ups, downs and in betweens that this year has brought us. From the capitulation of West Coast to the resurgence of Port Adelaide; the Essendon saga bringing us the longest news-related issue in the history of the AFL; countless injuries, suspensions as well as the unwelcome news about the rotation cap and double bye for Season 2014. What a year… With a heap of amazing figures to give you from Round 23 and a few handy numbers from the masses, let's dive in for one final time for the year as I bring you The Numbers.
0 – Effort Geelong needed to put in to guarantee a spot in next week's preliminary final after earlier watching Freo go down to St Kilda. Assured second spot on the ladder, the Cats had nothing to play for except maybe form going into the finals. Showing their spirit and winning attitude, the Cats came back from a 6 point deficit at half time to edge out a Brisbane outfit hoping to sneak into the top 8. Unfortunately for Brisbane (as well as Adelaide, North and West Coast), nothing they did mattered after Carlton snagged a win in similar fashion later that day against Port.
8 – Goals scored by Carlton in a highly entertaining and thrilling final quarter played at AAMI Stadium on Saturday afternoon, which was to be the final match played at this venue. The farewell to AAMI didn't disappoint either as the venue was packed to the rafters with people scrambling in to see a completely renewed Blues side run rampant over a stunned Port Adelaide. Richmond will look back at this quarter of footy with a few nerves as they now face the dangerous Bluebaggers in a do-or-die elimination final next Sunday.
12 – Changes that Fremantle made to their team for their R23 clash with St Kilda. Coach Ross wasn't shy about his decision to rest several star players, but such dominance surely wasn't expected by the Saints. Suffice to say, Freo got what they deserved; with the Saints posting a huge 527 possessions to the Docker's 286.
14 – There's no way I can write this article without giving props to DT Talk and AFL Dreamers own Hook, Coach of Hook's Hooligans who has been furiously celebrating after the stunning realisation that he is officially the Overall Winner of AFL Fantasy in Season 2013. After 14 weeks at the top, he proved many wrong and maintained his early lead to take out the top prize. Have fun at the Grand Final mate!
46 – Congratulations go out to AFL Legend Kevin Sheedy who has officially hung up the boots (now as both a player and a coach) after an incredible 930 games (251 player, 679 as coach) at the top level. A career spanning almost 5 decades, it's been a long time since his debut for Richmond in 1967. His work at Richmond, Essendon and finally GWS has been first rate and his character will be missed more than anything. I've no doubt his presence will continue to be felt in the AFL as he looks to move onto the next phase of his life – whatever that may be.
47 – Career-high possessions for St Kilda young gun Jack Steven. Steven has had a breakout year in 2013, averaging over 98 points per game, including his best score for the year in R23 of 148 points. He was one of 8 x Saints to top the ton this week – only surpassed by Montagna (to be mentioned later). His equal-second season-high disposal count for year was a big factor as he helped his side smash the top-4 Dockers by 71 points.
68 – Buddy who? Jarryd Roughead won his first Coleman yesterday after his main rivals Travis Cloke and Jeremy Cameron fell short in their quest to knock off the Hawthorn forward. Roughy has been the main target in the forward 50 for much of 2013, as he quietly went about his business away from the spotlight surrounding his partner in crime. Kicking four goals this weekend against reigning premiers Sydney, his first Coleman is well deserved. The future of the Hawks is bright as long as this guy is in their colours – personally I think this guy is more important to their set up now so should try and get what they can for Buddy if he does choose to jump ship.
83 – Gold Coats amassed its 8th win of the season and its biggest ever winning margin of their short history on Sunday as it ran rings around its fellow-expansion club counterpart to close the season. Winning 3 games in each of their first 2 seasons, the Suns almost tripled that number in 2013 – providing a platform from which to build their success in the coming years. GWS take note – this is where you should be in 12 months if you're keeping score.
192 – Days we have to wait until the beginning of Season 2014. That's over 6 months for those playing at home – we now have half a year to enjoy the relative stress-free lives away from our Fantasy Coaching positions. So put your feet up, do what you do and give you mind a break from AFL Fantasy Footy for a while – you deserve it!
2007 – Last time Carlton was able to pull off such a come-from-behind win against an opponent of this magnitude. Trailing by 39 points until late in the third quarter, a goal to Marc Murphy turned around a horrible slump of goal kicking that has plagued the Blues for the past fortnight.
Whore of the Week
In fairness to the man who graces this spot for R23, I couldn't leave him out before giving my final ruling for the year. Leigh Montagna, what a season! I knew you'd do okay against Fremantle's reserve side, but sweet merciful Jesus did you set the stage alight! A gigantic 47 touches (second highest for the year), 12 marks and 2 goals gave birth to a phenomenal season-high 189 points. Rivaled by few in 2013, Montagna has been a blast from the past as he averaged the 5th highest (111.8) points per game and fourth overall behind only the big three (Swan, Ablett & Pendlebury). Well done sir, well done.
Whore of the Year
To replay every amazing performance over the year would take a whole article in itself, but there have been some hugely memorable ones that we will all remember for different reasons. With the exception of a quiet month (prior to R23), Gary Ablett has arguably been the best player all year from a pure AFL standpoint. However, he didn't top the overall scoring OR the highest averaging player list. To me, there have been five outstanding players who have the capacity to take out this award. I've surmised them in a table below to show the excellence of these men. My decision will then follow:
As noted above, Montagna has cause to deserve this on R23 alone, beating out all of the other 4 on his incredible high score alone. Although, the durability and consistency of Pendlebury means he'll always be top-3. If only Steve Johnson could've avoided suspension once or twice more, then he'd be a shoe in for this revered award – with his average and success rate of hitting the hundred mark unsurpassed. Then there were two… the perennial debate of Ablett v Swan. To break it down – Swan played more games, averaged higher and hit the 100 and 120 marks on a more consistent basis in 2013. But Ablett had more of an impact and is a short-priced favourite for his second Brownlow. Not to mention his outstanding 14 game streak between R3 and 18, which meant he had the most reliable slot of form we've seen in years. Unfortunately for Gaz though, this isn't the Brownlow. Going under the radar for much of 2013 by letting the others on this list take the glory whilst quietly chipping away – Dane Swan has not had the same fanfare this season as last. But the numbers speak for themselves. He remains the most reliable and durable scorer of the 'uber-premiums' and finished the year at the top of the tree in AFL Fantasy. Ablett's downfall was his last month of form, whilst Stevie J just couldn't keep out of the MRP's vision. Congratulations to Dane Swan on a brilliant year and for taking out this year's AFL Fantasy Whore of the Year award.
Your Numbers
Cheers to Tom, Harps and the many others to throw up Numbers throughout 2013 – they keep pushing me to make my little article better, all the while giving the world some cracking figures to divide, debate and discuss. A few final ones can be seen below:
52.75 – This number inspired by DT Talk's own JimBob, the Dockers failed to show any semblance of superiority this week as virtually all of the premiums who played would've been better off being rested like their 12 teammates. This is the average of those (Sandilands, Barlow, Pavlich and Duffield). What a disgrace. There will be some that hope the Dockers fail in September just out of spite as this game cost many coaches their Grand Final.
76 – Previous highest winning score between the Crows and Eagles. After Adelaide's smashing of West Coast this weekend, the record books now show this total as 86. What a fall from grace for the Weagles. (Harps)
95.89 – Arguably the best defensive (Fantasy-related) trio in the history of the sport – Goddard, Heppell and Hibberd combined in 2013 for an outstanding average just short of 96. They provided us with a staple which to build our (at times) crumbling defence around. (Thomas Bennetts)
112 – Another brilliant one by Harps this. R23 was the first time in VFL/AFL history that there were three separate scores of 112 in the one round. The Hawks (10 point win), Saints (71 point win) and Cats (1 point win) all chalked up wins, adding to the statistic that 112 has been a winning score on 166 occasions.
The Numbers' All Australian Fantasy Team
Backs: M. Hibberd, D. Heppell, P. Hanley
Half Backs: B. Gibbs, H. Obrien, B. Goddard
Centres: R. Griffen, D. Swan, L. Montagna
Half Forwards: T. Rockliff, S. Johnson, J. Bartel
Forwards: D. Cox, N. Riewoldt, D. Martin
Ruck: W. Minson, G. Ablett, S. Pendlebury
Interchange: R. Douglas, S. Selwood, K. Cornes, J. Selwood
Emergencies: T. Goldstein, M. Stokes, M. Barlow
Shortlist: G. Ibbotson, B. Harvey, A. Cooney, T. Cloke, B. Stanton, K. Jack, T. Boak.
The Final Round Up
Highlights – It's been a hell of a year, with a hell of a lot of highs. As you can see, there has been a whole lot of talent in this year's competition – all combining to give us some huge numbers. All of the above who made my drafted Fantasy AA deserved a mention, as well as the numerous rookies who helped us to get our premium squads – without the likes of O'Meara, Crouch, Mitchell, Goodes and Staker, we would've struggled through the year with teams full of hit and miss mid-pricers. On that note – mid-pricers like Boak, Ellis, Leuenberger and Kennedy were gold for coaches in 2013. Now the trick is to find the next batch for 2014.
Lowlights – As it is every year, the big downer of the year was injuries. Long layoffs to guns like Murphy, Watson, Kreuzer, Johnson (suspension), Hanley and Scott Selwood made it tough to keep momentum in a competition with no letting up. With the 2 trades per week, room for error was low as we all tried to get to the top and keep improving. Unlucky for most though, it was very difficult to break into the top 1000 unless you had a good start to the year, with players of difference (PODs) the only real way to make up ground. If you improved on last year's ranking – congratulations. If you had a poor season, take what you've learnt and apply it to next year in a bid to go that extra step.
Team McRath – To sum up my season, I wouldn't know where to begin. I've made some brilliant calls and some that truly defy basic Fantasy principles. I managed to end the year with a much-improved ranking of 1,245 – over 8,000 places higher than 2012. So, on that note I'm pretty happy. Unfortunately for me, my R22 failings knocked me out of all of my finals but with the overall in mind as my pre-season goal – I can't really complain too much. Now it's onwards and upwards to 2014. What is my goal for next season? Break into the top 100. What will I change? Focus on a fast start with premiums with good early-season draws.
Special thanks to Warnie, Roy and Calvin who continue to let me use DT Talk as a platform for The Numbers as well as the many other articles I push out throughout the year. It's a pleasure to be part of this great group of people. Also, thank you to everyone who takes the few minutes to read my musings every Tuesday – it gives me great pleasure to have my name on something that brings amusement and interest to people, no matter how small.
Until next season – enjoy the footy finals and the long break that follows. May your holidays be awesome and sleep be uninterrupted by Fantasy-related stress. McRath