Two byes in 2014 fixture
The AFL Fantasy season will start a week earlier in 2014 with each club having two byes next year. The first bye will be as we have this year with six teams playing over three weeks and then a split round later in the season. Discuss the fantasy fallout now.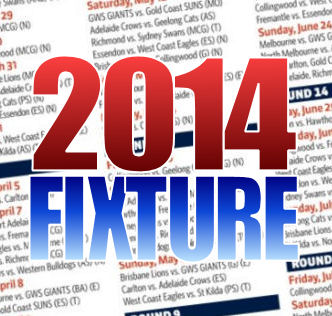 News came through this afternoon that each AFL club will have two byes in the 2014 season; adding one week to the competition. Every team will still play 22 games, but they will have two weeks off throughout the year.
Round 1 will be a split round with five game the first weekend (March 14-16) and and four games over the second weekend (March 21-23). The multi-bye rounds as we know them are likely occur over Rounds 8, 9 and 10. These will still be the three rounds of six games. The second bye will end up being a split round in either Round 18 or 19 (one week of five matches, one week of four matches).
The NAB Cup will take place over a fortnight in February. More details on how the pre-season will look in the coming weeks; including the possibility of a representative game.
In short, we are adding one week to the competition at the start of the year.
What does all of this mean for AFL Fantasy? Well to be honest… not much! Everything will be the same as this year but that second bye week, being a split round, will just see our DT round occur over the two weeks like it already does in Round 1. It's basically just an extra week of AFL for us from the start of the year. One positive about that second bye, we might see less players being rested… especially in the last few weeks of the season.
Discuss your thoughts now in the comments.