Calvin's Captains – Rd. 23
Welcome back to Calvin's Captains for the very last time for 2013. It's been one crazy year and it will continue this week. Pirates like to dig, but usually for treasure. This week, Calvin has found some unwanted information the more he dug about our premium guns this week. You better check it out!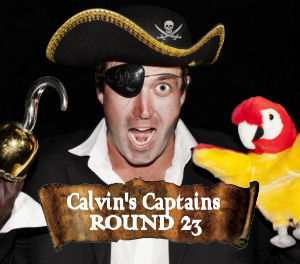 For the very last time in 2013, welcome back to Calvin's Captains. This week is the grand final round of Dream Team … for those who are still active. This week presents us with some people that seriously look like 'no brainer' options, but after digging a little deeper (like pirates do) I found issues with picking our biggest guns this week. So, you better make sure you read this very carefully this week.
3 Big Dogs
The Bulldogs play Melbourne so we are expecting things to get pretty nasty on Sunday afternoon. But, I have some big concerns. Let's start with the guy who will get the tag from McKenzie, Ryan Griffen . He did score 136 on the Demons in Rd. 14 but on that day, McKenzie didn't play. Before that McKenzie did tag him and saw him score 66 (16d) and 115. Ok… not great! McKenzie is the #1 tagger in the league at the moment though and has held Dangerfield (92), Fyfe (77) and Ablett (64) in recent weeks. Griffen has only scored 77 and 92 in his last 2 this year and is just too risky as your skipper for this week I'm afraid. Matthew Boyd on the other hand should have a great record against Melbourne considering he avoids the tags right? Ding dong… you're wrong. With previous scores of 90, 84, 93 and 86 in his last 4 against them it makes you just scratch your head in amazement. He's scored 93 and 81 since returning from injury but out of all the Bulldog players the guy I like is…  Tom Liberatore. Now, he had 144 on Melbourne in Rd. 14 this year but has failed to crack a ton in his last 3 games for 2013. The kid can play and is the ideal guy to avoid all tags and rip it up again. I'm not saying get on him as a captain, but a great guy to trade in this week ahead of his team mates that's for sure.
Oink City
Dane Swan love the MCG or as we like to call it… the Sty. From Rd. 11 onwards he has averaged 133 there and dominates. He met the Kangaroos in Rd. 1 and opened his account with a nice 123 (31d, 10m). He never played them in 2012, but prior to that he knocked out 148, 162, 123 and 117 on them. He has been in ripping form with scores of 122 and 131 in the last 2 weeks and has averaged 125 in his last 5 runs for the year. It's pretty simple if you need to play a straight bat this week. Swan is easily your man. Let's not forget that his team mates will be at the Sty as well. Scott Pendlebury had 124 in that Rd. 1 clash with 30d to be one of the 4 Collingwood players to crack the 100 mark that day. He had just 97 on them in 2012 with 107 and 141 the year before. He scored 129 last week and is moving pretty nicely at the moment. A solid option for a COD if that's your cup of tea. Dayne Beams should be back this week and would be a better COD option than Pendles if you ask me. He had 129 and 116 on the Roos last year and should be great once again. This is my concern though for this game. Last week, in a losing game to the Hawks, the Kangaroos didn't allow any of them to score 100+… not one! The week before that, Jobe Watson was the only guy to do so. Therefore over the last 2 weeks, just 1 guy has scored 100+ on them. Nuts. Am I worried? Ha ha … a little but I'll be oinking loud on Sunday afternoon. Just watch me.  #oink
Joel Selwood doesn't like Raines. Form is form and facts are facts. I get that! But as a captain? In your grand final? I'm here to pass on the info so here I go. Selwood has been in smoking form averaging 134 in his last 3 this year and plays at Simonds where he has averaged 132 in his last 4 games there. He is carrying a lowest score of just 98 in his last 8 this year and hasn't failed. BUT… this week Raines will tag him. For sure.  Check out the graphic above of the games where Raines has tagged him over his last 5 games against the Lions (it's the one with the cloud over the score for those simple ones). Last week, Raines held Griffen to just 77 and has done a number on him before and is every chance to do it again. You have been warned. So why is he #3? We'll, form alone has to sit him there, but out of the 2 Geelong boys, I favour Steve Johnson this week. He's had 132 and 143 in his last 2 games this year and averaged 120 at Simonds from his 5 games there in 2013. He had 129 on Brisbane in Rd. 13 this year and should be awesome this week.
Just Quickly…
Josh P. Kennedy Vs Hawthorn @ ANZ Stadium: Kills his former team! He had 121 on the Hawks earlier this year and even had 96, 113 and 149 on them in 2012. He's only cracked the 120+ mark in 14% of his games this year though, but what a great roughie at ANZ.
Nick Riewoldt Vs Fremantle @ Etihad Stadium: Was awesome last week with 152 but carries 0x100+ scores in his last 3 games against the Dockers.
Michael Barlow Vs St Kilda @ Etihad Stadium: Consistency King. Now, he did only have 77 last week but scored the 7 rounds before that between 97 and 116. He got his 4th straight 100+ on the Saints earlier this year (111pts) but has only had 106 and 91 in his only 2 games at Etihad this year.
Tom Rockliff Vs Geelong @ Simonds Stadium: 139, 95, 115 and 144 are Rocky's last 4 scores for this year and has been on fiiiiiiirrrre! But, he only had 77 on the Cats earlier this year but that was when he was receiving hardly any mid time clock.  Shit call Vossy! Before that game though he had 128 and 117 on Geelong and should be great again.
Brendon Goddard Vs Richmond @ the MCG: Possibly my biggest smokie for the week but I am very confident. Goddard has averaged 116 over the last 3 week and is carrying a lowest score of only 94 in his last 5 games for the year. He had 122 last week and even had 131 on Richmond earlier this year and 110 before that. In fact ladies and fellow seamen, he has averaged 120 on the Tigers over his last 6 games making them one of his favourites to dominate. A wicked COD if you want to roll with it.
Leigh Montagna Vs Fremantle @ Etihad Stadium: Last week, Montagna's 123 was his 6th straight 100+ score for the year… he is really turning it on at the moment. He copped the tag from Crowley last time they met but still managed to rack up a very nice 117pts. Before that though, he had 0x100+ scores in the 5 games leading into that great 117. Will Crowley got to him? Media are saying No… I'm saying who really cares, not the best captain on this list and certainly not the best COD either.
Scott Selwood Vs Adelaide @ Patersons Stadium: Over his career against the Crows he has only scored 1×100+ score on them in his 5 games. He's only averaged 106 in his last 3 this year and yeah… he'll be ok, but not an option for what I write about.
Gary Ablett Vs GWS @ Metricon Stadium: Some people are trading Gaz out this week… YOLO! Pretty crazy if you ask me. Ok yes, he has had poor scores in recent weeks but this is the guy who 'everyone just locks in each week' or 'set and forget' ha ha… yes these people have gone quiet. But Gazza actually might be ok this week. He had 33d, 3g (131) on the Giants in Rd. 5 this year and posted 99 and 106 on them in 2012. Solid! But last year, he faded away to finish the year as well with scores of 89, 64, 82 and 71. There's a pattern but he is a prefect COD this week as no one who has a wicked team will ride with him this week. They'll go Swan. You never know, Gaz could have 160+ and Swan does a hammy (heaven forbid) but footy is footy and these things can happen.
Best COD's (excluding top 3) in order: Goddard, Rockliff, Beams, Ablett, Libba and JPK.
Thankyou very much to all my loyal readers each week. If it wasn't for you guys I surely wouldn't be writing this for myself. Calvin's Captains averages around about 28,000 hits each week and it's you guys that make my efforts worth while. Thanks a lot for a great season (sorta) and I'll see you all back in here next year for the one and only Calvin's Captains.
Who will you have as your captain for the very last time in 2013?
Dane Swan (59%, 1,093 Votes)
Steve Johnson (24%, 437 Votes)
Joel Selwood (3%, 46 Votes)
Brendon Goddard (2%, 30 Votes)
Tom Rockliff (2%, 36 Votes)
Dayne Beams (1%, 11 Votes)
Gary Ablett (5%, 90 Votes)
A Western Bulldog (4%, 80 Votes)
Someone Else (2%, 31 Votes)
Total Voters: 1,839
Loading ...
BET ON CALVIN'S CAPTAINS WITH LUXBET!
This week, you can bet on Calvin's Captains top five as a group over on Luxbet. All five Captain choices have been given odds for the round. As of Thursday evening the prices are as follows: Dane Swan (2.75), Steve Johnson (3.50), Joel Selwood (4.50), Brendon Goddard (6.00) and Tom Rockliff (9.00). Think you can pick it? Then sign up at Luxbet and have a dabble at this fun market. 18+ only and please, gamble responsibly.