The Numbers – Round 22: Prelim-Finals Edition
That's it – the preliminary finals are done and dusted. We now head into the final AFL Fantasy round of the season – a season that has given us an abundance of highs and lows of which to reminisce upon.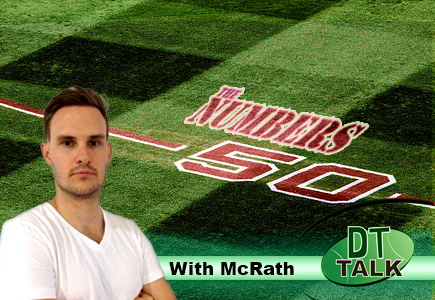 That's it – the preliminary finals are done and dusted. We now head into the final AFL Fantasy round of the season – a season that has given us an abundance of highs and lows of which to reminisce upon. But before we move too far ahead, let's take a short trip to nostalgia lane to see what grabbed our attention in Round 22.
1 – Remaining games left in the long and eventful coaching career that belongs to Kevin Sheedy. Coaching his final game in Sydney on Sunday, the result of the game wouldn't impress him so much as the talent that he's played a huge part is nurturing over the past 2 years. No doubt proud in the amazing array of young stars he's helped to develop at GWS, they will be a top team of the future – something that Leon Cameron will endeavour to aid the franchise to become. The only question now is: where will Sheedy be in 2014?
3 – Number of 130+ games in 2013 by a certain Port player who has gone a long way to establish himself in his team's best 21. After starting the year off in ho-hum fashion, young ruckman Matthew Lobbe has exploded in the second half of 2013 to average a whopping 96 points since his team's R11 bye. Four 100+scores including R22's massive 136 – Lobbe could be a steal in 2014 as his 81-point average deceives his true value. So long as he can keep the #1 ruck mantle his own, he will be a rucking good AFL Fantasy star of the future.
4 – Current (and likely total) wins on the board now for the St Kilda Football Club in 2013. Aside from their R7 victory over Carlton, the 46-point win over the Suns was their best of the remaining few wins they've had this season. Kicking away late in the second quarter, they never let Gold Coast back into the contest as they look to give their ageing stars a few more things to smile about before saying goodbye to the game they've given so much to.
6 – Rhyce Shaw will be wondering what he did to stir up the footy gods as he injured his knee in the first quarter of Sydney's clash with Geelong on the weekend after tallying just six AFL Fantasy points. Just getting back into the team after an unlucky year marred by injury as it was, Shaw has now been ruled out for the season as he faced a solid spell on the sidelines – one that will involve watching his team march towards the grand final without him.
7 – Points scored by a slow-finishing Brisbane Lions outfit in a game-turning third quarter, this number also transpired to be the final result between them and an improving Dogs' outfit – who fell agonisingly short against a young team who remain in the hunt for the most important 9th place finishing in the history of the AFL. Should Brisbane somehow upset Geelong (as they did in R13) and Carlton fall to Port Adelaide, the Lions could well make a surprise appearance in September – ironically after they sacked Coach Michael Voss just 2 weeks ago.
8.5 – Average margin in 2013 between Hawthorn and North Melbourne. After going down to the premiership favourites in a tight contest in R5, you'd be excused for thinking the same would not repeat as North's so-so year and the absence of two of their best in Thompson and Swallow. But instead, R22 brought about another tight contest between the two rivals – with the Roos pushing the Hawks until the final quarter after leading for most of the first half. These results are a far cry from the 115-point thrashing in R10, 2012 that has now become folklore. Despite their standing, the Roos can hold their head high as they look to steal a spot in the finals and beat the logjam surrounding spots 9 – 13.
22 – Behinds kicked by a lamenting Carlton outfit on Saturday night as they failed to kick away and down a Bombers outfit in turmoil. Their errant kicking was ultimately the decisive factor for the Blues as they went down to a fighting Essendon by a single kick. With a game to go against Port next week, the Blues may just see September action anyway following certain events that have been transpiring over the past 5 months.
59 – I mentioned last week that it'd been almost 5 months since Paul Chapman has played an AFL game. Well, R22 finally saw the bald veteran return. Starting as sub, Chappy got an early taste when Vardy was concussed – starting on fire, he raced out to tally 9 touches and a goal. He was then forced to return to the green vest and bide his time until the 2nd half – where he continued (at a somewhat slower pace) to help the Cats beat the Swans. 59 points on return with a vest thrown in will put a smile to Chris Scott's face as he looks to get his stars fit and firing in time for September.
121 – Paul Seedsman has had a breakout year. Getting a solid run of games in a top team was a blessing the young Magpie – one that he has made the most out of in the absence of key Collingwood midfield personnel throughout the year. Not playing since R17, along with being a late call-up to replace Dayne Beams, Seedsman made the most of his chances (scoring 121 from 30 touches) in the midfield along with Josh Thomas (127) – with both rookies playing a huge role in the crushing defeat of West Coach on Friday Night.
572 – Career goals by St Kilda goal sneak Stephen Milne.  Kicking a further 4.2 in his penultimate game – Milne will play his final game of AFL next Saturday when he (along with Kosi & Blake) run out for the final time in Saints colours after announcing they'd be hanging up the boots at the end of the 2013 AFL Season. Milne has been one of the premier small forwards in the AFL for the best part of his career. Hated by opposition fans and loved by 'Sainters', his ability to create something out of nothing was right up there with the best to have played the game.
#YourNumbers
Plenty of good numbers came in after an eventful round – with @ThomasBennetts and @666Harps666 leading the way.
13 – A massive Tigers feel about this lot – with the boys clearly impressed with Richmond's 2013 form. A massive 13 players cracked the Fantasy ton this week – a positive endorsement for what has become one of the most DT-relevant teams in the AFL. (Tom)
104 – As Tom points out, a week is a long time in football. With a 104-pt turnaround, Dustin Martin did his best to try and make his coaches forget last week's horror 28. Scoring 132 against GWS may not be an unbelievable feat, but his coaches would've been happy nonetheless. (Tom)
930 – One of the form players of the competition, Tom Rockliff will surely return to pure MID status in 2014 after playing most of 2013 in the middle (with a couple of games forward throughout the year). Scoring over 900 points in the past 8 matches, he's averaged over 116 points in this time and an absolute must have for 2014 if he retains his DPP status.
1989 – With a 163 point total in their demolition of GWS, it has been 24 years since the Tigers have kicked that big a score – talk about capping off a great year! (Harps)
1998 – The last time Richmond beat a team by over 100 points. (Harps)
Whore of the Week
Nick Riewoldt's 152 points in R22 was the highest for the round. 4.5 Goals and 26 touches from a forward is a huge effort. To make it even more impressive – the St Kilda star clunked 15 marks, including a competition game-high 10 marks inside 50. Having a career-best season, Voldt averages over 102 points to be the highest scoring forward of the year in AFL Fantasy; and only second behind Stevie J on average alone. I thought this guy was meant to be slowing down as he enters the twilight of his career – but he just keeps on showing up. Keep on keeping on Saint Nick – your Fantasy coaches thank you!
The Round Up
Highlights­ – A highlight reel flooded with premiums and rooks this week, with the likes of Riewoldt, Rockliff (139) and Thompson (136) leading the way – whilst kids like Lobbe (136), Duncan (128) and Seedsman also made headlines. Add to this Dustin Martin's redemptive 132 and there was plenty to smile about in R22.
Lowlights – Brock McLean (23) went down early, whilst Hibberd (50), Cotchin (52) and Stanton (61) don't have the same excuse. Boak, O'Meara and Ebert all failed to clear 80, whilst popular (and usually reliable) gun midfielders in Ablett (71), Barlow (77) and Griffen (77) put in poor performances for their coaches.
Team McRath – It was a week to forget for the Wrath as one too many players put in poor performances. Stanton, Ablett and Barlow were collectively atrocious, with Cotchin's benching the only silver lining (thank god I benched Beams for Lids at the last minute). Wellingham's second half against Collingwood was a bad start as I hobbled over the 2200 mark for the week to fall back outside the top-1000. Let's hope I can finish strongly in overall as I went out in all 5 of my leagues in one fell swoop.
For those playing off for glory next week – good luck; and for our mate Hook – we're cheering for you to hold onto your 86-pt lead and win the $50k! And for the rest of us… there's always next year.
Grand Final Week awaits us. Onwards and upwards,
McRath