NixTrader for R22 – GF parade edition
The big dance. One last game. One set of DT coaches will be chest thumping geniuses, while another set of DT coaches will curse last minute trade and bench decisions. Here is final NixTrader spreadsheet to get you onto the winner's dais ..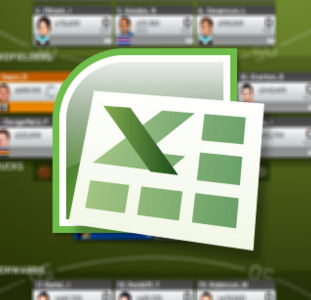 The big dance.  One last game.  One set of DT coaches will be chest thumping geniuses, while another set of DT coaches will curse last minute trade and bench decisions.  Here is final NixTrader spreadsheet to get you onto the winner's dais ..
Last Round Review
Scores in overall 'par' were way up last round – you needed around 2,270 to hold your position in top 5k and a lot more than that to make progress in rankings.  But the players' scores in the round itself were only average, and there was still plenty of carnage around.  So I think we have to give credit to you DT coaches out there for making the right choices last week.
My team (2,236) failed to come up with what was needed and is now out of all finals.  Looking back over my last 4 weeks' trades (out: Nicholls, Priddis, Kruezer, Ibbotson, Clisby, Mitchell, Heppell, Henderson), it seems a long time since I had an unforced trade.  After 4 weeks of sideways trades to try and get a win the next week my team looks pretty weird.  No wonder they eventually lost cohesion on the ground.
Congrats to the DT coaches who are still in a grand final.  Give the rest of us a wave as you are paraded through the streets on Friday.
Updated Tables – Team Averages & Next Games
Updated tables showing DT performance for each team, both for and against, are below.  The right hand panel has the averages for just the last 5 rounds so you can see more recent form.  Each table is ranked according to the number in the shaded column.  Teams are bundled together in colour groups of 6 ideally, although sometimes there are more or less than 6 as equal teams are kept together.
Some points of interest:
The big 4 Geelong, Freo, Hawthorn and Collingwood are hitting form at the right time of the year, although the Hawks don't produce many 100s.
North, Richmond and Western Bulldogs are the big improvers from the middle of the pack.
Essendon and Gold Coast are in free fall.
Some points of interest:
Sydney and West Coast have joined Essendon and Melbourne in having the most generous recent form.  This is a surprise since both Swans and Eagles were very tight at start of the year (WCE is still a red team for the full year).
North Melbourne and Hawthorn have been tight all year – because the keep the ball to themselves.
Collingwood, Richmond and GWS have become much tighter recently.
The Next Rounds table below covers all the remaining games and shows which teams have the most helpful coming fixture for DT scores.  DT Finals rounds are shown in purple.  The teams retain their colour coding from the above 2 tables so it is a bit easier to understand.  All the percentages are the same, since there is only 1 game left.
Some points of interest
Of the high scoring teams, Freo is now joined by Hawthorn at the upper end of the table.
In form teams – Richmond and Western Bulldogs – play generous teams (Essendon & Melbourne).
The teams with the highest ownership (Collingwood and Geelong) play teams that are quite restrictive (North and Brisbane).  How these 2 games play out will decide many DT premiers I think.
NixTrader Spreadsheet
Here is link to download spreadsheet (Excel2007) – NixTrader2013 R23 pub

You will notice the spreadsheet runs beyond round 23.  Basically I didn't want to strip any working formulas out in case I forgot how to do them again. 
Good luck to everyone for the coming round.  I hope Hooks Hooligans can take out the overall prize since Hook is a regular and helpful contributor to coaches on these forums.  If you want to look at Hook's team it is in the spreadsheet when you download it.
Any comments, questions or suggestions please post below, or tweet to @NixTrader.
It was great to catch up with some of you at DTTalk meet on Saturday, sorry I got there late and may have missed some of you.
This will be last NixTrader spreadsheet for the year, hope you found it useful.  Thanks to people who took the time to comment and suggest improvements during the year.
Finally big thanks to the 3 DT Hall of Famers Roy, Calvin and Warnie (straight in as legends of the game) for allowing me to post on their site, and for their support and assistance during the year.  Great to catchup with you on the weekend!
———————– Usage notes from previous weeks ——————————–
I expect users are familiar with the spreadsheet now so I will not post the instructions and technical notes any more.  If anyone needs to see them they were last posted with NixTrader for Round 19.  You can look them up there.
Reminders from previous weeks:
The team of the current overall leader is in NixTrader spreadsheet when you download it.  You can look at this team to see if you can learn anything from it, before replacing it with your own team.
If you used the spreadsheet from previous rounds, you can just select your blocks of players' names from there and copy and paste them into this round's spreadsheet.
After lockout, you can also use NixTrader to start planning for next week.  Just enter your players' actual scores in the column for the current round to update your watchlist or trades.
Younglings:  if you don't have Excel2007 software on your device you can still download the file, put it on a usb stick and ask around to find someone with Excel2007 software and ask to borrow their computer for an hour or so.
Mac users have reported Brandon Ellis (Richmond) is placed as an Adelaide player in bye and draw tables.  This doesn't occur in Windows Excel.  Mac users should be aware of this if you add Brandon Ellis to your spreadsheet.