The Friday Scramble: Round 22
It's Preliminary Final week and the pressure is on, one wrong move and it is curtains and ridicule for the summer from your mates! But one right move and you can be on the way to glory! Hopefully I can help steer you in the right direction. Jump in and have a look as we scramble to tonights lockout.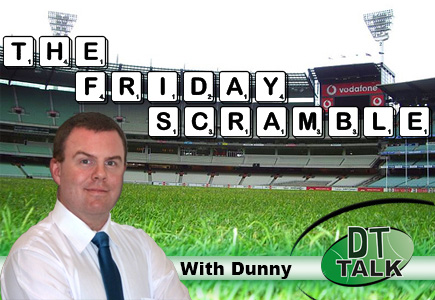 Prelim Finals week is here!  Quite a few teams have now headed off on Mad Monday celebrations with their seasons being over… some of those of us that are still in are almost wishing we were out too given the amount of carnage we have had to deal with this week!  But it isn't just the guys that are going to be out this week, we also have the guys that had the rubbish scores that we need to consider this week and are they going to continue their slump or will they bounce back.
We all thought that by the time we got to this stage of the season we would be able to make our luxury trades and be trading for fixtures in the finals…. yeah right, as if the footy gods are going to let us do that!!
Where the heck is my backline!
Well unless you have been living under a rock this week you would be well aware that we have massive issues with our backlines this week.  I am sure you have lost a lot of sleep and may have had to employ this tactic just to catch up on some of it on the way to work!!
We have lost some of our regulars in Dyson Heppell, Hamish Hartlett, Garrick Ibbotson and potentially Pearce Hanley, I say potentially as we know he  is 50/50 and may indeed be a late out yet.  I don't know anything more than you do, it is just a gut feel. So with this happening we need to have a long hard look at what options we have available!
Corey Enright is the main guy that I would be looking at if you don't have him.  He is a consistent scorer and had a week off a few weeks ago and so he shouldn't be a big risk of a rest.  To show how consistent he is he has a season average of 88.8, a 5 week average of 86 and a 3 week average of 90.  He did score a 70 on Sydney earlier in the year, but that was at the SCG and this game is at Simmonds where he averages a tidy 93.
Brandon Ellis is a guy that a lot of people brought in recently.  Whilst his average is only 75 this had some sub affected games early in the year, his last 5 average is a very healthy 92.4 and more importantly he plays the GWS Giants this week at Skoda where he scored a 71 on them last year.
Harry O'Brien has been an incredibly popular inclusion this week.  And after looking at his numbers I can certainly see why!  A season average of 87 and scores of 91, 113, 103 and 96 in his last 4 games he is in a hot streak of form!  However, his last 3 against West Coast don't make for such good reading.  47, 48 and 85 in his last 3 against the Eagles does worry me a bit.  His average at the G is also a little concerning which is only 58, not sure why (perhaps it is because Swanny gets all the points at the G).  Anyway, we know that history isn't always a good indication of the future, so I think he is still a very valid option.
Heath Scotland went through a very lean period in the middle of the season, but of late has been quite good and has a 5 game average of 95.2 and scores of 129, 126, 98 and 76 in the last 4 and had a 76 earlier this year against the Bombers.  Whilst he is getting a bit older he has been scoring well.   He does average 85 against Essendon and with Juddy out he may be called upon to play a bit more time in the midfield.
Bob Murphy is firing and so are the Doggies!  He has an average of 85 and would be a bit of a unique in your matchup that is for sure!  Against Brisbane in round one he scored an 84 and averages 71 lifetime at the Gabba.  However, he has 3 scores in the 90's in the last 4 weeks and this has coincided with the return to form of the Bulldogs.  He should be a good bet to continue scoring well with Brisbane and Melbourne in the last two rounds.
For a bit more discussion on the options for the backline and some other thoughts, I had a chat with @FootyRhino on Tuesday night so have a listen to the podcast which you can find on iTunes or at this link.
#AskDunny
I think that this is a good question, but jeez it is very hard to go past Jelwood at the moment!  His last 10 scores see only two scores under 120!  Those two include the Crowley Tagged game of 38 and a 98 against North Melbourne.  Wow that is hard to go past!  Actually seeing that he will have a lot of 3 votes locked away!   Over that same period Griffen has 3 scores under 100 and 4 scores over 120.  I am worried about his scoring with Boyd back in the side again.  But really I can't go past Jelwood.  He is simply on fire and has his last two games at Skilled Stadium.  The only area where Griffen would get the nod is tha he plays Brisbane and Melbourne whereas Joel has Sydney then Brisbane.
Fyfe has been getting the tag lately.  His scores of 77 and 86 in his last two were against GWS and Melbourne. He does have an average of 98 but he seems to be either under 90 or over 110 with only 7 of his games between those two.  His last two vs Port were 89 and 120 which were both at AAMI and the last time at Pattersons was only 33.  I don't know whether he was vested in that game.  Priddis has an average of 94 and seems to be a lot more consistent with the vast majority of his scores between 90 and 110.  So the key here is Fyfe's inconsistency.  Having said all that, given the choice I would go with upgrading to Beams as he is far more likely to score highly and he loves the MCG with an average of 97 there.
Tough call in both cases!  Firstly Bartel v JJK.  Collingwood is JJK's worst team to play (apart from West Coast which was from his early days at Carlton).  He only averages 49 against them and had 59 last time against them at the 'G.  His last two scores of 54 and 58 on top of that mean that I am very sceptical of his ability to have a big score this week.  Bartel had a couple of bad weeks but bounced back last week with 111.  He does like playing at home and I will back him in to have another good game (well better than JJK anyway) and play him over JJK.
Your second part there ROK and Stanton are both likely to be inconsistent.  ROK had a great patch between rounds 11 and 16, but the last two he has had 77 and 55.  His next two are Geelong and Hawthorn so they are certainly not going to be easy.  Stanton has been the bone of contention for many teams!  He does however have more scores over 100.  One concern that I have him this week is that he is likely to get a tag from perhaps Curnow or Armfield (although he is likely to go to Hibberd).  If I had to make a choice out of the two though, I think I would go with Stanton as much as I don't like doing it.
So Stanton comes in again into a choice.  But this time up against Kieren Jack who himself struggled a bit over the last few weeks.  In fact his last two week have been two of the worst 4 of his for the year, apart from that he has been scoring high 90's and 100+'s.  So based on that I think I would feel more comfortable backing him in over Stanton.  Simply because Stanton has burnt us so many times in the past!
Things To Remember!
Get yourself to the DTTalk Catchup tomorrow! – There will be a huge crowd of DT'ers there and I look forward to meeting you all there!
If you are the underdog… take a risk! – We all know there are no tomorrows so go for it, no guts no glory!
Make sure you have emergencies. – I have a big suspicion that this round will see a lot of late withdrawals.
Check out your opponents team and use that to help your trading decisions – work out what your strategy needs to be.
My team struggled through last week.  I scored 2034 and am ranked 2121 and am still slowly moving upwards.  I am in a few prelims and hoping to get through to the GF's!
Good luck this week and hopefully you can all get through to your Grand Finals and have nice big scores!  I am predicting that our carnage isn't over so stay close to twitter this afternoon for any late changes to squads and the final Sunday squads.  If I see anything I will tweet it out @pkd73.