Calvin's Captains – Rd. 22
Did you say Jelwood? Did you say "OINK"? Or did you say you're after a COD? Either way, Calvin has whipped up a bloody entertaining read for you again this week.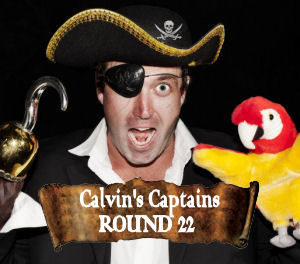 With just 2 weeks to go in the 2013 Dream team season we find ourselves back… for the 22nd time this year to find a great captain. My form has been pretty solid in the last few weeks. I've nailed some good captains and even predicted tags and things like that. I'm a pretty big deal I must admit.
Now, many people have been asking about some COD's (Captains of Difference) for this week so let's check out my best COD's and a few you probably should be avoiding.

So many people will be going with my top 2 picks this week and that's why, the rest of the gang are COD's and might just be what you need to get an advantage against your opponent this week. This is the only reason you'd chase a COD. Your opponent this week has a better ranking than you and should give you and your team a flogging… so, by chasing a COD will give you a few points extra if their captain messes up… let's check them out.
Should be Great:
Let's just jump straight onto Scott Pendlebury who dominates the Eagles. They last met each other in the Qualifying Final of 2012 and that day he had 119pts from 29d. Before that he has posted scores of 129, 138, 131, 124 and 139 to average a massive 130 over this period. Now, he did only have 96 last week and will be tagged by Scott Selwood this week, but these stats are nuts. Dayne Beams had a nice 117 (30d) despite the Selwood tag in the QF and even posted 129 and 117 on them before that. The kid can play! Brett Deledio meets the Giants this week at Skoda and last time he played them, it was at that ground and he racked up 108 that day. Form is on his side too as he has had 115 and 114 in the last few weeks. Although Tom Rockliff had just 95 last week, that was his lowest score in his last 6 games this year. He had 114 on the Bulldogs in Rd. 1 this year and had a mixed bag of 43 (16d) and 141 (40d) on them in 2012. It's all due to his midfield time. New coach for Rocky this week and he will be parked in the middle, right amongst the points. Gary Ablett can not be written off and we all know what he is capable of. Yes, as you know, he hasn't scored over 90 in his last 3 games which means many will be jumping off. But if you're after a COD then you can jump on. He scored 135 against the Saints in the first game of the year with 34d and 4g. He had 61 and 143 on them in 2012 and even had 136 at Etihad in his only game there this year.  Steve Johnson only scored 107 on the Swans earlier this year and only had 86 and 99 on them last year. But his form is smoking. His lowest score is only 109 in his last 6 games this year and had 143 last week.
Select with Caution:
Trent Cotchin scored just 51 last week and was tagged out of it by Curnow. He only had 87 on the Giants last year and he will be first in line for their tough tags. Ryan Griffen plays the Lions this week and had 126 on them in Rd. 1. He only had 91 and 76 on them last year and has a shocking record at the GABBA where he only averages 68 over his career of 5 games there. Jobe Watson has been in smashing form after scoring 121, 120 and 113 since returning from injury. He was tagged by Cachia (Curnow this week) last time he played the Blues and was held to just 22d (77pts in Rd. 11). He only had 100 and 98 on them prior to that and should be selected with caution. Michael Barlow has been in my top 5 in recent weeks and has been in great form. He had 116 on Melbourne last week but only carries scores of 109 and 74 on Port. He averages just 102 in his last 3 games at Patersons and although he should be fine… you have better options this week and Patrick Dangerfield is not one of them. He only has 1×100+ score in his last 5 games this year and should be tagged by McKenzie this week who held Fyfe (77) and Gazza (64) brilliantly in the last 2 weeks. Sloane maybe his target but even based on form alone…. It's a big fat pass.

Ok… here I go, Dane Swan absolutely kills the Eagles and has done over the last 6 years of piggery. Last time he played these guys (QF) he went head to head with Priddis and had 29d and 2 goals for 128pts. Before that in 2012 he went 119 and 132… and the other numbers up there are just etched into the history books dating back to 2006. The damage has been done and over this period he averages a huge 132 on them but this is what sold the deal for me this week. Firstly, he's back at the Pig Sty (MCG) which is one of his favourite grounds where he has had 131, 115 and 163 in his last 3 runs there. But let's look at what Geelong did to West Coast last week. 5 Cats scored 100+ with their stars such as Stevie  J (143), Selwood (135), Stokes (127) and Bartel (111) dominating! Between these 4 guys, they took 25 marks with 24 of them being uncontested. Swan will love this! This has #oink and #dtpig written all over it. Get on and enjoy! Watch out as well, cause I will be at the game, so when he has 100 with a quarter to go… a beer would be nice. Wink.
Another guy who deserves to carry the big 'C' has to be Joel Selwood. His form has been unreal as he has had 6×120+ scores in his last 7 games this year. WOW! He scored 123 on Sydney in Rd. 4 and meets them at Simonds where he has scored 157, 136 and 126 in his last 3 games there.  Ticks all the right boxes and should be awesome again!

TWITTER FOLLOW: @CalvinDT – for updated captain info and to ask any questions! If I ever update my top 5 I will always announce it on Twitter.
Who will you have as your captain for Round 22?
Dane Swan (73%, 1,543 Votes)
Joel Selwood (13%, 277 Votes)
Scott Pendlebury (2%, 47 Votes)
Steve Johnson (3%, 63 Votes)
Dayne Beams (1%, 25 Votes)
Gary Ablett (6%, 120 Votes)
Someone Else (2%, 49 Votes)
Total Voters: 2,124
Loading ...