The Numbers – Round 21
I've said this several times this week for various reasons but… wow. What a round – and I mean that in the absolute worst way it could possibly be mentioned. Talk about eleventh hour carnage! The Numbers this week have a lot of explaining to do. So let's get to it.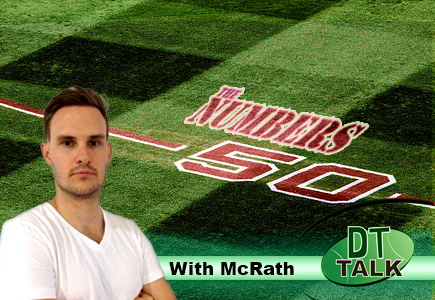 I've said this several times this week for various reasons but… wow. What a round – and I mean that in the absolute worst way it could possibly be mentioned. Talk about eleventh hour carnage! The Numbers this week have a lot of explaining to do. So let's get to it.
8 – After a massive eleven players 'tonned-up' in R9 against Melbourne, Fremantle established a huge gap between themselves and the 18th place Dees. Backing up that 90-point drubbing with an even bigger 95-point rout in R21, Freo again delivered in fantasy circles – with eight players topping the hundred mark. It didn't stop there either as a further 7 players scored 85+, sharing the love around in their second-straight 'Deemolition' of 2013.
28 – I understand that DT Talk's own Matt Craig made an avid point of this in his hilarious Sunday Knee-Jerk, but I'll be damned if he doesn't deserve a second roasting. Dustin Martin, please stand up. Now sit down and go to the corner with this 'D' hat. And no – the D does not stand for 'dunce'. Twenty-Eight points in four quarters of football is simply not good enough. Is there something more at play here perhaps? Could there be more to his poor performance after he again rejected a contract offer from the Tigers – a club that has stood by him through several troubles to develop him into a rising superstar. Well, on this day – Saturday 17th August – he couldn't be farther from that tag. 10 touches and 28 Fantasy points from a much relied-upon 'premium'… I think that speaks for itself.
35 – Now to another low score, but this one was not brought about by poor performance. Only having missed 2 games thus far in his short career, Dyson Heppell tweaked his foot on the weekend as he now faces an injury-enforced break at the worst possible time. Not only is he key to Essendon's finals hopes, but the young Fantasy defender headlines a huge list of possible outs for R22 along with Cox, Minson, Hanley, Heartless and Sandilands. Damn you Fantasy Gods, damn you.
78 – Lowest (and current) 3-Round average of Gary Ablett Jnr. What happened Gary? What was another astonishing year has been turned on its head by a few hard tags from the likes of Selwood, McKenzie and Cornes. To be sure, those guys did phenomenal jobs on the King of Fantasy – but why he no break tag? Is GAJ in another world, or just tired after his third year of carrying the Suns on his shoulders? Personally, I'm backing the great man to bounce back in R22 against a team that he's managed 135 and 143 on in the past two meetings. Anyone game enough to say otherwise and do the unthinkable and bench Gary Ablett? Go ahead – I dare you.
100 – Boy, has this guy had a big year. Role changes, racism-related drama, coach-squabbles and personal revelations – Harry O has been everywhere in 2013. I'm not sure whether he'll be happy to see the end of it, or he'll be stoked with what he's been able to achieve under the circumstances. But one thing cannot be denied – he is in some wild form. Averaging a touch over the ton in the past four weeks, Obrien should be at the top of the list of targets for your backline with the carnage that has hit. Playing off a wing almost exclusively, Harry has had a career-best year (fantasy wise) – no doubt about it. Averaging 87.1 over 17 games in 2013, there's a lot to like about Obrien's game as a wingman.
120 – Stevie Johnson, what a star. Another 37 touch, 143-point performance puts this guys right at the top of the tree. Deserved of a WotW nomination, Johnson helped lift his team to a huge win on the weekend; and has played a huge part in the Cats current top-2 position. Averaging almost 120 points on the dot for 2013, his suspensions are the only thing that we can really fault in a year otherwise only described as brilliant. Remarkable consistency (low of 92 over 14 games) and some huge scores (141, 136, 144, 129, 156 & 143) have Stevie J at the top of the tree. Sure he'll have a ridiculous price in 2014, but I just cannot see how he'll be anything but a must have.
129 – Average of star Cats quartet Selwood, Stokes, Bartel and previously mentioned 'Stevie J' Johnson on the weekend. Giving the Eagles a lesson they'll never forget, the ruthless Cats downed their opposition by 66 points and racked up some impressive numbers across the board. Not only did the 'awesome foursome' fire, some familiar names in Kelly (103), Mackie (98), Duncan (98), Christensen (97) and Bliclavs (96) struck gold in a great week for the Geelong faithful.
229 – Brett Deledio is back. After another 114 points against the usually-restrictive Blues, Lids escaped the reigns of a tag to fly under the radar for his second-straight fantasy ton and 2-week total of 229. Coming good at the right time of the year, back him in to finish the year in triple-figure form as he looks to guide his Tigers to the finals for the first time since 2001.
400 – Its not often we give credit to an umpire in any sport, no matter what the circumstances. Oh, Mr. Such-and-such had a great game? You mean he did his job without making a mistake? Well, thank you sir – your contribution will never be forgotten. Please, let me buy you a beer… Ah no – this is definitely not what the dialogue would go like. Sadly for them (not really anybody else) the skinny, older men running around blowing their whistles rarely get positive attention. So, at the risk of being un-Australian – I'm going to say congratulations to Mr. Stephen McBurney – a 45 y.o. man who just umpired his 400th match on the weekend – an impressive feat that should be applauded no matter how much we as Australians are brought up to detest umpires. 'Debuting' in 1995, 'Jack' as he's commonly called now sits 3rd on the list of umpires based on total matches officiated in the AFL. I'll only say this once – Good on ya Jack. Now, let us never speak of this again.
483 – Days spent waiting by Swans speedster Gary Rohan. Waiting for recovery; recovering in rehab; rehabilitating himself after that terrible break we witnessed in Round 4, 2012. Sunday was a huge milestone for Rohan as he has worked his way back from some burdening lows to a return to the senior side for the reigning premiers, who will once again challenge for the flag. Having a player of Gary's class and speed flying around in September will bring a smile to the faces of many Sydney fans – not the least their coach, John Longmire.
Whore of the Week
I never thought I'd see this guy's name in here, but I'll be Tom Waterhouse if he didn't deserve it! Congratulations Travis Boak. Having his best year by a long way, Boak has been crucial to Port's rise up the ladder in 2013 as he's broken the shackles to dive into premium territory. Now boasting an average of 102 for the season, he had his best game of the year by far on the weekend in fantasy terms as he tallied 35 touches, 9 marks, 4 tackles and chipped in with 3.1 goals to help his team down a gallant Suns outfit by 17 points. Oh, did I mention he topped scored this week with 152 AFL Fantasy points?
Team in Focus
It has been a while since I've given someone a wrap, but if ever there's a guy that deserves one – it's Hooks Hooligans. Having held the #1 mantle for the best part of the year, Hook has been outstanding all year and currently sits 104 points clear of his closest competition. Barely making a mistake all season, this guy has proven too hard to chase down as he closes in on the major prize – which to remind all of you, consists of a double pass to the 'Ultimate Grand Final Day' experience as well as a small figure of $50,000! Come on Hook – we're all cheering you on buddy! (Except those of you chasing him down, perhaps).
The Round Up
Highlights­ – Geelong quartet led by Stevie J (143) who has been a few suspensions short of a perfect year as he holds the highest average of any player. Fremantle had a field day against Melbourne with fantasy-relevant players in Pearce (124), Barlow (116), Clarke (116), Walters (114), Mundy (113) and Pavlich (103) all lifting the bat. Meanwhile, Scott Selwood (112) and Wellingham (100) have been outstanding since coming back into their team. Unlucky if you didn't back in 'Wellers' as he now averages over 100 from his last four.
Lowlights – It'd be sacrilege if I didn't mention one D. Martin first. It has to be said over and over until he gets the point – 28 points is not good enough. Heppell (35) and Hanley (46) face nervous waits on potential injuries, whilst Cotchin (51), Ablett (82) and Roughead (43) have no such excuses. Further injury to Sandilands will likely rule the big man out for the rest of 2013, potentially giving us a brilliant bargain for 2014 in the ruck. Add to this the suspension risks to other Fantasy stars and R22 is shaping up to be the first real 'Carnage Round' in a while. At least we'll all be in the same boat.
Team McRath – Despite my idiotic decision to bench Joel Selwood by ignoring his form, I had a fairly favourable result this week. I shudder to think how much farther I could've risen this week had I benched Cotchin instead, but safe to say I'm pretty happy with being back inside the top-1000 for the first time since R15. I too copped the Hanley/Heppell double – as well as facing worrying calls having all of Hartlett, Cox and Minson in the team colours. Defence appears my biggest worry this week so I may look to ditch two of the three 'Hs' in Hanley/Heppell/Hartlett – unless of course one of Cox/Minson goes down. Lucky for us, Brodie Grundy is in some blinding early-career form so I can bare a one-week suspension should it be dealt our way.
I understand that this week was a tricky one for many – with any score above 2,050 quite good. It seems that someone has stoked the fire and aggravated the Gods of Fantasy Football, so assume the brace position, close your eyes and prepare for the worst people. Only two weeks left until we can breathe a sigh of relief and hang up the coaching hat for another season.
Until the penultimate week,
McRath