Backline Options – ESPN Footytip.com.au
With all the backline carnage for Rd. 22, Calvin checks out the best options for you heading into the run home. Thanks to our friends at ESPN footytips.com.au, Calvin has ranked the top 5 options (captain style). So get in there and voice your opinion.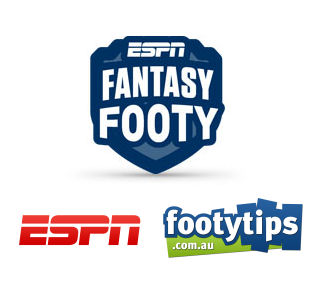 With all the backline carnage going on at the moment, I thought it was very important we take a look at my top 5 options for you to bring into your backline the remainder of the season for your footytips.com.au team or your Dream Team in general.
If you have Hartlett, Henderson, Heppell, Hanley or any other injured or suspended defender then pay close attention to these guys.
#5 – Grant Birchall (Hawthorn)
Certainly doesn't top my list but he does scrap into the top 5 options for you. He had 76 in his last game this year and plays the Kangaroos who he had 80 and 86 on in his last 2 games against them and the Swans (81 & 67 in his last 2 games) in the last round of the year. Can be massive on his day, but also struggle big time.
#4 – Harry O'Brien (Collingwood)
Firstly, I'm not the biggest Harry O fan going around but he has averaged 100 in his last 2 games this year to be the best averaging defender over those games from my list. He's scored over 90+ in 50% of his last 10 games but plays West Coast this week who he scored 51 and 48 against in his last 2 and the Roos (100 and 41) in the last round of the season. Solid option, but he's only #4 on my radar.
#3 – Robert Murphy (Bulldogs)
Averaging 86 in his last 2 this year, Murphy has also cracked the 90+ mark in half of his last 10 games as well. He also carries good form against his last 2 opponents too. He plays Brisbane (84 and 107) this week and the easy Demons (94 and 80) in the final round. Certainly a roughie to get on if you want to be a little different.
#2 – Heath Scotland (Carlton)
Often looked over and he shouldn't be. He is averaging 107 in his last 4 games this year (avg. 87 in his last 2). He plays the Bombers (76 and 85) and the Power (74 and 85) in his run home and has the form to back in his selection here. The old man still has points to offer and his role seems to have changed over the last month. Get on!
#1 – Paul Duffield (Fremantle)
My old favourite man, Duffman! He has been in smoking form over the last 2 weeks with scores of 97 and 90. He's run home is pretty nice as well as he comes up against Port who he has scored 88 and 114 on in his last 2 runs against them and meets them at Patersons where he has averaged 86 this year compared to the average of just 74 when he plays away from home. In the last round he meets the Saints (82 and 71) and should be the best bet in my opinion to patch up your damaged backline for the run home.
Thanks again to our friends at ESPN Footytips.com.au
For more details on this matter check out our podcast which covers all these issues and more.
TWITTER FOLLOW: @CalvinDT
From the 5 listed above, who do you think think is the best option to cover our backline carnage?
Paul Duffield (29%, 317 Votes)
Heath Scotland (16%, 178 Votes)
Robert Murphy (21%, 226 Votes)
Harry O'Brien (23%, 253 Votes)
Grant Birchall (11%, 116 Votes)
Total Voters: 1,090
Loading ...