The Sunday Knee-Jerk – Round 21
I'm really struggling to introduce this week. What do you call it? I'll be honest with you, my patience is running extremely thin with DT. You would've had a better weekend with a Round 1 team full of rookies.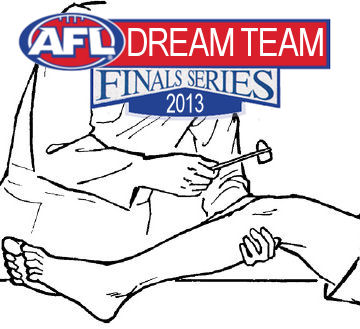 I'm really struggling to introduce this week. What do you call it? I'll be honest with you, my patience is running extremely thin with DT. You would've had a better weekend with a Round 1 team full of rookies. Most of us (who are still left) are just crawling to the grand final, but let's look at the positives. We all still have 4 trades to get rid of those… ***** that hurt us most. If ever there was a Round to do so, it's time to knee-jerk!
The Legends
This section can be kept as brief as possible, because let's face it they did not define our weekend. Swan (131) is a hero, if you didn't captain oink then shame on you for visiting this site. Boak (152) was unbelievable… Pity no one has him. Watson (121) is proving to be a masterful exponent of the 'old school DT philosophy' of picking up underpriced premos, a true champion. Allegedly. Johnson (143) continues his career best season, pushing an average of 120. In fact (And this is a fact) he is the HIGHEST averaging player for the year. As a forward. And I haven't missed a game. Yes I still don't have Selwood (135). I do have Stokes (127) however, both were brilliant. Selwood surely a Brownlow favourite by now.  Bartel (111) also joined in on the party at Patersons, whilst Scott Selwood (112) continues his breakthrough DT year. Terlich (123) probably pissed off a lot of his owners with a monster score on the pine.
The Sunday Chops
I can split this week into a few categories. Disappointing, unlucky, sh*thouse and Dustin Martin. It's literally like the DT gods have mocked all our complaints from the last few weeks, thought that 44 trades was too easy and tried to bribe our favourite sons into ruining our weekend. I mean Martin (28). What the f**k. Do you want me to spell that out for you? 28. Twenty-eight. That has to go down as the worst premium score in the history of DT. I have nothing else to say. Dangerfield (78) and Jack (82) were disappointing, and both must be on your teams respective chopping blocks. That is until you start to examine the unlucky side of things. I can almost guarantee our teams are going to be destroyed by carnage this week, thanks to the injury crisis that has proceeded. Heppell (35), Hanley (46), and Hartlett (80) are all in doubt for next week in defence. At least they're all popular, watch out! Sandilands (15), Cox (98) and Hitchcock (17) (yes I have him, don't laugh) are also under injury/suspension clouds. But no, the poor injured souls are not those I am after. It is the pathetic, useless bloody premiums that can't even score 60!!! Cotchin (51). Was that some kind of sick joke? I know Mick will tag anyone with 2 legs, but at least give us a 70. O'Keefe (55) can't even get a touch without a tag! He wasn't even tagging anyone else! He ran through the mids all day for 3 kicks… Time to hang up the boots ROK. Malthouse even tagged Ellis (55). He's just turned 20 mate, maybe focus on fixing your own bloody team. Ladies and Gentleman we have another Lyon challenger!
If anyone kept Shaw (37) after last week's performance then, god help your soul. This is the 150th reason to never ever ever ever ever… ever pick Heath Shaw in your Dream team. Roughead (43) proved once again that key forwards can never be trusted. And also that gingers should still be avoided whenever possible. If anyone still has McKenzie (59) they probably haven't made all 44 trades, and are most likely sailing the Caribbean by now. An early Mad Monday! Not a premium. Kennedy (58) was never going to keep up that 95 avg for the whole season, I'm personally surprised he kept it up for as long as he did. Will continue to struggle as the Eagles season dies away so I'd be trading quick smart. Malceski (47) has been slaughtered by the return of Shaw, once again the Shaw family is here to ruin our weekend. However finally, after long deliberation… Ablett (82) is the second biggest loser of the weekend in my eyes. 28 (I'll say it again, 28) cannot be beaten. However (from the biggest gun in the game) a price tag of under 500k, a BE of 170 and a 3 week average of 78 brings a tear to my eye. Sad days my friends, sad days…
The Clown
Arsene Wenger has once again proved that if you make the same mistake once, then again, then again… Things don't suddenly turn around! For those who don't understand what I'm talking about, basically Arsenal have once again bought no players, lost their first game and found themselves in crisis. "Those who stand still get left behind" was a quote that sticks to my mind, the same could be said in DT. Second prize goes to the referee at the Arsenal game, unfortunately news has just come through that his OPSM sponsorship has been terminated. Our thoughts and prayers are not with him.
What we've learnt?
Hansen scored an incredible 43 points in just 10 minutes, before scoring 19 in the next 70. Yes, that is a pretty big turn off.
Almost as big a turn off as last weekends Saturday night fixtures.
Stanton is now my 5th on my chopping list. Dark days.
Consistency is the most underrated DT trait, if it even exists anymore. Barlow has gone under 100 once (97) in the last 15 weeks. Don't forget it.
Unless your name is Joel Selwood, in which case your consistently over 120. Freak.
Big men truly lack brains. Minson and Cox both under MRP scrutiny for needless crap, right when we need them.
Not as crap as Martin's 28. Ok I've almost run that into the ground by now. Almost.
As you can clearly see above, nothing new or exciting actually happened this week. To spice things up, here's one of my favourite bits of comedy. Do yourself a favour and treat yourself to all his best work. (Warning: Political correctness is not his strong point)
This game sh*ts me
I am over this game and its constant bullsh*t. The amount of crap we've been dished out this year is almost unfair. How many of you went out in straight sets? Too many. Dustin f**king Martin! And that's why this game sh*ts me.
The other bits and pieces.
Thankgod the EPL season has started, because I am starting to struggle with finals still 2 weeks away and DT a snowballing pile of sh*t. That's a pretty accurate way to put it unfortunately. If you are still involved in some key match-ups against your mates, good luck! Be sure to send me your tough luck stories when they happen, we don't accept good luck here. As always you can check us out over at fpladdicts.com or follow us @FPLaddicts if DT is too much to handle. Cheers!
If you enjoyed my raging and want a hittable punching bag when sh*t goes tits up, follow me on twitter @MattCraigDT. My views are honest, mostly helpful and occasionally entertaining! Also hit me up with any suggestions for who you thought were the Legends, Losers and Clowns, plus what you've learnt the past week. I value everyone's opinion!