The Friday Scramble: Round 21
Semi Final week. No more double chances. What does this mean? Well it means you need to get your team set and with everything going on you are sure to be scrambling like the rest of us!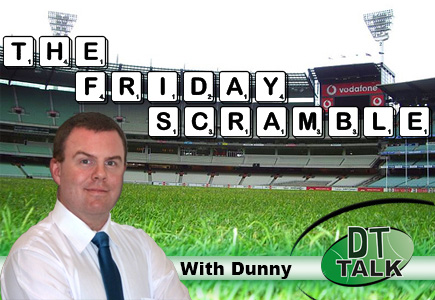 Do or Die time!  No more second chances!  Hopefully you managed to get across the line in a top 4 matchup last week and can sit back and watch the carnage and laugh this week!  Although you need to keep building your team for when you are back up on deck next week for the prelim finals!  Since we have two trades to use this week still there is no point leaving them on the shelf!  We will have a chat about that a bit later on.
However for everyone else that has matches to play this week you need to make sure you are fielding your strongest possible team which may mean you need to take a couple of risks if you are the underdog.  And for those of you that are now out of finals… don't give up!  You can still improve your ranking and also improve your league's ranking too.
Trading Strategy
I think it has been well discussed throughout the week and I know that Warnie has mentioned it on the podcast this week, but if you are through to the Prelims and if you don't have any massive issues in your team then you should seriously look at using at lesat one of your trades for cash.  Do a massive downgrade of one of your bench spots if you can.  What this will do for you is allow you to do any upgrades that you want to do next week, you can double upgrade which will hopefully get you over the line in those all important Prelim Finals!
Guys that you may look at downgrading for cash would be Mitch Clisby ($288,800) as he is now gone for the year through suspension, Brent Macaffer ($294,800) is another candidate if you still have him, Brent Staker ($298,100) has made some nice cash but his scores are average lately and lastly you could also downgrade is Tom Mitchell ($391,600) and he would take your bank balance through the roof!  But if you can downgrade one of these guys to a $100k player who is (or even is not) getting a run you can do your bank balnce some serious good ready to upgrade next week (or with your other trade this week).  The one thing to remember though if you are going to do this is to make sure that you have another guy on the bench that is going to play and hopefully score well just in case you need them for a late withdrawal.
Now the other thing that you can do if you need to win this week and you have some cash in the bank is that you should use those guys I mentioned above as your base for trading up.  However, to do that you would want to have at least $200k to get yourself to the ultra premiums.  So you may want to do a traditional double trade by trading one of these guys down and one up so that you can maintain your cash balance heading into next week.
Selection Time
Well selection has come and gone and for a change there was no carnage!!  The main relevant thing was that Buddy is back.  We already knew that Ricky Henderson was out.
So is Buddy safe to put on your field?  Well at least with him being in the Friday night game we will know if he is a late out or not.  But do we trust him?  He has only scored over 90 in 6 out of his 16 games this year.  So based on that, No, I wouldn't be a good idea to play him.  However, his last two scores v Collingwood at the G have been 109 and 130.  Does this change my mind?  No it doesn't.  His form in those years was certainly better than it has been this year so I still say he doesn't benefit your team.  I would be playing him as my emergency at best this week.
#AskDunny
Wow!  Not a good position to be in.  To be honest if you have no other holes then this is a no brainer.  Clearly trade around this situation.  There is absolutely no reason to keep Clisby in your side.  The boy has been suspended for the rest of the season so get rid of him.  Staker then becomes you D7.  So clearly I would be upgrading Clisby to whoever the best defender you can afford is and playing them at D6.
This is an interesting choice.  However, it has been made a bit easier for us now with news that Ricky Henderson is out with a knee complaint.  Word that I am hearing is that it is only one week, but I can't be sure of that.  So when looking at the other two guys we have the miracle man Pearce Hanley who broke his hand and came back after just the one week.  Coming up he has GWS, Bulldogs and then Geelong at Skilled in the GF.  Conversely Ellis has Carlton, GWS and Essendon.  Of the two I see their run home as being not hugely different in terms of difficulty.  I think I would go Ellis.  Mainly due to his GF against Essendon being slightly (and only slightly) easier than Hanley's.  However, both are excellent choices and given the choice I would have both in my team.
Absolutely Duffman is now cheap.  At $310k vs Clisby's $288k means that it isn't much of a stretch to get him in.  Duffield hasn't been the most reliable though, in his last 4 he has gone 42, 79, 45 and 90.  That consistency is terrible and he is a massive risk.  However, as you point out he has a great run home and his scoring would hopefully become stable.  Unfortunately if you have no cash then your only other "viable" choice at this price is Will Schofield.  Personally I think you would be better off downgrading and then upgrading Clisby with as much cash as you can muster.
Hmm… I would love to hand this over to Roy or Calvin to answer as we all know how much they love Stanton.  But let's look at the stats.  Stanton has 5 100's in his last 8, but the other three were under 90 (including a score in the 70's) which is certainly not ideal. Ball in his season so far has only scored in the 70's once and that was his first game back.  Recently he doesn't have any where near the number of 100's but he is certainly consistent.  To be honest I would certainly be going with Ball if these were your only two options this week.  I simply don't trust Stanton, he tends to go missing far too often for my liking.
Hmm.. I know we have discussed the issues with fixture trading and there are risks.  In this case we have Tippet playing at the SCG against St Kilda and we have Junk Time Jimmy playing at Patterson's Playground vs the Eagles.  In Jimmy's last 3 against WC at Paterson's he has scored 108, 108 and 116.  Clearly he likes it there!  Now obviously Tippet hasn't played St Kilda at the SCG before, but his last three against the Saints have been 111, 103 and 52.  The first two were at AAMI and the last one at Etihad.  This doesn't really help us much.  I think our next step is to go on form and strength of opponent.  In this case I would be heading towards picking Tippet this week.  Jimmy is down at the moment, and Tippet has been in red hot form and against a backline that is missing most of its' stars I can't see who is going to stop him from kicking a bag.
Things to Remember!
There are no honourable losses this week! – As we said earlier, no tomorrows anymore!  You lose and you are out!
Past form is no indication of future performance. – Just because they performed well in the past doesn't mean they will dominate this time too!  If we learnt one thing from Gaz last week, this should be it!
Check your opponent's team. – Do you have many POD's or even COD's!  A Captain of Difference last week would have paid off big time!
Use your trades! – Even if you aren't playing this week and are in the Prelim, start trading to improve your team for that week.
My team did well this week and we scored 2,142 and that made my ranking 2,130, I am edging my way up to the 2000's.  In my main league I made it through to the Prelim and in the DT Writers league I knocked out Roy in the Elim final and now face Adzman in the Semi final!  That won't be an easy game.
Apologies for the short scramble this week, been a bit crook, but if you ask your questions in the comments we can all work together to help everyone out.
Good luck for this week and hopefully you get through.  Beware of late outs so make sure that you have yourself an emergency that you can rely on.  Late outs will come, it is just a matter of when!  Keep your eyes on twitter this afternoon and follow all the DTTalk guys including me @pkd73 and we will keep you up to date with anything that we hear.